Get to Know Jersey City: Interesting Places to Visit Near NJCU's Main Campus
With a college that has most of its students commuting to campus or living in a dorm, it's safe to say that many students aren't fully aware of the variety of things to do in the surrounding area.
NJCU's website brags about how close it is to New York as if it's the only place to go to outside campus. But you can visit America's oldest Coptic congregation, one of only two museums in New Jersey dedicated to Black history, see the world's oldest concrete fountain, and visit one of Jersey City's oldest black-owned restaurants, all within walking distance of campus.
African American Historic Museum
1841 John F Kennedy Blvd
201-547-5262
https://www.cityofjerseycity.org/docs/afroam.shtml
You'd be surprised how many people didn't know that Jersey City has a lot to do with Black history. It was the last stop on an Underground Railroad, Dr. Martin Luther King Jr. made two speeches here, and Malcolm X's wife, Betty Shabazz, was an undergrad student at NJCU. So, it's easy to understand why, with the help of Jersey City's NAACP branch, the Earl Morgan Library's second floor became New Jersey's first museum devoted to Black history.
Director Neil Brunson says he became the director of the museum because "Jersey City is the elemental beginning of pre-colonial America," and that it has "the history of [his] people."
Brunson also said that the museum boasted three exhibit rooms worth of artifacts including ephemera documents, slave shackles, and knitted folk art that came from years of collecting. He also added that he's open to guiding college students and scholars around but only if you email him at [email protected]. The library and museum are a ten-minute walk from campus on the corner of Kennedy Boulevard and Wade St.
Between Friends Food Truck
1800 John F Kennedy Blvd
929-329-7353
Less than a block from the museum is a halal truck that has been on the same corner since summer 2020. Most of its meals involve seasoned rice over meat such as chicken or merguez (a flavored Moroccan sausage), chopped vegetables, and the choice of either hot sauce or yogurt. The best part about this place is that every order combination is less than $30. The truck is parked weekdays from 11 a.m. to 7 p.m.
Cherry's Lounge
140 Martin Luther King Dr
201-332-3178
https://cherrysloungeofjc.com/
One of the few remaining black-owned restaurants that are from the 1980s, Cherry's Lounge has been one of the city's most well-known and influential restaurants. It's currently run by Britni and Anthony Sharperson, the grandchildren of owner Leroy Cherry and they typically have a DJ and bar. Cherry's Lounge is on Martin Luther King Drive between Woodlawn and Armstrong Avenues. It is open every day from 7 a.m. until 2 a.m.
Miss America Diner
352 West Side Ave
201-333-5468
https://www.facebook.com/people/Miss-America-Diner/100035245364850/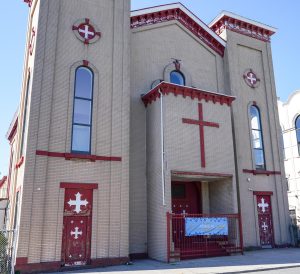 The easiest of the spots to visit, Miss America Diner is located at the corner of Culver and West Side Aves, directly down the street from NJCU's main campus. Many students pass by the eighty-year-old diner every day whether it's because they take the light rail to campus, or if another film major is there for a project.
"I always come for the bacon, egg and cheese," says Ryan Lamon who discovered this place nine months ago. Lamon, who owns a nearby film studio, comes frequently because of the small-town feel and cheap breakfast. Lamon's views are understandable since this is one of the last remaining diners in Jersey City. The diner is open weekdays from 6 a.m. until 6 p.m. and weekends 6 a.m. until 2 p.m.
Saint Mark Coptic Church
427 West Side Ave
201-333-0004
Formed in the late 1960s by some of the first Egyptians in America, this is America's oldest Coptic church and community. Saint Mark is two blocks from the light rail station on West Side Ave. The church streams its Sunday morning masses at https://saintmark.com/
201-434-8733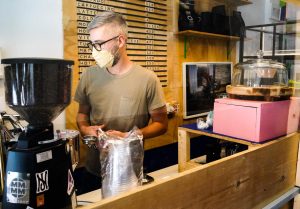 Across the street from Saint Mark is another spot that some on campus are already familiar with since it accepts Gothic Card payments. Treehouse has been on the same spot on West Side Ave for over a year and has already been mentioned in most of the Jersey City-based local media outlets for their drinks and their relationship with the community.
Students can often visit its colorful backyard to study or work on homework and they get their ingredients from other businesses in Jersey City and New York. You can order online on their website at treehousejc.com/ or visit them at 434 West Side Avenue weekdays from 7 a.m. until 4 p.m. and weekends from 8 a.m. until 3 p.m.
Gary's Sweet Shoppe
444 West Side Ave
201-433-0301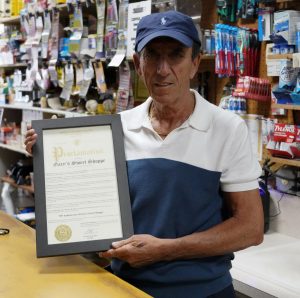 One of the longest-running businesses on West Side Ave, Gary's is more than a candy storefront. When you first enter this tightly spaced store, candy can be bought for less than a dollar. Go further inside, and the options become broader. This place is more of a convenience store than anything, as there are homemade butter rolls, cereal, even dish soap and locks. Gary updates and keeps in touch with their customers regularly on their Facebook account at https://facebook.com/GarysSweetShoppe. The shop is open from dawn until 8 p.m. on weekdays and until 7 p.m. on weekends.
La Primicia
452 West Side Ave
551-200-9988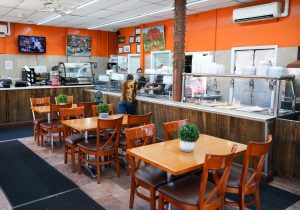 A few doors down from Gary's is a Hispanic restaurant that has been serving the area for well over a decade. Victor Burgos, whose mother immigrated from the Dominican Republic, takes over most of the restaurant nowadays. According to Burgos, most of the recipes were learned from years of growing up on a small farm with several aunts and uncles.
"Our most popular dishes here are the rotisserie chicken and beef stew," he said. To see all the dishes served at this local favorite, check out their website at laprimiciarestaurant.com
Molcajetes Mexican Restaurant
520 West Side Ave
201-200-9390
Another block from La Primicia is a restaurant that has been mentioned in The Hoboken Girl and Best of NJ. Molcajetes opened the year before the pandemic and is one of the most respected Mexican eateries not only near campus but in all of Jersey City. They're open every day except Sunday from 10 a.m. until 9 p.m. https://molcajetesmexican.com
Lincoln Park
646 West Side Ave
201-915-1388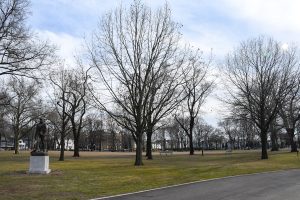 In addition to being the oldest of the county-owned parks, Lincoln Park is also the largest at more than 240 acres. The first section, Lincoln Park West, is home to a nature walk and a dog park. The second and more section, Lincoln Park East, has several soccer and baseball fields, a beloved Abraham Lincoln statue, and a concrete fountain that is considered to be the largest in the world. You could do the mile-long walk from campus to get here, or you can take any of the West Side Ave buses that stop in front of Miss America Diner over to Belmont Avenue. https://www.visithudson.org/lincoln-park
Liberty Science Center (LSC)
222 Jersey City Blvd
201-200-1000
Although this place is meant more for the students who are parents, the science center is home to the Western Hemisphere's largest planetarium and the Hoberman sphere which is the basis of a toy called the breathing ball. For those looking for a job, they also accept those with experience in science, technology, engineering, architecture and math (STEAM) as volunteers. To get to the LSC, just take the light rail from West Side Ave to Liberty State Park. LSC is open every day except Mondays from 10 a.m. until 5 p.m.