Rightsizing Efforts Gets Deficit Down to $12.7 Million
NJCU has been working on addressing its structural deficit over the summer after a "financial emergency" was announced in late June.
The deficit was about $20 million at the close of the last fiscal year and is now at $12.7 million, which was discussed at the emergency Board of Trustees meeting on September 28.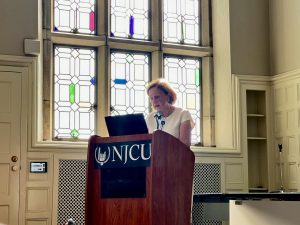 Chief Financial Officer Ben Durant said that NJCU will continue to update the Board of Trustees with progress related to closing the deficit.
He also said that the school will be looking into programs with low enrollment. "If you're concerned about the program that you're in, it will be there when you graduate," he explained.
Board member Luke Visconti proposed a motion for NJCU to formally report on the budget to the trustees every 25 days.
It was said during the meeting that most of the CARES funding that NJCU received throughout the pandemic has been spent, with roughly $200,000 remaining.
President of the AFT Local 1839 union and English professor, Barbara Hildner, said that she wants faculty to be more involved in decisions at the university.
Hildner also said, "The union is working on concessions that faculty are making."