Fear and mystery. Never has there ever been a more efficient duo that can strike the hearts of men in such wrenching ways. With so many questions unsolved, it's up to you to fill in the blanks and make up a nightmare especially suited for you. Now, this isn't an unfamiliar trope, H.P. Lovecraft has used the fear of the unknown to hook his readers into his stories till the bitter end. Movies like "The Machinist," while not threading the same path, have kept pieces of the puzzles from the viewer, hiding them until finally revealing the plot for all to see. Media like these excel through the explicitness of this trope and lean into it, although that can be a problem. If they leave out too much, then there won't be anything to speculate since you need that middle ground. If you want a film that relishes in not just mystery but the macabre and horror of things you can't or shouldn't even begin to comprehend, there is one I can recommend. A film of such a disturbing and elusive nature that you question what you know regarding the film, and your answers keep you awake at night. I want to tell you about a Fortress Films production known as "Emesis Blue."
Themes and mystery reinforced with macabre, you are thrown into a rabbit hole that can only get more nonsensical the deeper you dive. "Emesis Blue" is a horrific film, not because of the ideas it presents, but how they are presented. It gives off a ghastly mood, and you are drawn in by its clever use of cinematography and cryptic shots that can foreshadow or enhance the theme, and the weird, almost out-of-nowhere scenes that only raise more questions. It also repurposes the characters and locals from a video game, TF2. It's impressive how much it resembles the game, especially with how accurate the characters are. Many locations are repurposed TF2 maps, which makes it feel accurate. They belong in this world, even though they are now wildly different versions of their former selves. Respawning is the theme that binds this whole movie together. Everything is happening because of this act of respawning. The consequences of committing such an act, the price to pay for achieving such an act, and the fear of having experienced such an act are all gruesome. It's painted as taboo without the film ever needing to say it is. You can make that conclusion for yourself.
As for the main characters, they are quite a treat to digest. It's easy to trust them in the beginning, but you'll see how foolhardy that is. It's easy to see how they are just victims, fighting for their lives in a terrifying situation, but then you notice a few things. Even in the first few minutes, few people can think up a few reasons to suspect something is up with these characters. Eventually, it becomes clear that the characters are all hiding secrets. As the viewer, you are forced to try to solve the mysteries in the film. But try as you might, you will have nothing, no concrete evidence to prove the theory, and everything you say will only be speculation.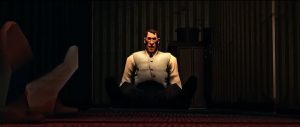 That is why this movie has garnered so much attention. You don't have the full picture. With how everything turned out, it can be infuriating not knowing, and it enhances the experiences. The movie's sinister mood is known but not thoroughly explained. As a standalone movie, it is phenomenal. Lovers of horror must not die before watching this. It is also remarkable for another reason: it uses an ancient software known as Source Filmmaker.
Source Filmmaker,  commonly abbreviated as SFM, is an animation software developed and released by Valve alongside the hit game Team Fortress 2. The software is unique since it uses a game engine, Valve's Source Engine, to animate its films. All you need to know is how to play a first-person shooter and basic technical knowledge. Thanks to that somewhat low barrier of entry, it allowed people of all kinds to make their short films. If you saw a short 3D video posted online in the early 2010s, it was, without a doubt, from Source Filmmaker. However, while beginners will have fun, veterans of the program trying to put in a little bit of that professional effort will have a nightmare trying to wrangle the monster known as the "source spaghetti." It's why there'll always be better alternatives since those alternatives are nowhere near as buggy, are far smoother to use, and have way more support from the companies that released them. Those alternatives, however, don't have the same love and community behind them, which is why this movie is amazing to me. Within the limits of SFM, it achieves so much through its shots and clever use of lighting. Most of the ordinary work done in the 3D film industry must have been headaches in SFM.
This film is remarkable. It is the first feature-length film made on SFM, and knows horror like it's on the back of its hand. I will always recommend it to people who are looking to be horrified despite the few imperfections it may hold. One last thing I must mention is the crazy number of references, shots, themes, or even plot details it takes from old books, old movies, and even the current ones. If you are a movie buff, then I bet you can catch a few of these reference