"Xenophile"
By Francis A. Wilson—
What is the American dream? Is it fame? Is it winning the Nobel peace prize? Is it finding the cure for cancer? Well the short answer is no! The American dream is and always be sex, drugs, and rock and roll. And more specifically thrash metal.
Who doesn't want the American dream? We all have dreamt about it. Who hasn't? But how many of us dreamers had the stones to actually pursue it? Let's face it, the world of music and rock and roll is dominated by fat cat record producers, corporations, and sleazy record labels. Not to mention the insurmountable difficulty involved.
But for a short while during the 80's music was glorious. The genre of metal was dominated by kings, and the fans fanatically devoted dollar and cent to these bands all for the sake of the love for the music. The world was ruled by bands like Megadeth, Metallica, Dream Theater, Anthrax, Slayer, and Xenophile?
Wait, Xenophile? Who are they? Well, they are a New Jersey based band that most definitely are a product of the 80's and the bands that ruled over this decade.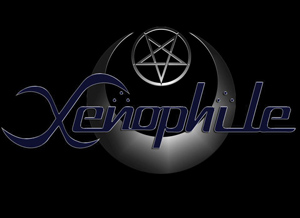 The band has been playing since 2010 as a result of a meeting of two guitarists whose passions for music ran so deep that it drove them to emulate their favorite bands and not only play music but also form their own band. These two guitarists are Leart Begolli and Ron Iglesias, two of New Jersey City University's own.
Ron and Leart have been playing together for a while now, and up until the recently formed Xenophile, they had several lineup changes and other such challenges in their quest to achieve thrash stardom. Ron Iglesias, 23 year old, Bayonne New Jersey resident, music major and history minor, has been playing music since he was eight years old. He started with piano, and at the age of thirteen he picked up the guitar and never looked back, "people told me I had a pretty decent ear for music" Ron said. But why metal, why thrash?
"I like listening to it – it's fun and it draws from a lot of influences. I have never seen a genre that was so pervasive" Ron said, "fast riffs, catchy, and fun to play – that's why I love it. For me, that is why I play thrash."
I guess that is why, Leart; Xenophiles other lead guitarist, came up with the name Xenophile. "Shit stands out, it's different. It speaks to the band and the bands influences."
Xenophile is no stranger to music. When asked about direct influences, they checked off many of the big names in metal. Some of the bands influences are Megadeth, Overkill, Dream Theater, Exodus, Deep Purple, Rush, and Pink Floyd. Wait, Pink Floyd? What is Pink Floyd doing in this line up? Well, it is because Xenophile lives up to their name, musically speaking of course. Their taste in music is eclectic to say the least. Xenophile is not afraid to blend musical styles, or cross musical boundaries in order to achieve their sound.
The band holds true to this by each sharing the burden of their music, "we all work on shit together." Ron said, "Everybody hears something differently and then we put it together." This no doubt contributes to Xenophiles almost limitless versatility. Ask them to play a song, any song, and they will undoubtedly shred it to pieces.
This is no big surprise. Because after hearing their music, or experiencing them first hand, it will become abundantly apparent that they not only look the part, but they also prove it with their sound.
Now, their line up currently is not the original line up. Xenophile has gone through several lineup changes, the reason of course was because the people who left were terrible people, and terrible musically.
The current incarnation of Xenophile as it stands now consists of Ron Iglesias on guitar/vocals, Leart Begolli on guitar/vocals, Dane Wagner on bass/vocals, Matt Pavlik on drums/vocals, and their latest edition Derrick Schneider on lead vocals.
Wow, that is a lot of vocals. Up until recently that is, due to the addition of seventeen year old prodigy Derrick Schneider. Before this, Ron was performing both as guitarist and lead vocalist, which you can see for yourself on YouTube. The band has several videos of live performances up on their account with pictures and important information about upcoming shows and events on their Facebook page.
Xenophile has not been around long, but in its current incarnation, they have no plans on going anywhere. They are tirelessly performing, progressing, and perfecting all the time while zig zagging across New Jersey. This band has the drive and band cohesion necessary to stay together long enough to get some really good shows in. So, what's next for Xenophile? The next gig, that's what.