Shock marriage proposal during exam!
By Latifah Miles—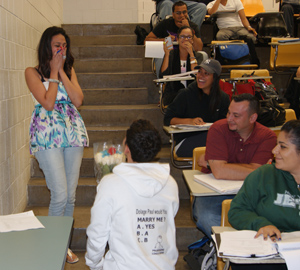 While the rain and wind had most of the NJCU students running for cover, 21 year old Criminal Justice major Dolage Paul received the shock of her life when her boyfriend, 22 year old Mikhael from Jersey City got down on one knee, ring in hand last Tuesday, September 18 in her Criminal Investigation class with Dr. Christopher Chapman.
Dolage says that the proposal was completely unexpected. During an exam in her afternoon class, Dolage was called out of class by her bestfriend and was told that her boyfriend had been in a car accident. Dolage rushed back into class to find her boyfriend behind her with a bouquet of flowers, a ring, and a shirt that read "Will you marry me?" After an emphatic "Yes!" from Dolage, Mikhael sported a shirt that said "I proposed like a boss" while his new fiancé wore one that said "I said yes like a boss."
Before proposing, Mikhael consulted a close friend of Dolage to plan a proposal that couldn't be turned down. Together, they bounced ideas back and forth before settling on the perfect plan. Dolage's friend asked her Dr. Chapman for permission to propose during class and the rest is history.
Dolage and Mikhael met two years ago at a church retreat and have been inseparable ever since. Mikhael decided it was time to pop the question after he consulted his friends and realized that he had found the one. "I was talking to friends about how [marriage] was and I knew she is the best and the right one."
The couple wants to get married in the summer in about a year or two. The bride to be plans to have a destination ceremony in Egypt. "The weddings are so fun and exotic there." While Dolage plans her dream wedding, Mikhael plans on finding the newly engaged couple a place to live. "I'm financially stable and would like to find a house sooner than later."
The proposal is the first piece of the young couple's lifelong commitment to one another. Mikhael says that having a fiancé rather than a girlfriend is a new and amazing feeling. "It feels like more responsibility. Instead of two different people, you are one. Instead of worrying about yourself, you consider the other person as well."