Into the Wild
By Katherine Guest—
I have six pairs of underwear on. You're not going to find anything in there, but Jesus.

"You make me crazy, you make me wild. Just like a baby spin me 'round like a child," harmoniously sung Lana Del Ray's recording of "American" while a sparkly black gown illuminated the dim dance floor. A burnt red wig extended daintily on broad shoulders of an elegant silhouette. A pearl choker surrounded the neck with an oversized rhinestone at the forefront of an Adam's apple.
The sultry voice continued, "Be young be dope be proud. Like an American." Ironically proud resonates with the performing hips that sway back and forth. Jack Daniels reinforces the word proud as it trickled down sober impersonated vocals. The process of lip syncing was put to a halt for about thirty seconds to a minute.
While the musical montage of "American" gradually faded, the straps of the shimmering evening dress were pulled down from broad shoulders. The silhouette transformed into a boxy, peculiar male figure.
A feisty cheetah roared onto yoga pants and a zipped up cardigan. "Let's go girl," bounced off the attentive crowd. Cheers lingered the distilled air. "I'm going out tonight. I'm feeling alright. I'm gonna let it all hang out." It seemed like Shania Twain knew a beer belly was overlapping the printed stretch pants.
Shania Twain might have known that the best thing about being a woman was the prerogative to have a little fun. What she didn't know was that the best thing about NOT being a woman was having your wig fall off during a performance. When humility is not an option, strut down aisles of approval, the approval of an encouraging audience.
WOOOOOOOOOOOOO!
Chants of "Gay Power!" boomed through the chaotic streets while police swarmed into the Stonewall Inn in Greenwich Village on June 27, 1969. Debates suggest that a drag queen initiated the riot by halting the oppressors. Six inch stilettos planted themselves firmly into the doorway.
In Stonewall Inn's dingy bar, Mafia owners served overpriced watered down alcoholic beverages to the gay community. The community of downtown New York City withheld their anguish against the clock-work raiding rituals for decades. Drag queens, transgender individuals, homosexuals, and lesbians hit a boiling point when unnecessary harassment occurred, once again. The New York Police Department (NYPD) officers invaded a blissful atmosphere on Christopher Street, once again, for an alleged alcohol violation.
On this particular summer night, the Constitution's First and Thirteenth Amendment crowded the streets in unison.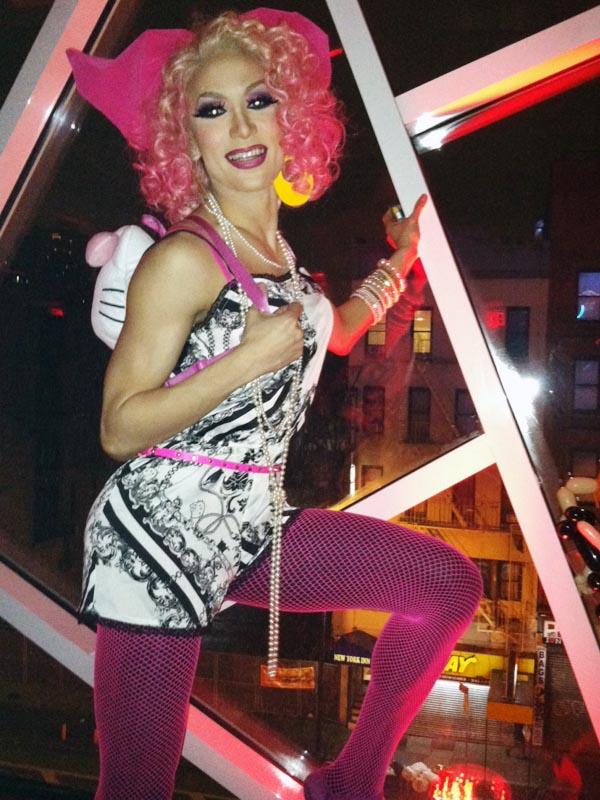 According to A Turning Point in the Struggle for Gay and Lesbian Liberation written by Lionel Wright, a riot participant and gay rights activist, Craig Rodwell, commented on the Stonewall Riot phenomenon. "A number of incidents were happening simultaneously. There was no one thing that happened or one person, there was just… a flash of group, of mass anger."
Glasses, garbage cans, and stones were the building blocks to gay-rights awareness in comparison to the woman and civil rights movements occurring in the 1960s.
"I think the Stone Wall Riot was a really important movement. It was like civil rights. I don't support violence and it really wasn't violent, but I think that unfortunately to make someone pay attention, you need to have that big coming out party. No pun intended," chuckled Jennifer (last name withheld), 27, law suit student and gay-rights activist from Manhattan, NY. "You need to have that big moment where everyone realizes 'HEY THIS IS IMPORTANT, WE'RE NOT SHUTTING UP. You have to recognize us because we're people too.'"
Gay-rights struggles are a constant pressing issue even for the twenty-first century. During President Barak Obama's 2013 inaugural speech he referred to the Stonewall riots. "The nation's journey is not complete until our gay brothers and sisters are treated like anyone else under the law."
The legality of same-sex marriage is a continuous political upheaval throughout the United States. "In America, in the twenty-first century, everyone deserves equal protection so it almost seems nonsensical to be having the argument of gay marriage because who the fuck cares who you marry?" questioned Jennifer.
Peter Lababera, anti-gay rights activist and president of Americans For Truth About Homosexuality, argued that a marriage between two homosexual individuals is disgusting.
"If you want to just think of how wrong homosexual so-called marriage is just ask yourself: How do two guys consummate their marriage?" questioned LaBarbera. "Yuck."
In reference to the gay and drag community, James Vezos, 22, English journalism major at New Jersey City University from Kearny, NJ, commented on the societal struggles. "There are some groups of people that find this lifestyle taboo—sometimes denouncing it within certain societal and religious norms. Maybe if they went to a drag show it will make them a little bit more accepting and open-minded."
Repeat after me, 'All drag is art. All art is beautiful.'  Can I get an AMEN!
The word "drag" was coined from theater jargon that was said to have originated in 1870. The word literally means a man or women performing in clothes of the opposite gender. During the era of when Shakespearean theater was popular, women were not allowed to perform on stage, therefore traditionally men performed as women.
"In the New York City nightlife, especially if drag is something you do well, a gender illusionist is a fierce way to express your artistry. It's something I particularly love to do because I've built a family in the drag community," said William Bailey, drag name Jada Valenciaga, 24, gender illusionist and costume consultant for the Manhattan Youth Ballot. "It's nice to have that substitute family around me since I came to New York without one."
Bailey explained how two movies really impacted his life of drag in a positive way: To Wong Foo, Thanks for Everything! Julie Newmar, a 1995 comedy of three drag queens in New York, and The Birdcage, a 1996 drag-oriented film.
"I loved watching actors like Wesley Snipes and Patrick Swayze put on make-up, costumes, and wigs. These two movies influenced me to become a drag queen. I love art and I love what I do."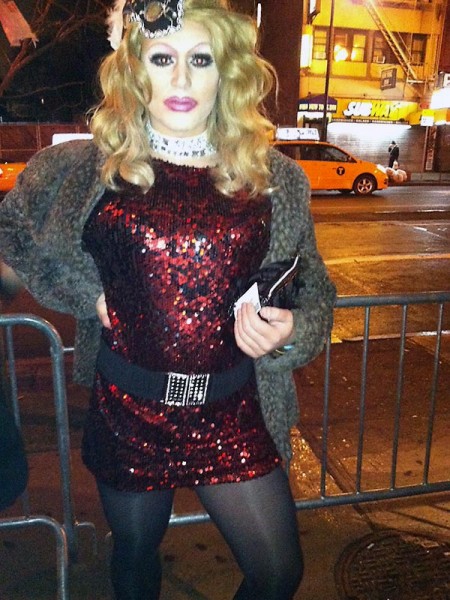 Not all drag queens find inspiration from movies like To Wong Foo and The Birdcage. Halloween is where Bridget Tunnel, 22, computer science major at Fordham University from Blauvelt, NY, got her start. Call her Miss Tunnel if you're nasty—as she would say.
"It started off the way almost every drag queen gets her start, as a Halloween costume. From there I just loved the attention and continued to pursue it. I was very lucky because when I started my friends were already some big names in the drag community," said Miss Tunnel.
Many drag queens get their drag name from their mentor or drag mother. In Miss Tunnel's case, Skyla Versai, Nightlife Drag Performer, introduced Steven Mezzacappa, the guy under the periwinkle glitter eye shadow, to Bridget Tunnel. This might sound cliché, but it was love at first sequined burgundy dress.
The make-up and getting dressed process for drag queens is time-consuming. Most girls can paint their face in less than 30 minutes, but Miss Tunnel admits it used to take her up to six hours to perfectly shift her face from male to female. Now she has acknowledged the science of her features to finish right under an hour.
In accordance to style, her fashion décor started with a rendition of the "Real House Wives of New Jersey" and transformed into a 1950's elegance with five inch pumps. Miss Tunnel started her drag career with fish net stockings, animal print, and big black hair.
"My current look is inspired by my, well I guess, Drag Mentor Skyla Versai—my look is [now] more 50's glam girl than Jersey trash," explained Miss Tunnel after she fiercely puckered her lips and dipped her hips in an hour-glass shape with her left leg symmetrically angled at 35 degrees. (Thirty degrees is not the exact amount, but there was no protractor handy).
In reference to the word "fiercely," drag queens are responsible for the vast array of language the pop culture world uses today. Drag queens basically speak gay slang. "Yea, gays have slang too." According to Miss Tunnel, some terms or expressions used are shady, fierce, and hunty. There are obviously more, but these are the most common. Each drag usually creates and recreates their own phrases to suit them. Miss Tunnel actually created her own catch phrase.
"It started when I was drunk, and trying to walk through a crowded room. At the top of my lungs, pushing past people I belted out, 'LADY WITH A BABY!' And it stuck."
When a dick is in my ass and my hair is in my face, trannies can say the darnedest things. Tell Bill Cosby to write that show.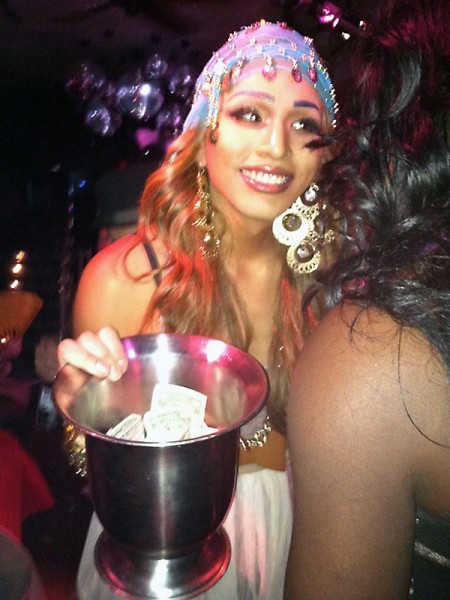 Miss Tunnel was first introduced in front of The Ritz, a bar and lounge in Hell's Kitchen, Manhattan, on Thursday, February 21, 2013. On Tuesday nights, The Ritz hosts drag performances that usually ignite around 12:30A.M.
While giving directions to the nearest drag extravaganza, a NYPD officer said lightheartedly, "I think the guy in front of The Ritz is a drag queen on some nights, either that or a really big lady."
The first stop was The Ritz and the next was the Penthaus night club where some of the most renowned drag queens reside. "I brought everything, but my dignity," said Miss Tunnel while she was scrambling inside her midnight velvet powder clutch lined with a silver zipper. Crumpled five dollar bills flew out in congruence to her hands where she easily snatched and shoved the money back into her tiny purse. "Just kidding, I found it," she said jokingly while taking out her ID card.
Miss Tunnel explained that most people preferred her as a boy because they found him attractive. Prior to drag, he was a go-go dancer, therefore a sex symbol in the gay community. Flip-flopping from one extreme to another really gave her an "I don't give a fuck" perspective on her current lifestyle.
"There's a funny question people ask when a drag queen goes out as a boy, 'Where's your sister tonight?' Meaning, you didn't want to come out in drag tonight? Bridget Tunnel is my alter ego. She's the loud, rowdy, uncontrollable, obnoxious bitch I don't get to be as boy. It's like Clark Kent and Superman, or Bruce Wayne and Batman—I too get to put on a mask and completely change my identity for the night."
Other drag queens like Vikki Villainess, super villain, fashion designer, and drag queen model who works at Nightlife, described her experience as a reassuring one.
"Most of my friends have been really supportive. They come out to shows and competitions I perform in. They just really show me lots of love."
The most common trait for drag queens is drive; the drive to gain attention or thrive for attention.
"It is not hard to pick up on how much of a liberating moment it is for a drag queen to perform in front of a rallied audience," said NJCU student James Vezos.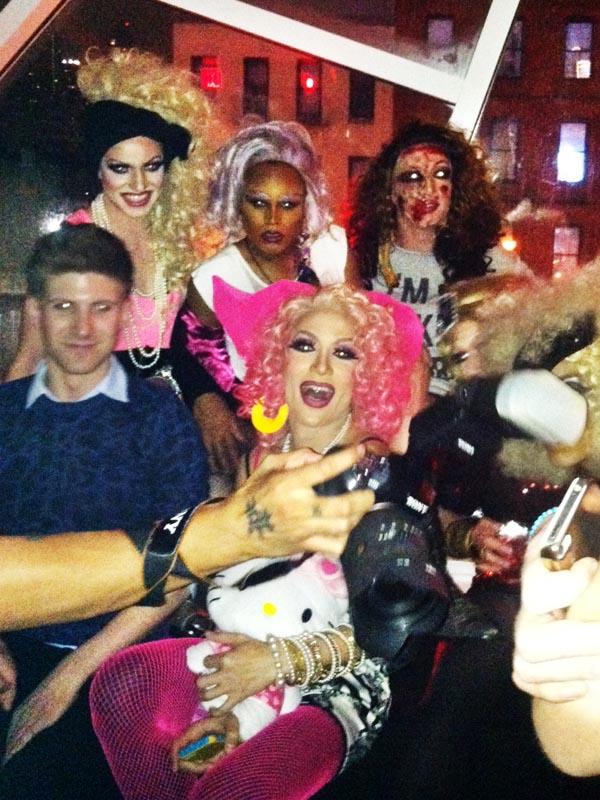 Daniel Pescatore, 21, a manager at Chipotle from Hillsdale, NJ, has a similar experience with drag queens. "The encounters with the drag queens that I've met have been really good. They are really down to earth people and great to socialize with because of their outgoing personalities. Drag queens are independent people that love who they are, but at times they can be catty."
Miss Tunnel discussed how in some cases drag queens do throw "shade" from time to time, but it's more like one friend joking about another friend. In other cases, the girls can be extremely spiteful. Jennifer gives reasoning behind the gay community's "cattiness."
"I'm not saying that I've severed any ill treatment, but at times the gay community can be very insular for a good reason. They've suffered a lot of discrimination so they're worried about letting new people in. Therefore, I wouldn't say that this is my scene, but I do appreciate the theatrics."
Discrimination derived from the word 'queen' which was considered derogatory in the 1950s and 60s. After the next decade queen became known as a fairly acceptant term.
"Sometimes I catch myself calling a drag she instead of a he, but they do it so it's a common conception. I guess it all depends on the person and whether they accept it or not. Drags and the gay community use the word queen a lot which is kind of weird, but to each is their own," said John O'Keefe, 30, a bouncer at The Ritz from Bronx, NY.
RuPaul, one of the most renowned drag queens, can speak for almost the entire drag and gay community when she said, "You can call me he. You can call me she. You can call me Regis and Kathie Lee; I don't care! Just as long as you call me."
Other stories by Katherine Guest: "Alas! Behind the Mask: A Queen Rendition"