NJCU's Martinez looks for love in 'Bama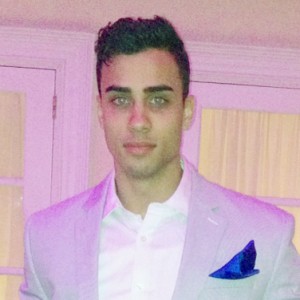 –By Katherine Guest–
Lao Tzu, a famous ancient Chinese philosopher and poet, once said, "being deeply loved by someone gives you strength, while loving someone deeply gives you courage."
New Jersey City University's (NJCU) eligible bachelor, Daniel Martinez, 25, finance major from the Jersey City Heights, courageously sought out love in Fairhope, Alabama.
In hopes to win the heart of Alabama's southern bell, Kelsey Smith, Martinez participated on the Country Music Televisions (CMT) reality dating show 'Sweet Home Alabama.'
"I decided to participate in this show because it was an opportunity to find love and compete with other people which are things that I like to do: compete and I want to find love," said Martinez. "My past relationships didn't work out, so why not give it a shot?"
During the fourth season of the show, Martinez competed against 10 other "city slickers" and 11 "country boys."
Every reality TV show has their fair share of scandalous events, but Martinez describes his time on 'Sweet Home Alabama' as "fun."
"I had a good time. It was not what I expected. It was MORE than what I expected. The guys were good. The cast members were good. The production crew was really fun. The girl was really sweet," said Martinez. "Overall my experience was awesome. If anyone can get on the show I would recommend it."
Despite the fact that the TV show was aired in the southern region, Martinez didn't expect to live in Ala. with Kelsey Smith. Instead, he would have flown her back to New Jersey.
"I wanted to meet someone from the south—a southern bell, that's what they call her. I wanted to bring her up here and accommodate her to the city life to see how things worked out."
While Martinez had the opportunity of being directly connected to the producer, Andrew Glassman, through a mutual friend, he unfortunately lacked a love connection with Kelsey Smith, who chose Collin Varallo from Birmingham, Ala.
"She said I was too different since it was a southern show. I don't really know if she didn't like me, but she said I was cool. We had gone out on a date. We hung out. We even kissed on the show, but I guess she wanted someone more from the south and not from the city."
Martinez represented Jersey City, NJ until he was eliminated during the fifth episode. In the meantime, Martinez plans on getting his bachelor's degree by May 2015 while continuing to pursue his modeling career.
"I want to get into programs at NJCU so they can help me with my future goals. So I definitely want NJCU to be the building block for my success."
After acquiring his financing degree, Martinez imagines himself working on Wall Street, the eight-block financial district of Manhattan, NY.
"I want to get into investment management and work for hedge funds. I want to work with stock on Wall Street. That's my objective," said Martinez."Luckily, there's an investment program where NJCU gives the students money to invest."
The NJCU Student Investment Management Group helps graduate and undergraduate students invest and manage $147K worth of stocks in the investment market.
Aside from NJCU, Martinez has been gathering professional photographs for his current modeling efforts.
"Right now I'm focusing on my modeling and building my portfolio. I can see my modeling career taking off in a good direction. I'm just waiting for the right opportunity to pop up."
Years prior, Martinez participated in NYC's annual Fashion Week by modeling brief cases.
He still continues to dedicate himself to the limelight of modeling, reality dating shows, and investment management.
"I just want everyone to know: work hard. If anyone had the opportunity to get on a dating show or reality show, any type of entertainment, take it. If any student needs help or advice I'm open ears."
For further details or questions, contact Danny Martinez at [email protected]