'Shelter' at the Warehouse Café
By Sandy Asto–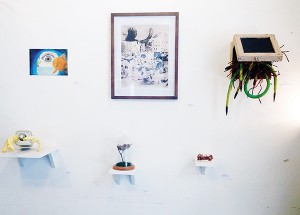 The Shelter Exhibit had an open reception on February 27, 2014 at the Warehouse Café, organized by the Art Honor's society (Kappa pi fraternity) and Art and Design Association.
An idea sparked by the society to auction the selected artworks submitted by the NJCU's Art Department students. Kristen LaBlanc, president and Steffany Ojeda, vice president adhered that 50 percent of the proceeds would go to the artist and the other half to the American Friends Service Committee located in Newark, NJ. Not only a self moving, motivational cause that rallied art students in arms but a very well thought out plan to get art students work to exhibit outside of the Visual Arts Building.
For those that don't know, the Warehouse Café has a hip urban thrift shop vibe about it with its wooden worn out tables and rackety chairs that are seated with fellow graphic designers, illustrators and the like. On the walls of the 'chillax' sociable room, eight three-dimensional pieces are on display and five framed works. Each work uniquely depicts an expression of loss that sometimes cannot be said with words.
LeBlanc's three-dimensional piece titled Prepare for the Storm is what appears like an upside down jar encased in a flower pot. "My mixed media piece displays small scale homes in reference to the three little pigs and they are being destroyed by a tornado," said LeBlanc.
Continued LeBlanc, "Someone that has experienced his or her home being wrecked by a natural disaster could find a strong attachment to my work, whether it was Hurricane Sandy, the Midwest devastation of tornadoes, earthquakes in California or tsunamis and typhoons in the far east."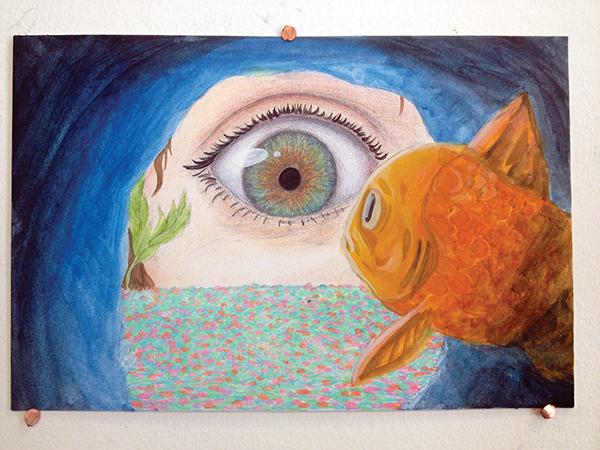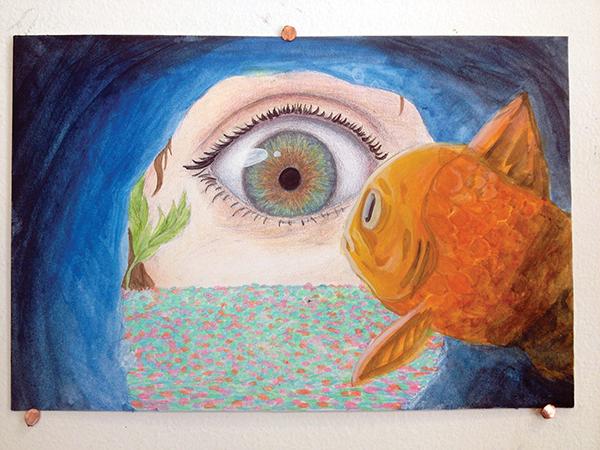 Steffany Ojeda's 5×7 gouache painting, titled Fishbowl, depicts a goldfish in its home being watched in wonderment by an eye. "I made it to express how it might feel to be homeless. The glass bowl represents the openness of not having the privacy of a home to retreat to. The eye signifying society that constantly judges the homeless, though they try to hide in plain sight," said Ojeda.
She answered in a modest tone, "I'm hoping someone would bid on my work, or any of the work on display so the money can go to those in need."
With these modest heartfelt words there is no more to say but catch the Shelter exhibit as you sip on some good quality coffee! An awesome deed be done to help bring awareness and aid our fellow comrades.
The Shelter exhibit will go on until May 30.