'Brownsville Bred' brings the personal public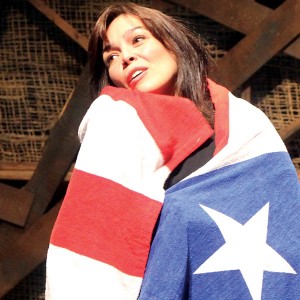 By Mario Martinez–
Elaine Del Valle's one-woman show of "Brownsville Bred" at the Margaret Williams Theatre in Hepburn Hall on April 4, was a powerful performance of perseverance, power, and pride, that illuminated the joys and struggles of growing up in the Brownsville projects in Brooklyn, N.Y., as a nuyorican during the height of the crack and crime epidemic of the 1980s.
As tribute to Women's History Month, NJCU hosted Del Valle to perform her critically acclaimed 90 minute show which has been circulating off-Broadway since 2011. Enthralling, harrowing, and riveting, Del Valle shines brilliantly onstage as she tells her life's story.
During the 1980s in the Brownsville section of Brooklyn, violent crimes, gangs, drug addicts, and miscreants, plagued the poverty stricken residential neighborhood. At this point in time, less than one-third of the population had graduated from high school. And those who did attend high school (despite it's high truancy rate and low grade point average), were screened and had to pass through metal detectors in order to enter the school building.
But still somehow Valle showed that there was always a silver lining surrounding all the chaos of the streets.
Taking place during this crime era, "Brownsville Bred" is Del Valle's perspective as a Puerto Rican girl growing up in one of the 18 Brownsville public housings projects that occupy most of this two-square mile neighborhood. Growing up in a milieu that is predominantly African-American, Del Valle wonderfully elucidates the homogen- ization between her New York upbringing and her Boricua heritage.
"Brownsville Bred" is comparable to John Leguizamo's one man show "Sexaholics," but it's portrayal of Brooklyn from a child's perspective gives it a feel of "Brighton Beach Memoirs." Del Valle captures the essence of being a second-generation Puerto Rican woman with her nuyorican vernacular and by acting out the many personalities that were common in her upbringing.
Comedic characters such as her salsa loving father, her overprotective mother, and her motley neighbors, gives the show a great feel of buoyancy, especially since Del Valle narrates the performance in a high-pitched, childlike voice. However, the show had many jaw-dropping moments that stunned the crowd.
Mainly dealing with the themes of family, drug abuse, domestic violence, criminal violence, and death, "Brownsville Bred" is a heart-stopping and thought-provoking soliloquy that had some in attendance sobbing.
Still though, throughout the rollercoaster of emotions emanating from Del Valle in her performance, she keeps her composure during it all, which is arguably the most admirable quality about her.
The only negative regard to the show was that Del Valle's microphone kept cutting in and out during the performance, which was a bit distracting as an audience member, but not for Del Valle. She did not miss a single beat as she sang, danced, and even rapped in her performance. She made it seem as if the technical difficulty barely existed.
With several allusions to 80's pop culture and Puerto Rican traditions, "Brownsville Bred" is an absolute delight for anyone. The show's utilization of sound effects to animate her actions were executed well throughout, which added great allure to the performance. The story is a captivating tale that tells of the unique experience of a Puerto Rican debutante surviving in a poor and extremely corrupt neighborhood.