Spring Break in Paris: Studying Abroad
By Ciara Broadway–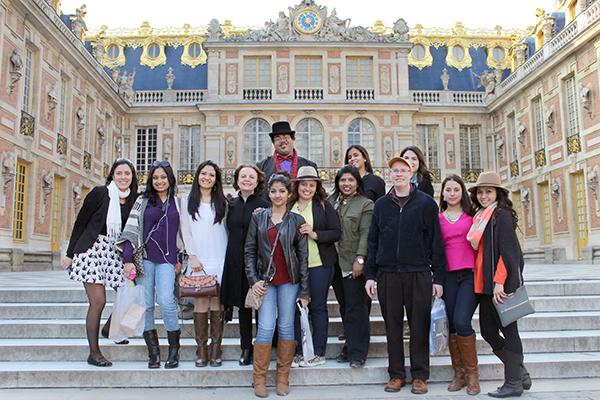 During this past spring break, various students from the Media Arts, Sociology, and Business/Writing departments had the wonderful opportunity to go to Paris, France, the city of love.
The fashion shock and culture difference created a true learning experience for both faculty and students.
When asked how different Paris was from cities within America, Dr. Max Herman, Assistant Professor of Sociology and Urban Sociology, responded, "Very different. For one, people walk a great deal more, less driving, more walking, more street life, more outdoor cafes; and although there are more people in the streets, it's a slower pace than our cities. People take the time to enjoy their lunch and their city."
Unlike large cities such as Manhattan or D.C., where the abundance of fast-paced people eat while walking, the people of Paris differ in public. For example, politeness is a key part of the tranquil environment pulsing through the city. If you say "Bonjour" to someone, it is custom for them to return the greeting and vice versa. If not, then one is considered to be rude.
"The people were very friendly. Random strangers would say hello to you and you would have to say hello to them," said History Major and Business Minor Hector Rivera, 24.
"What we noticed about people in Paris is they spoke multiple languages, so they speak English, French, and other languages as well," Media Arts Professor Vera Dika said.
The cityscape is very diverse in comparison to American architecture; Dika said that Paris, for her, as well as the students who attended the trip, was a true learning experience.
"I think they (the students) participated in the life of Paris, the city, through the people they saw and met," Dika explained. "It opened their eyes to the culture of Europeans and the life of the city. We talked about architect of Paris and took boat rides down the Seine of Paris at night."
New Jersey City University has numerous study abroad programs to various places around the world. There are trips to China, Paris, Cuba, Rome, etc. The Campus Without Borders program also sponsors trips to historic cities for students to study abroad.
"We need more fundraising to help students of modest means be able to travel," Max Herman emphasized, "I think study abroad is a significant part of a student's education experience; and when you study abroad and come back, you see your society in a different light."
The only addition for the trips experience to have been better, everyone agreed, would be if it were longer and if they had more time to visit more places.
In parting, Hector Rivera left us with these words for future prospects interested in studying abroad, "Remember that, even if the stress comes, you will enjoy every minute of it. How can it not be enjoyable when visiting places like, the Statue de Danton, Versailles Castle, La Luge and seeing the Mona Lisa?"