Plastic Smiles
By Ladiyah Beachum
Pretty hurts, we shine the light on whatever's worst
Perfection is a disease of a nation, pretty hurts, pretty hurts
Pretty hurts, we shine the light on whatever's worst
We try to fix something but you can't fix what you can't see
It's soul that needs the surgery.
– Beyonce, "Pretty Hurts"
People view the fashion industry as glamorous, seductive and inviting. The scandalous clothing, pantie-less manikins, flashing lights, music spinning, beat faces, royal masks, pop lips, musical seating, desirous photographer's, fancy heroines, gimme more's, feathered lashes, arched brows, out of the box ethnic hair styles, stick figures, groupies, fame, satisfaction, work bitches and craving audiences. These are the ingredients that paint the fashion world. As captivating as these attributes may sound, the harsh reality these are the things people console in to spark perfection.
The fashion industry forces models to believe in one beauty ideal which is "Thin Inspirational Images," as Tyra Banks would say. How beautiful or perfect their outer appearance looks is what matters. Besides having a perfect catwalk and perfect poses; being the best is the goal. Those that embrace being imperfect are normally disqualified from casting and even auditions. We live in a time where image is everything; it determines your confidence, your success, how many gigs or even how many call backs you receive. The fashion industry has a certain beauty ideal for every shoot or every line a fashion designer has, if a model does not meet the expected appearance, they are not picked.
Modeling is a lifestyle, an art, a mindset, a riddle. Models don't just wear garments they own them, they walk them, they live them. Fashion models are expected to meet different requirements as opposed to a commercial model who are more prone to looking like everyday people. Fashion models have to "Be between 15-19 years old, 5'9," be really thin (105-115) pounds except for plus size models," In the commercial modeling business, "Models can be older, shorter, heavier and need not be pretty or beautiful – "interesting" often will get work, and "generic good looks" is the most common look required. Commercial models are asked to play roles in pictures: "young mom," "active retiree," "Doctor," "executive," and they look like idealized versions of these roles," according to Newmodels.com.
Sidebar: The Disadvantages of Being a Teen Model in the Fashion Industry
DeBorah Green, commercial print model and actress said, "Commercial print is more lenient than runway modeling. It's geared towards the average public. They want the public to be friendly towards their product or everyday people who look like they might use a product. Like Starbucks, when you go into Starbucks, you don't always see models and actors sitting there drinking coffee. You see normal people. It's very product oriented."
A major fundamental problem within the fashion industry is designers choose lighter toned models more often than African American models. Why is this? Is it because the fashion industry has a specific beauty ideal, which is essentially more in favor of white models or lighter skinned models?
Scholars believe there is a command to fit a specific beauty ideal. Associate Professor of Women's and Gender Studies at New Jersey City University (NJCU), Jacqueline Elis said, "I see the demand to fit a particular body type and so I imagine that that puts a certain amount of pressure on the models to fit that beauty ideal. I know for cat walk shows in particular they sort of protest against the exclusion of women of color in those runway shows. I think Naomi Campbell and some others organized around that."
"You would see women of color who are models in clothing like Baby Phat but not Armani or Versace. So I think that's an issue," Elis added.
This is also shown through hair textures on the covers of magazines as well. African American women's hair textures are not normally straight but when there is an African American model on the cover of a magazine, they normally portray them having straighter and manageable looking hair.
Another downfall in the fashion industry is the fact that African American models struggle with getting hired for runway shows. An article on MSNBC states blog Jezebel's records of models diversity in 2013 spring shows, "79.4% White models, 8.1 % Black models, 10.1% Asian models, and 1.9% Latina models. While the numbers are far from where they should be, Spring 2013 provided encouraging statistics. However, during the Fall 2013 shows, the number of white models jumped back to 82.7%."
According to CNN, "The lack of racial diversity in the fashion industry is a serious issue that needs to be tackled, according to supermodels Naomi Campbell and Iman, who this month launched a campaign to raise awareness of racism in the industry."
Somali fashion model and entrepreneur Iman Abdulmajid said to CNN, "The absence of people of color on the runways and photography reinforces to our young girls that they're not beautiful enough, that they're not acceptable enough."
"The diversity that we live in, the world that we live in, is not what is shown on the runway. That to me is the concern. It's a bigger issue at large than just about runway and models."
Grace Modi, 2014 Brooklyn Fashion Week African American Model from Sudan, Africa experiences these inequalities as a fashion model. Her two characteristics: being dark-skinned and bigger than a size 2 interferes with her clientele. She said, "Most of the time designers are going for people that have long hair or blue eyes or skinny girls. Not a lot of designers want to use dark skinned models. It is very hard for African Americans. When we come to a fitting, they would say that we're too big to fit their clothes, and that we need to lose weight or I'm not the right look that they are looking for."
She is not only dark skinned, but she also has no hair. She revealed how designers in high fashion disregard models without hair, looking at it as if it is not part of the societal beauty ideal. Modi added, "They fit us sometimes and decide to take us out of their line the day of the show. Sometimes they will look and find somebody that has long hair or blue eyes." From her dark brown sugary skin to her bald less head, she struts humbly with a smile as if no internal pain exists. She maintains self-confidence and with a joyful and outspoken personality which is needed to be respected in the fashion industry. Thick skin is needed in this business.
Skin complexions aren't the only downsides of the industry. Height is also an important ingredient that determines the success of a model and how many gigs she is granted. Kimberly "Kim" Clarke, African American commercial model, is 5'1. Her height is unacceptable to high profile agencies. Kim's height alone affects how she goes about marketing herself. The average height for a fashion model is 5'9 if not, taller. According to sources from Newmodels.com, "To sign a lucrative national contract, to become a "supermodel," or even to be a "fashion model," you need to be between 5'9" and 6 feet tall." Designer Danny Nguyen said he expects, "A size 2, height minimum 5'8, 5'9."
Richard Fitz, 2014 Brooklyn Fashion Designer of the Felt Fusion Line, said, "I'm from South Africa. We normally use a standard 34 in Europe. When models vary from that size it becomes difficult because often you get to a show, you bring out your garments and the models bust is too big, or any other areas for that matter. And you don't expect that, the garment doesn't fit so you end up tearing a zipper or something like that."
Sidebar: Do Fashion Shows and Magazines Influence Anorexia?
This is why fashion designers prefer models be a specific size.
Former Miss Louisiana, Erin Edminston has also experiences this since, she is 5'8. She said "For me I'd say the hardest part would have to be the fact that I am one of the shorter models. You're competing against girls that are over 6 feet. The sample sizes are always for taller girls. Most short models get overlooked running with hope when it comes to maintaining in the high fashion world. Edminston added, "A lot of times an outfit would fit me everywhere else except it will be way too long. I know to pack really tall heels and always bring nude underwear so you don't have wardrobe malfunctions."
What helps Kim balance her modeling career is her knowledge of marketing and knowing what fits her. She said, "If you market yourself in ways that cater to your look you can still be successful in the modeling industry. Doing photographs that make you look taller."
In the high fashion industry, fashion designers, hosts, and models express themselves through creativity which is through make-up, extravagant clothing and out of the ordinary hairstyles. It's a field of individuality. Everything done on the runway has to be a magical, a moment that will woe the crowd in amazement.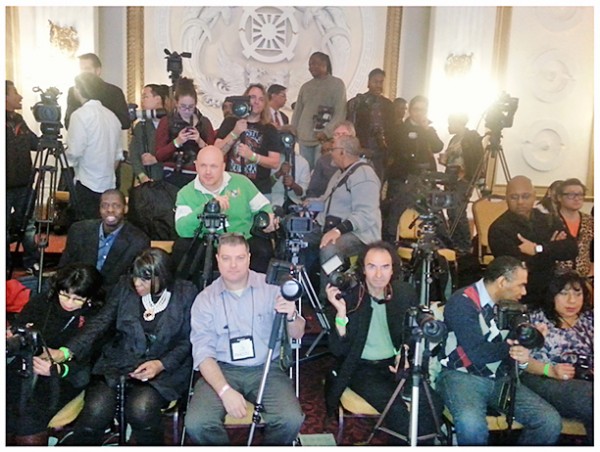 Long lines crowded the second floor of the New Yorker Hotel on 8th Ave. Taxis raced the New York streets, temperatures are below freezing but that doesn't stop the show. Snow still sticks to the ground. But weather stops the New Yorkers and the fashionistas from coming out and showcasing their talents. Boisterous fashion lovers arrive and form a long curvy line to turn in their purchased tickets to enter the exquisite gates of glamour. Everyone is amped for the event to begin.
The New York spirit revives everyone and blesses them with big bright smiles and good conversational skills. The runway is stepped on by newcomers and visits, taking photos of themselves in their best outfits that they have invested probably most of their paychecks in. It is what everyone has waited months for, Brooklyn Fashion Week! As soon as people step foot in the door of the small setting, techno music plays loudly to hype the crowd. Fashion Week is not only a breakthrough for the new season trends but also a celebration to get people coming back for more. They even added lights to give that extra fantasy-like atmosphere. Models are backstage getting their hair and make-up done by the most respected hairstylist and makeup artists, making them feel like a million bucks. Their outer images are appealingly happy while they sit and continue to starve themselves until the end of the show. Backstage is rather hectic and over flowed with chaos. Beauty is within all the violet walls backstage as well as in the white autumn white seats. It lies in everyone's eyes and so does the thought of perfection. To be the perfect size, the perfect weight, even the perfect skin tone.
Divas are embracing their inner hustle and owning what they love.Which is to model and say they did it. Camera men gather in the front of the runway, hours before the show just to make sure they have the perfect seats and setup. Most of them work for companies such as news organizations, magazines or do online blogs. They are ready even before the models.
As the models grace the audience with their presence, feet are placed directed flat on the floor. New York Fashion Weeks don't permit crossed legs or camera flashes from phones. Everyone'sgoal is to get the perfect shot. Models pose at the end of the runway with their confident smize's and fierce structures using the three pose rule. After the models finish up with the finale, they are rushed to go and take photos on the red carpet and billboards.
The glitz, the glam, the interviews. They all seem to be enjoying every bit of the attention. But, backstage and in the models minds, no one knows what they go through.