Jersey City Rapper Triumphs in the Face of Adversity
By Alan Walsh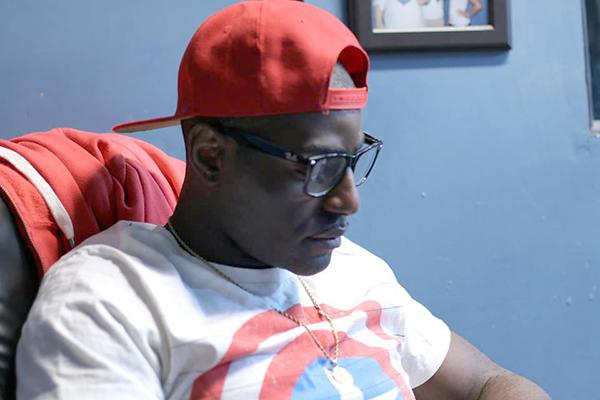 Walking around the RED office in downtown Manhattan, you're brashly reminded of the star-laden list of musicians they have propelled. The independent distribution company that flies under the Sony flag has elevated the star-power of Alanis Morissette, Mobb Deep and Nine-Inch Nails to name a few. On deck is the gaudy 30-year old rapper from Jersey City that everyone has been waiting on to hit big.
Meet Sam Horne, aka "Sam Black," a LGV Operator at the Tropicana Factory in Jersey City, NJ. He works the 2:00-10:30pm shift operating robots that load trucks to provide for his three children and wife. A systematic job like this wasn't always the standard for Horne as he has bounced around the legal system on the same route as the silver ball in a pinball machine. But with his hit single, "Chris Paul" ready to blaze the music industry this summer, he's hoping to train someone else to operate the robots. Sam Horne has bigger aspirations for Sam Black.
"Let me show you what that crack bout
I lost a couple racks up in my trap house
Still moving work up out my trap house
Beat that thing good until she pass out

And I'm ballin', straight Chris Paul'n
My youngin' bring that money by the morning
My niggas fresh to death I need a coffin
We shittin' over here so bring a toilet"
"I want to be a star," said Horne. "This is why I'm in the music industry. When I was younger, my boys and I had dreams of doing big things in the midst of acting reckless. But back then it's almost like, when's our turn going to come? It never did, so I had to make it happen."
A former drug dealer on Lexington Avenue and Curries Woods in Jersey City, Horne operated his block like the mastermind of a Forbes 500 company. He arrived at this reign of power when 30 of his friends/colleagues did federal prison time, thus leaving the operations solely to him. One of those friends had to take even more heat than the others.
"I did time, but I did my part," says Dykon Elliot, a 35-year old from Jersey City. He is Horne's life-long friend and current business partner. "I'm one of the older guys, but I had to make sure everything ran smoothly. We all sacrificed big-time for Sam and its paid dividends up to this point."
Elliot and his counterparts were the ones that Horne looked up to. They would go out to places like Detroit and Miami all the time to try and spread their reach. Horne saw this, but at the same time he was a standout college football player at Southern Connecticut State University playing on scholarship. After an injury forced him out of the game, it was time for Horne to find a new bounce and start making some money.
"People had to eat," said Horne. "I was the one that provided for a lot of people I cared about, and living that street life was the only way I knew how to do it."
Providing for people in this manner can sometimes come at a cost. As leader of his crew, the Bralikk Animalz, Horne was subject of many investigations from the Hudson County Sherriff's office. He received two charges for employing a Minor – the first charge, Horne was given probation for five years, and the second went to trial and he beat the case. The minor knew that Horne wasn't the one that sold to him, but his parents pushed the issue, forcing the cops to charge Horne but they came up empty.
The Hudson County Sherriff's office was back at it, and Horne was their focus once again. The Sheriffs did a massive sweep after seeing a Bralikk Animalz DVD which featured members of the crew showboating on the Jersey City streets with guns, drugs and anything else that would usually raise red flags. They targeted Horne knowing well that he was the leader and that was where to start.
With two kids and the Tropicana job waiting in the wings, he really settled in on his music. Horne and the Bralikk Animals won a showcase sponsored by Jay-Z's Rocawear clothing company. They won $10,000 towards a video shoot for themselves and used it on their hit single at the time, "Girls." Since YouTube wasn't relevant at the time, the video would be played sparingly on MTV, BET's Rap City, and MUCH Music.
Sidebar: Disk Jockeys Making That Money under the Table
With that success came recognition from the rap game. Enter into the picture Fateen Reid, the President of WhatevaOK Records.
"I just remember looking around on the internet and hearing him for the first time," recalls Reid. "We eventually met and kicked it few times, but I always loved his work ethic." The two continued to collaborate together and Horne let Reid in on his little secret, the "Chris Paul" track. "When I heard that, I knew I had to be onboard for this journey. Now we're sitting here in Manhattan, and we're doing some big things together."
With the help of guys like Elliott and Reid, Sam Black is now an up and coming name in the music industry. The inspiration for his hit song, "Chris Paul" comes from the smooth play of the Los Angeles Clippers point guard and how it translates into Horne's personal life. After the song made its way into the hands of Lamar Leggard over at the RED offices, the song really had some ground to stand on. It currently plays a few times a week at all the major radio stations in the U.S., including a nightly appearance every Tuesday on Tony Touch's show on Shade 45.
Horne was also invited to the New York version of the Grammys this year where he rubbed shoulders with the future stars of the music industry. While it's a slightly scaled-down version of the awards show that takes place in Los Angeles each year, attendees including the songwriters, producers and valuable members of the music industry in New York.
Sidebar:  The GRAMMYS Aren't Just in Los Angeles, They're in New York Too
"The aspect of being able to network and be introduced to this lifestyle was incredible," says Horne. "It's good practice for the real thing one day."
Not everything in music is about the jewels and fame; at the end of the day there's family involved. Horne's plate is full in that regard, as he has two children- Jaylin, 10, Jemuel, 6, and the newest addition to the Horne family, King, who is now three months old.
The famous sentiment, "The show must go on," echoes for Horne louder than ever these days. Dealing with a loss is the ultimate test. In January 2013, Horne and his wife, Ashley Labada, 26, were set to welcome a child into this world when the unthinkable happened. During an excruciating birth process, the umbilical cord rested in an awkward position around the baby's neck, thus taking its life in the process.
"That was rough," says an emotional Horne. "When you think about the whole process of having a baby and becoming a father, they don't prepare you for something like that. It's something that is always on my mind and will never leave me. I just want to make my family proud."
Labada is the backbone that strengthens the household. The two met while working on a remix for the song, "To the Max," a collaboration of different artists from the Jersey City area. The two went to Olive Garden on their first date and it's been true love ever since.
The miscarriage is something that weighs heavily on both of their minds but she won't allow it to deter her husband's career.  "I just try to support him the best I can," says Labada, who works as a bookkeeper for Adriana Papell. "If he's doing what he believes then I believe in him as well. I know what performing music is like, and I miss it, the energy involved that requires you to be all in on it
When people hear a song, they hear the perfected version. Unfortunately, they are not there to see the entire process of a project – the idea in the artist's mind, the uncertainty of how it will be perceived, putting the plan in motion, and watching it grow – these are all unknowns to the flyby listener. "Chris Paul" is the graduation ceremony and Sam Black is about to step on stage to receive his diploma. Now it's up to him to go out into the world and succeed with that verification.