Can a Lace Wig Make You Sick?
By Mahneerah Griffin
Can a lace wig make you sick?
Actress/singer Countess Vaughn, formerly of The Parkers fame, would tell you YES.
Before we get into this unfortunate nightmare that Ms. Vaughn had to endure, let's get into the history and or specifics of the lace-front wig.
The lace wig was created to be glued down to the hairline with lace giving the illusion that the hair in the wig is growing from your scalp. These wigs were made for Broadway shows and cancer patients, but slowly the entertainment industry have made them popular. Some of the most notable celebrities who are known to wear these lace wigs include models Naomi Campbell and Tyra Banks and entertainers such as rapper Nicki Minaj and superstar Beyoncé. Now lace-fronts are a stable in the mostly the urban communities.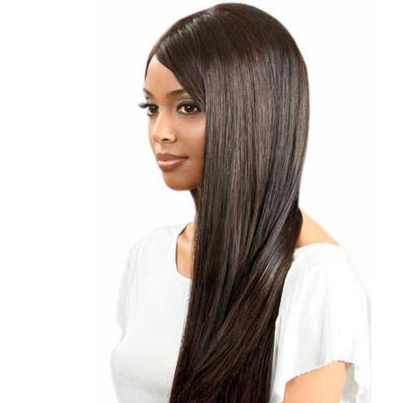 Lace wigs come in two types. The lace-front which is popular amongst urban communities, is where the front perimeter, mostly the hairline is hand-tied with synthetic or human hair giving an illusion that it's real hair growing from your scalp. The lace front wig's price range is as high as $100; you can find some online for as low as $30. Then there's the full lace wig. This is made with mostly human or Remy hair. The lace is throughout out the wig which gives the wearer options for styling. This type of wig is popular amongst entertainers, they are priced as low as $500 and as high as $10,000.
In a recent interview on the daytime talk show The Doctors, Vaughn went into grave detail about her lace-front horror. Vaughn had contracted a scalp infection due to the lace-front glue. She also revealed that she had worn wigs on a daily basis. Other symptoms that Vaughn had suffered included hair loss which included the loss of her whole hairline, discoloration, skin loss around the ears and eyes, and pockets of puss on her skin.
"The red flag was the oozing from my ears, my forehead, the whole nape around my head the pus, it had a horrible smell, it was painful," Vaughn shared on the show.
"I didn't want to make that connection with that. I mean, I was like come on, a wig, a wig can make you sick? No, no way."
So what can you do to avoid the same calamity? Here are some simple steps to make sure that your hair is protected while you're wearing a lace wig.
1. Make sure your hair is healthy. Weak, damaged, and brittle hair will not be able to withstand lace wig wear, so make sure your hair is strong and healthy.
2. Braid your hair and wear a stocking cap. This creates a base for your wig to be applied to and also aids in further protection of your real hair.
3. DO NOT TAPE OR GLUE IT DOWN. This method is only used if only worn for a short period of time. If this wig will be worn for daily or weekly use, this is not suggested.
4. Do not wear wig for more than three months. Remember this isn't your hair. Wigs are used as a form of protective styling or as an accessory, like shoes. You have hair underneath the wig, take care of it.