Art for the Heart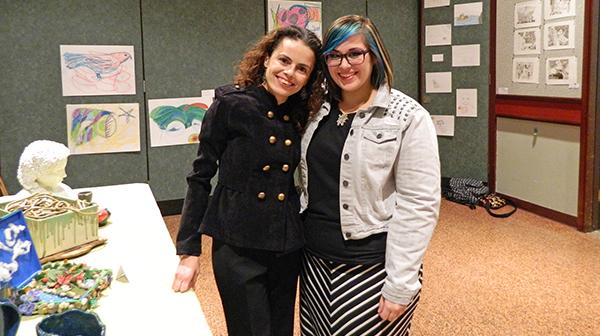 I was given the opportunity to interview the lovely and charismatic ladies of the Art Therapy Association: Art Therapy Major and club President and Joana Carvalho, 33, and Vice President Amanda Garced, 20, a Ceramics Major.
They run a rather unique club that focuses more on the individuals' emotions and how to express them in a relaxing manner. Their meetings flow a lot differently than other organizations, but it works well with the group's objectives. They were very happy to speak about their organization and themselves.
Q: How did the Art Therapy Association come about? What is the group's history?
Amanda: The group started about three years ago in the attempt to get a masters program here at NJCU for Art Therapy; we really wanted to come out and show people what art therapy was. The best way to describe it would be as opposed to talk therapy, which is mostly talking, we'd have the person express their emotions through any mediums of art, such as ceramics, painting, drawing, using play-doh, etc.
Q: When and where do you guys meet?
Amanda: We meet mostly in GSUB on Thursdays in Room 306. We used to be in the art building, but we felt like the art building is a lot like an island, so since GSUB has the most people it was a good idea to switch over here. We wanted to come out in the open. (Laughs)
Q: Who runs your social media? Is it any different from posting your own pictures?
Amanda: Gleseler, he runs the Facebook and Instagram page and he's so good at it too. It's not that different from posting personal photos, just that everything we post is club related, not random selfies of us hanging with people.
Q: Why should NJCU students be interested or want to participate with ATA
Amanda: Well, for starters, you don't have to be an artist to join. It's a really fun group. We do these activities called experientials which can consist of just about anything. We do a lot of coloring, drawing, painting, and mask making. In short, it's a fun way to get rid of stress and meet some cool new people.
Q: How do you feel Club Day went for your organization?
Amanda: It went pretty well considering that club day is more geared towards the Sororities/Fraternities as you can see. We had many people ask some questions. For the first time in a long time, actually, at Open House a lot of people came up to our group and knew what we were about and we were so surprised.
Q: What are some of the events you have planned in the summer and for the fall?
Amanda: We plan on having gatherings because it seems like we're not so much of a group; we're more like a family. We can't do anything in the summer because of our budget. As for the fall, we would really like to see "Empty Bowls;" we have this international coalition to feed the hungry, making the bowl is representative of how hard you have to work for that food, first year and second year were very successful. Have one workshop to make the bowls and teach you how to make bowls, second workshop to glaze the bowl and then we have a communal dinner, charged $10, then $5 to donate to the homeless. We'd like to have a lot more galleries. We tried doing the gallery, but it was booked and the Starving Artist sales.
Q: What do you like to do for fun?
Amanda:(laughs) Well, I like to watch a lot of SpongeBob. On a normal basis, I do watch a lot of cartoons. I love nature, I love working in the studio.
Joana: And I wish I had my own studio, but I wish I could do more ceramics because it's really my therapy.
Q: How do your meetings usually go? What's your agenda like?
Amanda: We usually have an agenda of doing an experiential, so every meeting, we come up with a new experiential. As opposed to just talking at certain meetings, we have an activity planned.
Q: What are your plans after graduation?
Amanda: Go for my master's right afterwards!
Joana: Maybe take a semester off, head out west for a little while, but definitely get my masters.
The group is very relaxing, the members who attend are friendly and after attending one of their meetings, one feels at ease about some of the things that may be bothering them. If you would like to know more about their associations, feel to reach out to them at [email protected], follow them on Instagram: @njcu_ata and join their group on Facebook; www.facebook. com/NJCU Art Therapy Association.