NJCU Media Arts Student Publishes Second Novel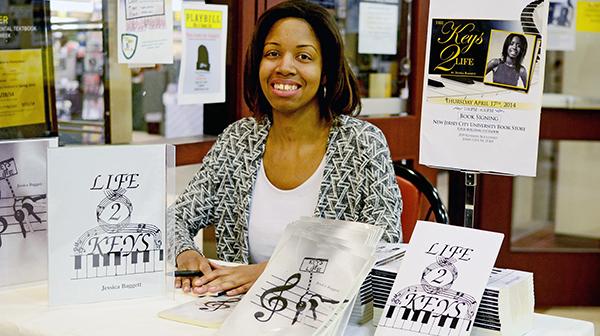 NJCU is home to many great published authors, most who are assumed to be professors. Across Culver Ave in the media arts department is student Jessica Baggett, 27 year old media arts major of Jersey City, and self-published author.
"The Keys 2 Life," a sequel to "The Keys of Life," continues the journey of a 15 year old girl named Jasmine and her instinct talent for music. Although it is a fiction novel, Baggett incorporates some of her own personal experiences into the story. "The Keys 2 Life" is composed so the reader can understand what is happening in the plot even if he or she has not read "The Keys of Life."
Baggett didn't intend for her work to be published as a novel. "My original plan was not to become an author. I actually wrote 'The Keys of Life' as a film script being that I was a media student at Henry Snyder High School," Baggett said. "I started to notice that a lot of great films came from books so I decided to turn it into a book and the rest is history."
A side from her passion for media, Baggett relies on music to help her with her writing. I have a thing where I have to listen to music while I write and I always pray and ask God to give me the words to write. Music is very important to me because I wouldn't have become a writer if it weren't for music. When I was eight years old my Grandfather taught me how to play the piano and then I started writing songs and from there I started writing plays."
Baggett has her own production company "Pro'ta'jay Productions." Part of her company revolves around her as a DJ, which she refers to herself as DJ Pro'ta'jay. "I call myself "The Pro'ta'jay because I am under the influence of creativity. I want to change the world using media."
Baggett's family members support her through her career, especially her mother who she refers to as my "biggest fan." Queen Latifah is a public figure Baggett looks up to for inspiration. "she is more than a triple threat and she is still genuine and she doesn't forget where she comes from," Baggett said.
NJCU has always been where Baggett desired to receive her education. She plans on using her degree to help her into the media field, although she says it won't be easy but will put her ahead of where she is now.
Baggett's is determined to be extremely successful. "I want to change the world using media. Once I become a public figure, I plan on starting my own foundations and doing charity work," Baggett said.
Jessica Baggett's novels are available on amazon and her website www.eclecticone.com. She is expected to graduate NJCU in 2015.