New Faces of Student Government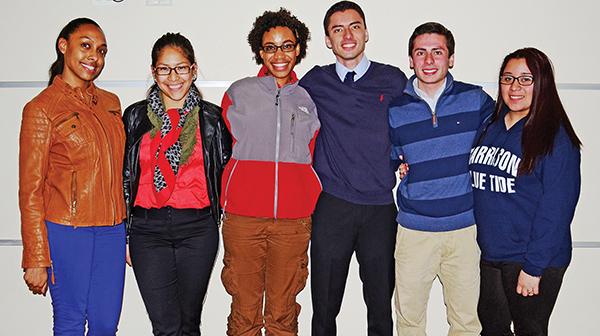 After a grueling 13 hours of open polls and weeks of campaigning, the votes were in for the new Student Government Organization Executive Board for the fall 2014/spring 2015 semester.
Alvert Hernandez who ran alone for the position of SGO president, like his predecessor Maria Gomez, required 50 votes to secure the seat. He received 410.
"I've always wanted to leave a legacy at NJCU and as SGO president I will be able to do that," said 21-year old Hernandez, secondary education/English major from Union City.
Hernandez explained that one of his goals during his presidency is to connect the university resident students to the rest of the campus and create good school spirit amongst everyone. He previously held the position of freshman class president and has been part of various community service events.
The current SGO president was satisfied with the winners.
"Next year we have a great talented Executive Board coming into SGO. What I hope for them is to become one great team who excels at communication. My advice to them is to go beyond their duties and expectations and to set goals with deadlines that will benefit the whole student population," said Gomez.
Hernandez has large shoes to fill. Gomez founded the "Become a Knight" program to provide paid-positions on campus and was asked by President Sue Henderson to help select the new NJCU Provost.
Students may recognize Stephanie Pena, the Vice President for Student Activities. This may be because Pena is the only member of the previous staff to serve a second term.
"I want to use my position to continue to brand SGO in a different way. On my last term I started "The Wild Weekends" event series and this year students were able to see the Blue Man Group and go to a New York Yankees game," said Pena, 21 who lives in North Bergen and is working towards a psychology degree.
Pena can also be credited for launching "Laugh-set lunches," a
series presenting different comedians to students during lunch hours.
"I will miss the old staff, we were all so different and yet worked well together. Still, I'm excited to work with the new staff too," added Pena.
The Vice President of Internal Affairs, previously held by Bryan Suarez, overlooks NJCU's clubs and puts together the yearly elections. This year 20 year-old Christian Vergas from Kearny ran against more candidates than any other position for this seat and came out victorious.
"I've worked with members of SGO and I know how much potential we have," said Vergas who previously served as the Vice President of F.E.L.A (Federacion De Estudiantes Latino Americanos).
"I want to get students as involved as possible, especially those who don't know about all the benefits they have with SGO. I want to set up at least one public forum per semester to get students engaged," Verga added.
As for the position of Vice President of Finance and Administration, Esteban Morales procured enough votes to succeed Hector Rivera.
Morales, 21, biology major from Kearny said he ran for the position because he wants to use the experience he has received through different organizations to improve SGO.
"One of the goals that I have is to get more students involved with SGO and the different organizations at NJCU so that they can take advantage of the different opportunities that we have to offer," said Morales.
The new Vice President of Public Information, Priscilla Casco, hopes to take Karen Mateus' (the previous V. P's) techniques to the next level.
"I love how Karen used Instagram and other creative methods to reach out to students. I want to continue this and find new ways to eventually 'knock on the door' of every student and professor to get everyone involved on our campus," said the 21 year-old from Harrison.
Finally, the new Executive Vice President Liz Jimenez who will take over for Jonathan Cabrera plans to use her experience with the Environmental Club to be successful.
"Last semester I became the treasurer of the Environmental Club and I learned about all the benefits the SGO offers clubs on campus. I hope to enhance the relationships between the clubs," said Jimenez, 21, Environmental Science major from West New York.
In addition, Miraclea Adams will take the position of new Junior Class President and Claudio Josuel Alejo, for Sophomore Class Vice President.
The new SGO staff will carry out their terms from July 1 to May 31. For information about how to get involved visit web.njcu.edu/sites/sgo. Students may also follow SGO by following NJCUSGO on Instagram and @NjcuSGO on Twitter.