Media Student Pursues Dream of Filmmaking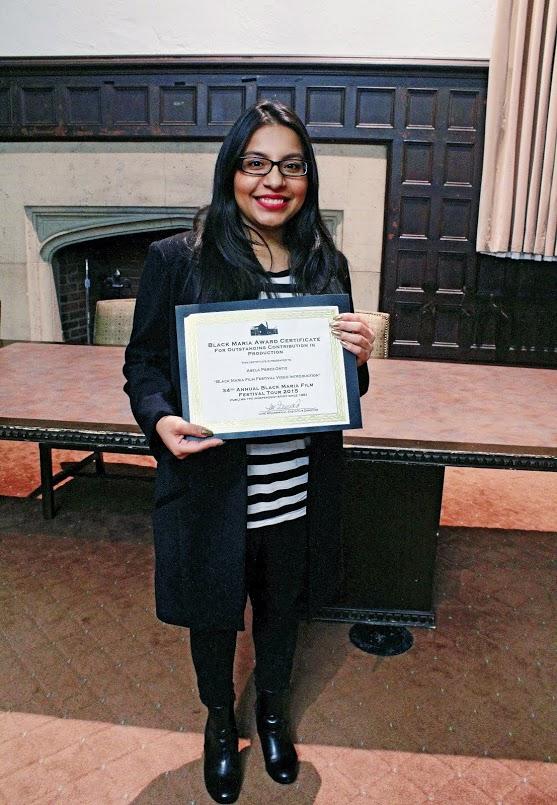 Diana C. Hernandez
February 24, 2015
What did you want to be when you grew up? As we grow older the answer usually changes because of new interests or hobbies, but Asela Ortiz knew she wanted to be in film production since she was 12 years old. Now an NJCU, media arts major from Princeton, she is still pursing this dream.
"Well, I have been interested since I was in middle school. I was chosen to be in a program where only 10 to 15 girls are chosen from the Princeton area. This organization gathered a group of girls and they wanted to teach them to use cameras and editing equipment. This has been my passion for like 10 years," said Ortiz.
This carried on into high school for Ortiz, where she took several production classes such as filmmaking and television production. For Ortiz, majoring in media arts at NJCU was a no-brainer. For her last semester in the fall of 2014 she knew she had to step her game up. So she searched for internships and decided to speak to Jane Steuerwald, a professor of media arts and executive director of The Black Maria Film Festival.
The Black Maria Film Festival is a project of the Thomas A. Edison Media Arts Consortium, an independent non-profit organization based at NJCU. The festival has been fueling independent filmmakers since 1981. Steuerwald needed someone to make a new opening for the festival and Ortiz decided to jump on board with it. Before Ortiz the only person to produce the intro sequence was filmmaker and professor, Timothy P. Cassidy. Ortiz had volunteered at the Black Maria before, but had never had her work screened at the festival.
It became a project she worked on the entire fall semester with Steuerwald. They both sat down and decided what would stay from the original opening, what new shots would be added from previous screenings, the music, etc. The first month was spent gathering content and the rest of the semester she spent editing. The final piece was changed twice and they played around with different ideas until finally Ortiz had a 2 minute and 15 second opening.
"We sat down together and we watched the old introductions. It was a very simple concept. We picked different pieces that we still wanted to include like the ones Edison did. We picked different music and picked something with a different feel. We wanted to do something different with the second half of the intro," she said.
When asked how she felt after watching her intro at the opening night of Black Maria, Ortiz said, "To me it's amazing to see my work up there. Even if it's the intro and 2 minutes, it's still cool because it kicks off the whole festival. For everyone to see the end result is pretty cool and it's nice to get recognized for your work."
Ortiz prefers to make experimental films because she finds them fun and she likes that she is able to be really creative.
"…It's your own idea and you can get really crazy. I haven't done experimental in awhile, but to me they are so much fun to make. The last few years I have learned to like editing the best. Editing to me is therapeutic. It's a lot of work, but I like to put the pieces together to make the movie."
Ortiz suggests media students connect with professors and other students for internship opportunities. "Reach out to Jane or anyone in the media department. Jane has been my professor for a couple of classes and she is really cool to talk to. Keep connected with your professors and friends as well. The media department is really resourceful."
Ortiz's intro will be showed at all Black Maria screenings, which stretch across the east coast all the way to the UK. To see her intro sequence to the Black Maria visit http://www.blackmariafilmfestival.org.