Leak Makes Work Irksome For Students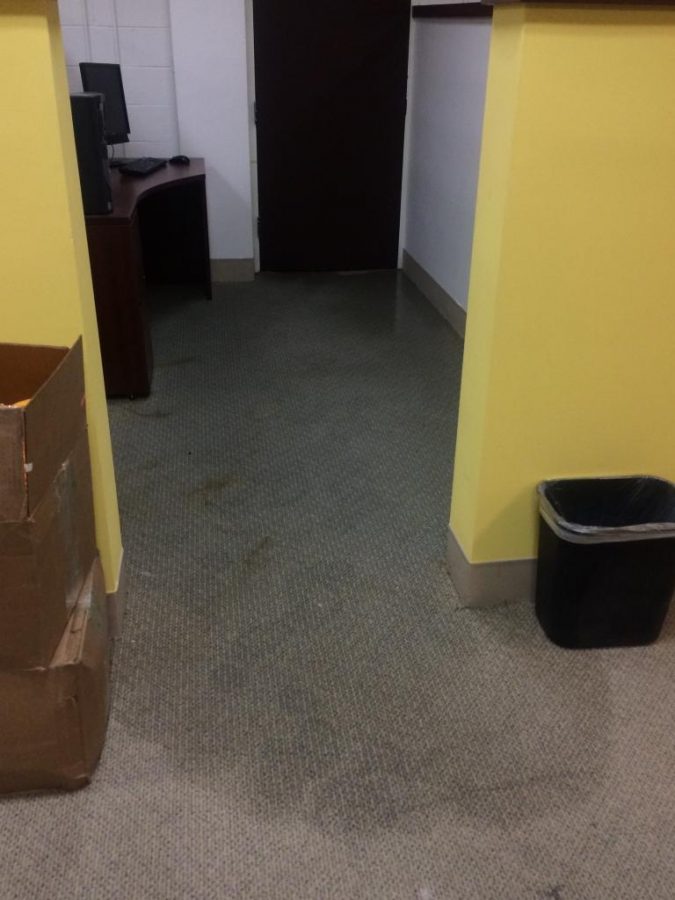 Ana M. Acosta
March 4, 2015
Although it has been a month since a leak in the Gilligan Student Union Building was reported, it is not clear whether the problem has been fixed.
SGO President Alvert Hernandez first reported the leak, which originated in the maintenance room shared by Student Government Organization (SGO) offices, to Real Estate and Facilities Management on February 2.
"You have to be very careful using electronics…and the smell; they're extremely hard working conditions," said SGO Vice President of Internal Affairs, Christian Vergara whose cubicle has been directly affected by the issue. "You could stand here [on the carpet space affected by the leak] and it would be soaked, there's a lot of water."
SGO members said they are concerned over the hazardous conditions the leak may pose. Meanwhile, some students who spend their time in the lounge space parallel to the SGO offices have complained about the smell emanating from the wet carpet.
Recently Real State and Facilities Management staff visited the offices and installed a humidifier and drain machine to help dry the carpet and dissipate the odor but the actual cause of the leak has not been addressed.
Hernandez said he has contacted the Facilities office, as well as Assistant Director for Operations under Campus Life Sarah Ann-Harnick on several occasions — but their response is visiting the office to check on the problem and don't provide a specific time frame for when it will be fixed.
On February 13th the VP for Real State and Facilities Management, James Adams, went personally to assess the situation.
Recently, SGO officials said despite the fact a portion of the carpet has been affected by the water damage, the leak seems to have stopped. However, they were not given notice of whether the origin of the leak was handled and if the problem indeed still exists.
Despite numerous attempts to contact the offices of the Real Estate and Facilities Management, they were not immediately available for comment.