Diamond in the Rough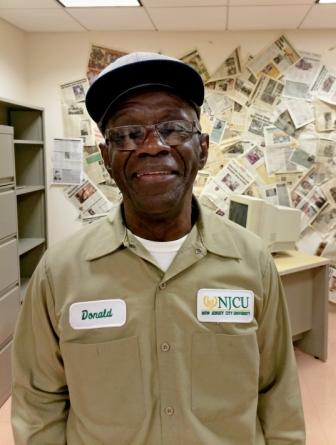 Crystal Davis
March 28, 2015
If you frequent the Gilligan Student Union Building during the evening, you've
familiarized yourself with Donald Dantzler. If you're making your rounds on campus, chances
are, Dantzler is doing it too.
"A normal day for me? I am constantly working. Kids, they eat, we [the janitorial staff]
clean up. They eat again and we clean up. [And] at the end of the night we clean up again," says
Dantzler.
Dantzler is a senior building maintenance worker here at NJCU. He has been working
here for eleven years and is still going strong. Previously, he worked at St. Francis hospital
before he was given the opportunity to join the NJCU family.
"I've had a fulfilling life; [I] worked in a mailroom, a hospital, and now a school. I have
traveled to Canada, Bermuda, Jamaica, Greenland—which was included in a world cruise—
California, and Florida. I really enjoyed Bermuda the most. It was just so nice, the whole
atmosphere, and people were very welcoming. I [also felt] safe in Bermuda [as] it only took you
an hour to ride around the entire island," he says.
Dantzler is the father of six children and continues to work for NJCU simply because he
loves his job and takes pleasure in being surrounded by people.
"I really enjoy being around people and helping [them]. It [being a janitor] is not hard
work. I enjoy what I do. [And] for the most part, the people [at NJCU] are pleasant.
As a senior maintenance worker for NJCU, Dantzler has learned to know the names and
faces of many who come and go.
"I believe live and let live, that's me right there in a nut shell. Just get along, doesn't
make a difference [if] you're white black green orange," he says.