Bachelor of the Fine Arts Senior Show: Design for Change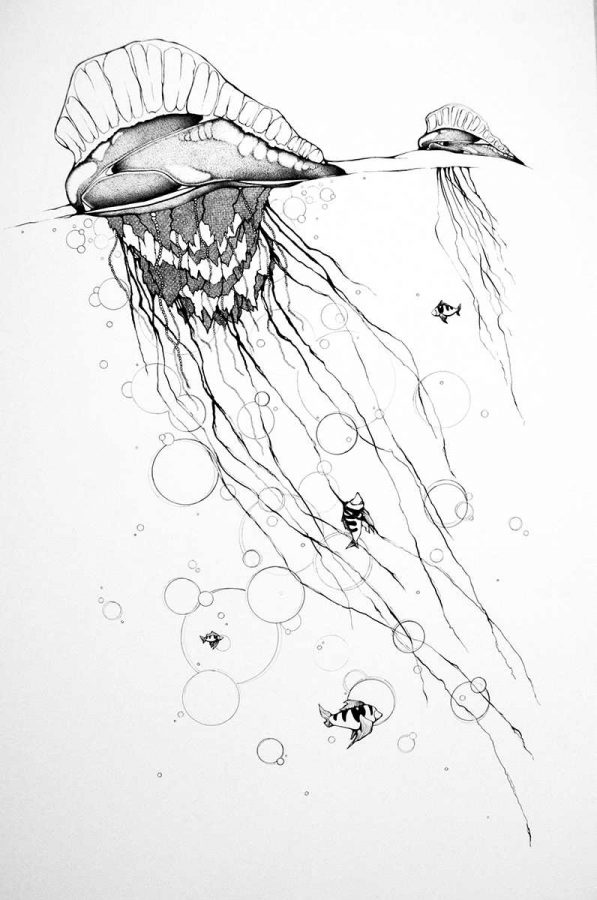 From ceiling art installations, to gloriously painted canvases that express the agony of
coping, to beautifully aligned comic book pages, photographs that captured a city's dark side,
and more. These are just a number of very extraordinary pieces that were on display in the Visual
Arts Gallery for the 2015 Bachelor of Fine Arts Senior show that lasted from April 6th – May
1st. The works that were on display during this year's BFA show were the complied works of
nine extremely talented Art students from our very own backyard. The with the ending of the
BFA show comes the start of the 2015 Graphic Design BFA Senior show that will have works on
display from May 4th – May 11th.
To create an amazing work takes passion and skill, these artists shared some of their most
personal memories and feelings about having their work on display for the whole world to see:
David Bermudez: Graphic Design major
"I am always searching for new art and design techniques. I use YouTube often to
explore new techniques. The way everything moves now, you need to stay informed… I've spent
time speaking with my father about his life and about the hardships he's had as an immigrant. I
created an infographic based on those conversations. I admire my father immensely and used that
to create my work…The advice I have is to start preparing early and research other exhibitions
for inspiration. Most important is to do something that interests you… With so many existing
notions of beauty, art still gives you the freedom to create what you think is beautiful."
Brittani Bounds, Fine Arts major
"The greatest weight of all, was overcoming my inner voice that had preached to me,
over and over again, that I wasn't capable of work worthy to go up in a gallery display. That's
my deepest, most honest answer I could come forth with. While comics aren't a "high art" to
much of the artistic community from what I can perceive, it was that notion and my self-doubt
that were extremely daunting obstacles to overcome… I believe, too, that art can be in
everything. Anything created by man, anything at all with honed intention of expression – that's
art.  That delegates a grand variety of varying degrees of quality and tastes for people."
Dioni Cordova, Fine Arts major
"In order to create my piece I had to take steps from editorial design to interactive that
can be views through portable devices such as tablets, phones etc…My piece is only the
beginning for a bigger project which continues to grow. The subject is about raising awareness
on recycling and educating the public on how to help and live a healthier life…As a designer I
contribute to a large part of the world's production in packaging and communication design.
Therefore it's my responsibility to use my craft in a way that I can affect others in a positive
way."
Grace Duarte, Graphic Design major
"A lot of sleepless nights, a lot of practice and a lot of mistakes. A killer load of work.
[A design school in another country that required upwards of 500 sketches per project, around 3
projects, per week, per course at 6 courses per semester, and who provided such sharp criticism
that it was not uncommon to hear professors tell the students they should "switch careers"
because their work was considered so terrible.] It has all been for good, a lot of design sensibility
and execution relies on practice. I got to make a lot of mistakes, but I also got to learn from
them. Criticism could be poisonous sometimes, but it was all a lesson…I think it is important to
create a conscience on the fact that a pet from a store is no better (or worse) than a pet from a
shelter. They both have the potential to be the best dog you could own, given the
chance… Graphic design is like puzzle-solving. You have a problem, you find a way to solve it
and if it is a good project, the process is often as satisfying as the end-result."
Justine Tepale, Fine Arts major
"What I and most artists probably struggle with is this constant self-evaluation we go
into. As we create, artists harshly judge every tiny detail and start to believe that the work is all
for naught. That judgement period that we go through results in artists pushing ourselves to the
next level…Although the project had started out as a simple interest in sea creatures, it's grown
into much more. "Abysmal Evolution" is about the fine line of power and beauty of deadly sea
creatures. The purpose of creating such work was to bring attention to the fear we have of the
unknown…Art is visual communication. It represents ideas and emotions while creating a bridge
between the artist and the viewer."
Amanda Torres, Fine Arts major
"As a student I have to say the greatest weight I have carried is one of expectation.  Not
only the expectations of my peers, but that of myself.  I knew where I wanted let myself to go. It
was more of a weight to slow me down than a drive much of the time because along with
expectations comes disappointment and a lot of it.  Learning to let go of my expectations is how
I was able to reach my goals in the end…My work is a cooperative piece.  The illustrations are
based off of a reinterpretation of the classic tale of Peter Pan that a close friend of mine has been
writing… I feel as though the pieces represent my imagination.  Though there was a story to
follow, my illustrations were the visual representation of someone else's written words."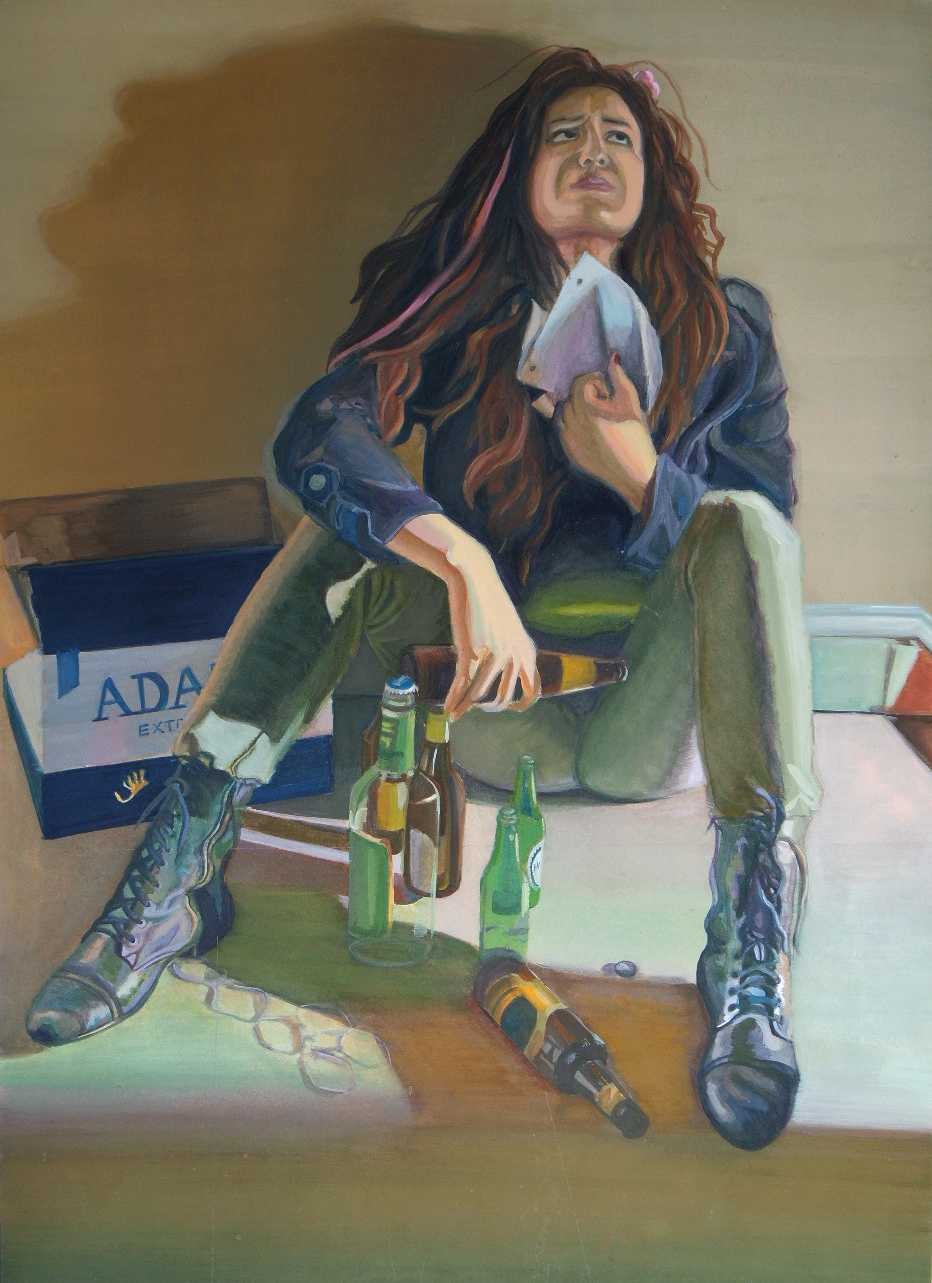 Art by Andrea Reyes
Andrea Reyes, Fine Arts major
"With the help of my mentor, Professor Dennis Dittrich, I was introduced to
Illustration and its creative process. By completing the rigorous BFA program, I learned
how to incorporate: composition, life drawing, color theory, and painting…Maladaptive
Coping is a body of representational paintings done in gouache that depict examples of
self-destructive behavior. Illustrated examples include: alcohol abuse, drug abuse, self-
mutilation, body image issues, displaced hostility, and work-aholism…My paintings
show depth in storytelling and the boldness to reveal an individual's vulnerability in
moments of raw emotions. The realistic emotions imprinted in my work came from
credible acting from selected models captured behind the camera for reference…Hard
work is what it takes to get started; tenacity is what it takes to reach your goals."
Dakota Santiago, Photography major
of a city block due to the encroachment of gentrification. The stages that land, once designated
"The significance of 5 Pointz: Destruction of an Icon is that it portrays the death
for redevelopment, goes through. 5 Pointz was an excellent case as it was extremely
controversial. For many it was perceived as a cultural icon. A museum dedicated to graffiti and
the other elements of hip hop that were born in New York City forty years ago. When the graffiti
writers and the community lost in their great efforts to save the structure it reinforced the idea
that the little man has no say. That the immediate community is irrelevant to the developers and
real estate owners who could care less about the strain that they are putting on the people to just
pay the rent…As once industrial, crime ridden, and or dilapidated neighborhoods from our youth
continuously change from the effects of gentrification into something entirely different I want to
be there to record the before and after. Change is a never ending saga. There's no way to stop it.
For better or worse it's a part of life. With my images though, I have a chance to freeze time for
eternity. A time machine within a frame."