Cinnabon's Kat Cole Speaks at NJCU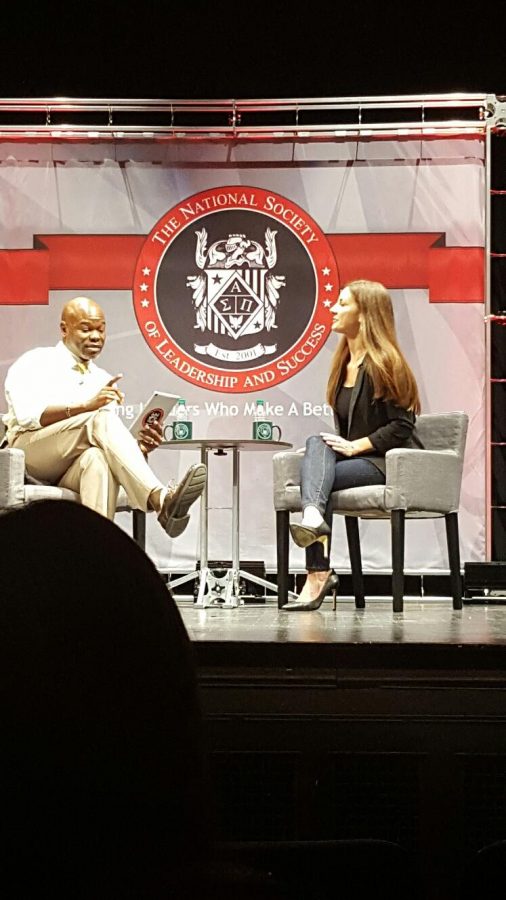 Amber Vaughn
February 25, 2016
Kat Cole, president and chief operating officer (COO) of Cinnabon, was a guest speaker for the National Society of Leadership and Success (NSLS) Live Speaker Broadcast Series in the Margaret Williams Theatre on Tuesday.
The theme of the event was "Impact: The Art of Change, Trust, and Influence." Cole spoke on several topics, including demonstrating resilience in difficult environments, driving results through communication and influence, and adopting world-class leadership behaviors.
FOCUS Brands products include Cinnabon, Auntie Anne's, Moe's, Schlotzsky's and Carvel.
Prior to becoming president and COO of Cinnabon, Cole worked in retail stores and at Hooters. At the age of 19, Cole received a call from executives of the chain asking if she would fly to Australia to train employees at a new restaurant. Soon after, she dropped out of college at the University of North Florida, where she was majoring in Engineering. Forty-five days later, she was asked if she would train the new employees in Central America for a grand opening. After working her way up the corporate ladder, she became Vice President of Hooters.
Cole was featured on CBS's show "Undercover Boss," in which she disguised herself as an employee in different Cinnabon locations to find out how she could improve the brand by learning more about the managers and employees, including how the stores were run and operated. Cole has been featured in Fortune Magazine's "40 under 40," and CNBC's "Next 25 List" of Innovators, Leaders and Disruptors.
The next guest to speak for NSLS Live Speaker Broadcast Series is Janice Bryant Howroyd, founder and CEO of ACT-1 Group, on Tuesday, March 15, 2016 at 6:30 p.m. in the Gothic Lounge (Hepburn Hall Room 202).