STATE OF THE DYSUNION by Joyce Yu-Jean Lee
Michi Suazo, Features Editor
January 30, 2018
"How do different groups of people seek enlightenment and truth?" is a question installation artist Joyce Yu-Jean Lee poses as her theme or the common thread that she presents with her art exhibitions. Her art exhibition State of the DysUnion had an opening reception at the Visual Arts Gallery on January 25 at 5 PM.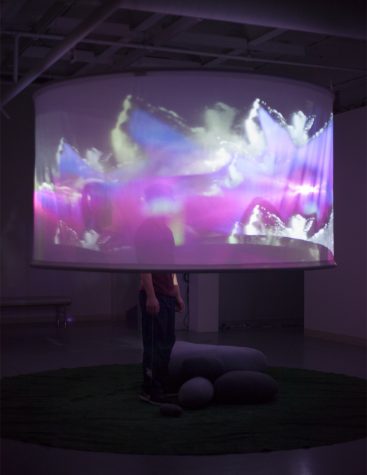 Photographer: Eric Hwang
The room is dark. Five projectors illuminate the room with pictures of newspaper and magazine headlines. One projector showcases a video montage of news clippings on a cylindrical piece suspended in mid-air. This is the main thing the viewer sees when entering the exhibit. Lee's piece called State of the DysUnion uses a 3-channel HD video projection on a custom screen which shows newspaper clips of headlines of Trump winning Presidency, drone footage of first Women's March, videos of LA wildfires, and headlines of Hilary Clinton winning Democratic nomination.
Another piece called Water Wisdom: Miracle Workers uses HD video projection on a mound of sand. A projection of magazine clippings of advertisements that convey the latest diets and trends circle the sand mound like a tornado.  "We don't really stop to think about the effects of advertising. It's a vortex; it sucks you in," says Lee.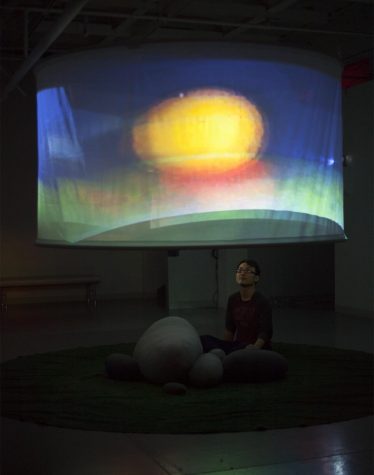 "I know Professor Lee's works use a lot of projection and immersive installations. She creates pieces where you become part of the work. It feels so serene like you're coming in to watch a movie. I enjoy the concept," said Krystle Lemonias, an art student majoring in printmaking.
"I've always been interested in how media affects us," says Lee, "and what I am trying to represent is the media landscape of America."
State of The DysUnion will stay in the Visual Arts Gallery until March 1. An artist Talk will be held in the gallery and auditorium (B08) in the Visual Arts Building on Tuesday, February 13 at 7 PM.