University Place: A Peek into the Future of NJCU
What is it and how does it compare to other colleges/universities?
University Place is a vision for NJCU described as "a game changer" by President Sue Henderson. It plans to feature retail shops, a supermarket, public apartments and other buildings upon completion. West Campus Village, a student dormitory, was opened in 2016 and construction on a second building is currently in progress. Last year, the university also broke ground for the second apartment building. However, NJCU is not the only college or university that has taken on such an ambitious project. What are the details behind this expansion, and how does it compare to what others have done?
University Place is described as "a $400M redevelopment project," in a 2017 NJCU press release titled "Groundbreaking at University Place Redevelopment Project." The university's redevelopment plans were made possible by leasing the land to private developers such as Claremont Construction Group and KKF University Enterprises LLC., through a Private-Public Partnership (alternatively called a P3 or PPP). The length of these leases will last 50 years. What happens after that? NJCU's Chief Operating Officer and Vice President of Administration and Finance, Aaron Aska, said in a phone interview that "NJCU still owns the land, there are a lot of options for the land: some [of the private developers] may choose to renew their lease to 25 more years or more. The university is not involved in the retail businesses so after the 50 years they may go to more developers."
Essentially, this means that what happens to the buildings at University Place in 50 years is still unclear — what exactly could take place is unknown. Aska provided some clarity saying that "the only constant is that the university still owns the land in 50 years," what happens to University Place after that timeframe is still a concern. This concern could by addressed by looking at what another university has done with their P3 project.
Montclair State University partnered with Provident Resources Group to become the first university taking advantage of the NJ Economic Stimulus Act of 2009. With the help of this private developer, a dormitory on Montclair's campus known as "The Heights" was constructed. This $211M project was financed through tax-exempt bonds by Provident Resources Group. In 2011 (the year of completion for "The Heights"), NJ.com reported that "the title to the Heights will be given to the university either in 40 years or when the bonds are fully paid, which ever comes first. Until then, Provident Resources Group will own, manage and maintain the revenue-generating buildings."
The College of New Jersey has also recently completed a P3 project of its own in late 2015. The project, called "Campus Town," was built by a private developer known as the PRC Group of Companies. In 2015, NJ.com reported that "The College of New Jersey's $120 million Campus Town" houses retail shops like Panera Bread and Verizon Wireless; this gives a peek into the future of what University Place could hold. According to Campus Town's website, it also offers apartments for student living where "Security is provided through key card access to the building, apartment and your private bedroom."
Like The Heights at Montclair, TCNJ does not manage the apartments at Campus Town. Rather, residents must rely on another company (Capstone On-Campus Management) for their needs. From Campus Town's website, it is stated that "[Capstone On-Campus Management's] professional staff will be available to work on comfort or safety issues and to process work orders."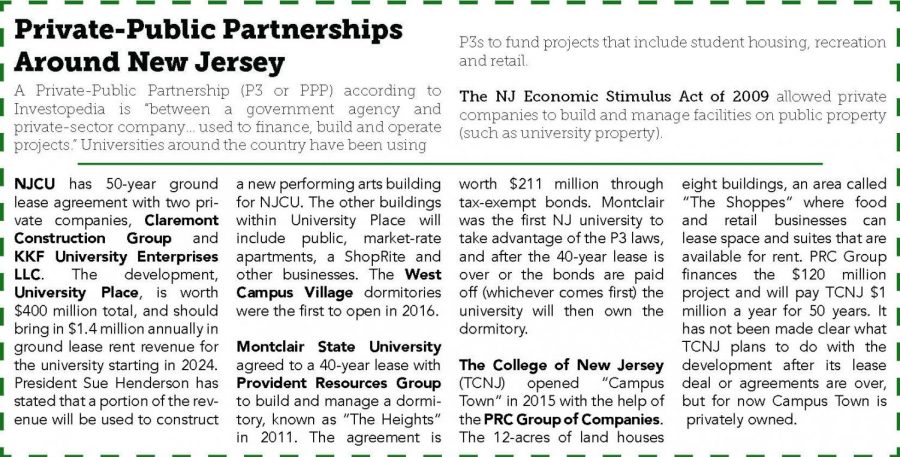 Illustration Courtesy of Monica Sarmiento. This story was originally printed in The Gothic Times, Issue 5 of Spring 2017.