New Public Relations program  
The public relations concentration and minor is a new academic program and is currently being taught at the School of Business. The marketing department at NJCU has been working for the past two years to form it. Public Relations is defined as "a strategic communication process that builds mutually beneficial relationships between organizations and their publics," according to Public Relations Society of America (PRSA).  
Dr. Kathleen Rennie, one of the professors who helped form the new program and is currently teaching a Public Relations class said "A recent study by the PRSA found that 97% of business leaders believe CEOs should understand the role of corporate reputation management. More than 95% held that executives at any level should have a working knowledge of basic public relations skills."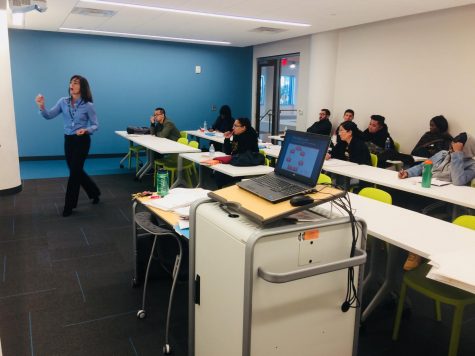 Dr. Rennie first became interested in the public relations field while an undergraduate student at Rutgers University. She had always liked writing and journalism but didn't know how to apply it until she took a public relations course and realized this is what she wanted to do. After college, she worked as a media relations manager spokesperson for NJ Transit for five years before becoming a professor at Seton Hall. She taught there for 21 years before transferring to NJCU. 
"The mission of the School of Business is to develop individuals with effective leadership and critical thinking skills, discipline-related competencies, and comprehension of the ethics and dynamics of the business environment," said Professor Susan Williams, chairperson of the marketing department. "A minor in public relations responds to the needs expressed by leaders in the non-profit and for-profit sectors for graduates who can think strategically and ethically, who have proven ability to communicate across the spectrum of platforms (from traditional to digital), and whose written, oral and digital skill are workplace ready. The minor responses to business students' request for more portfolio-building classes. In additional to developing communication strategy, the minor requires that students write, design and execute plans based on client needs."  
A minor in public relations is a perfect academic complement for students majoring in English, psychology, and education. Students pursuing a minor should know that it's 18 credits and should take Principles of Marketing, Marketing communications, Marketing Research & Analytics, Public Relation Theory & Development, Writing for Public Relations & Marketing and Visual Communication Graphics for integrated Marketing communications.  
Marketing majors who are interested in it can declare a 9-credit concentration in public relations by taking Public Relation Theory & Development, Writing for Public Relations & Marketing and Visual Communication Graphics for integrated Marketing Communications. 
Photos courtesy of Suhas Vittal.