ACLU encourages NJCU students to participate in Civic Engagement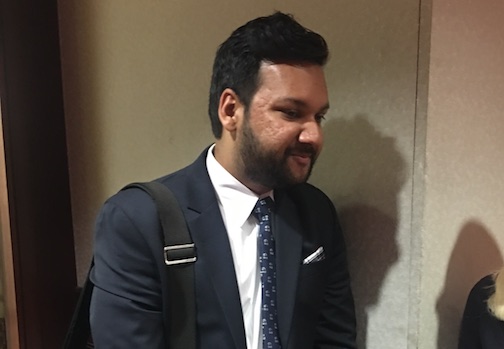 Amol Sinha, executive director of the New Jersey branch of the American Civil Liberties Union (ACLU) spoke to over 400 incoming students at this summer's student orientation about letting their voice be heard in times of discrimination and injustice.  Following the event's theme of "Hear my Voice," Sinha emphasized the power of their vote, encouraging students to speak out and to demand to be heard. 
The ACLU is a nonpartisan, non-profit organization whose goal is to "defend and preserve the individual rights and liberties guaranteed to every person in this country by the Constitution and laws of the United States." They take on legal cases that infringe on civil liberties. Founded in 1920 by a group of 11 activists (most notably Helen Keller) to defend anti-war protestors in the name of free speech, they have extended their support in the name of humanity and freedom regardless of race, creed or gender.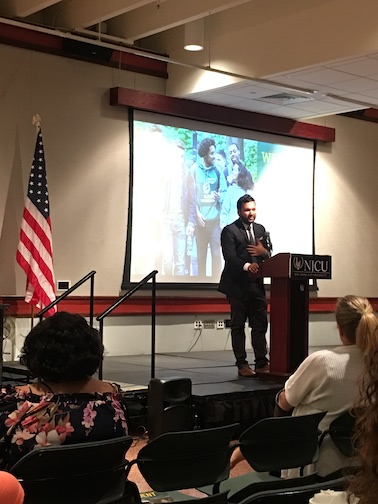 Sinha spent an hour discussing what his and the ACLU-NJ's goals were. He talked about civic engagement and voting, the legalization of marijuana in NJ and how that should include erasing criminal records for possession. Sinha also discussed how the state has the worst racial disparity in prisons in the country, and that people are 31 times more likely to be incarcerated in a youth facility in New Jersey if they are black and how the war on drugs has targeted people of color since its inception.  
After his speech, Sinha said in an interview that students at the university could continue to become more active as voters and as members of their communities by not only getting in contact with the ACLU, but by also going to peoplepower.org, which is the grassroots army of the ACLU according to their website.  
Another issue brought up to Sinha was net neutrality, which was repealed by FCC chairman Ajit Pai earlier this year. The repeal gives internet service providers like Verizon to charge people to see certain websites which could hide critical information behind a pay plan, similar to cable TV. Sinha said that he and the ACLU are firm supporters of net neutrality, believing that everyone should have access to an open and free internet so that they have access to the news and one of the last bastions of free speech.  
Sinha returned to NJCU in July to speak to more students at the second orientation of the summer.