Photography exhibit celebrates alumni and retired professor
Michi Suazo, Features Editor
September 25, 2018
In her photographs, Leona Strassberg Steiner, who graduated in 2013, explores global warming. At the NJCU Alumni Photography Exhibition, black and white photos of children's feet lay on top of Japanese bamboo trees that were cut down. "In New Orleans, the rising waters provide a sociopolitical impact. Who's left behind? Who's going to get saved first?" said Steiner. "It presents an issue about race. What about the prisoners?"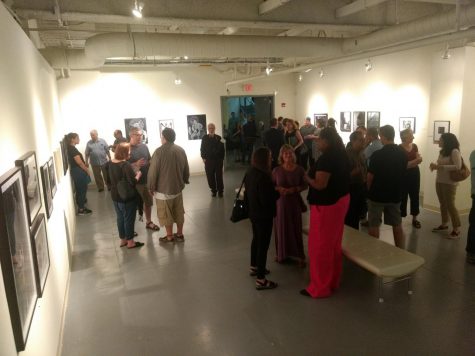 Steiner is one of the many photography alumni whose work was displayed both at the Visual Arts gallery and the Harold B. Lemmerman gallery in September. An array of pieces such as Bart Babinski's stunning 3D-esque "JD Allen"; Cristine Posner's "Point Guild", which looks like a surreal wallpaper image on TV; and Alissa Laurie's two digital inkjet print pieces called "Fragmented Body I" and Fragmented Body II" were on view. 
The exhibition was also held in part to honor Professor Mauro Altamura who retired last year. Altamura attended and said he missed his students. He expressed gratitude towards his colleagues. "The main thing is the students. I had such a great time. My life here was all about the students. What a gift to be a teacher and to work with you all," said Altamura in a speech. Altamura was hired as an emergency replacement in April 1985 by Louis Tiscornia, the media coordinator at that time. He started as an adjunct teaching photo history and just kept getting hired by Tiscornia. "If it wasn't for him, I would never have been here and my great journey at Jersey City State College (present day NJCU) would have never started." President Sue Henderson also attended the event to express her gratitude for the program.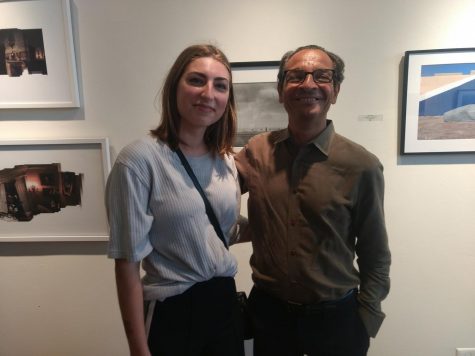 Justin Linsangan, a photography major who graduated last semester and who had Altamura as a teacher, said "He was a really good professor and was always trying to push your ideas past the line of comfort and boundaries." Brian Roy, a photography major who graduated in 2010 had Professor Altamura for Photo as Fine Art class, said, "Mauro was amazing, kind, and understanding. He made us really think about our work critically." 
The exhibition was curated by Alissa Alurie with the help of Midori Yoshimoto. Select artworks are also available for sale. Half of the proceeds will be donated to the Tom Reiss Memorial Photography Scholarship. Established by his family and friends in memory of Tom Reiss, an NJCU professor who passed away in 2000, this scholarship will be awarded each year to two students. A portion of the funds will be used as a juried award presented to an outstanding high school photographer who has submitted work to the Art Department's High School Art Exhibition. A second award will be given to a student majoring in Art or Photography who has demonstrated an interest in completing a worthwhile project related to art, education or the environment that could not be completed without this money. Both awards will be made based on recommendations by Art Department Faculty.