Patrick Deffenbaugh, award-winning designer and adjunct at NJCU, announces university signage system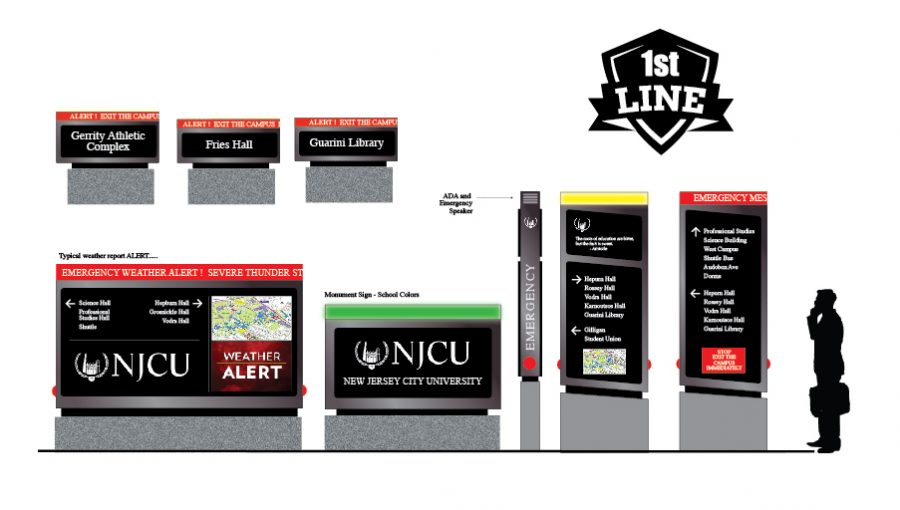 Most people define wayfinding as directing people and traffic in motion. This project challenges that assertion.
Working with a select group of students, we created a comprehensive, smart signage system for university campuses. This system can be tailored to any college or university and will help alert students, officials and visitors to potentially threatening situations, as well as create opportunities for students and faculty to engage with each other on campus.
This amazing group of students were involved from the beginning stages of the research and planning, through design to planning production and implementation. By completing this project, students achieved a better understanding of professional design methodologies and participated in a unique case study that merges traditional methods with digital technologies.
The students learned in a research-intensive environment, which placed equal emphasis on design theory and practice. They developed an impressive communication and visual system and learned how signage can more effectively direct traffic flow, improve access for students with disabilities, bring awareness to the university and help build its brand. By producing functional, well-crafted, complex documents and interfaces, they enhanced their skill sets and improved their options for professional placement as they begin their careers as visual marketing consultants.
– Patrick Deffenbaugh
Jasmine Shaw
Working in this signage project has been a two year long but rewarding journey. Creating an entire brand and product from scratch was something that I have never imagined I would be able to do. I have learned so much from surveying locations on campus, figuring out how a sign system can make the campus safer, understanding consistent branding to actually designing signs.
This project has shown me that when you are creating a brand and product you need an array of skills, and not just in design. You need patience, the ability to work in a team and extraordinary discipline to see the entire project through. I used my photography skills to survey and document the locations on campus that needed signs and I used my designs skills to help create both the logo and the sign structures themselves. This project has taught me how to apply design in real-world situations and applications. We had to think about how people navigate around campus and how accessible it is for students with disabilities in addition to creating a beautiful wayfinding system. I have thoroughly enjoyed my time working on this project and seeing it to fruition.
Kenny Niera
It was a great professional experience working with Professor Deffenbaugh along with a select group of student interns. We were able to plan and design a comprehensive wayfinding system for the three campus locations at NJCU and the nearby community, including the light rail stations at Newport, Harborside and West Side Ave.
We began our project by investigating vehicle and pedestrian traffic flows and identifying dangerous locations where cars and people cross paths. We pinpointed locations where signage was needed, then designed a system of signs structures that will make the university a safer environment and more accessible for students with disabilities.
Our final solution is much more than just a traditional wayfinding system, it's a beautifully designed signage system that fits seamlessly into the environment. Our solution provides an advanced level of security, manages emergency situations, identifies returning students, connects to social media and provides a way for the university to communicate in real time with the students and visitors.
I am so grateful for the opportunity to learn this unique area of design and have the experience of working in the professional environment that our Professor provided the team.
Monica Sarmiento
I joined the project at its halfway point and worked primarily on an off-campus banner system. In a seemingly small span of time, I was able to learn a lot about institutional branding and marketing and design. From determining a specific design style and art directing an on-campus photo shoot to understand how to explain these choices to a client, I gained a lot of experience about what it is like to work as a professional designer.
It was inspiring and admirable to see all the hard work that my classmates and Patrick put in to create a smart, thoughtful and meaningful wayfinding system. These signs don't just have the potential to help university campuses, but can also benefit hospitals or shopping centers due to their ability to display updated information and safety alerts. This project highlighted one of the reasons I think graphic design is such a valuable vehicle for communication; designers have the ability to create entire systems of communication that can share information in new and innovative ways.
I'm so glad that I was able to participate in this project that can and will surely have an important use in the real world.
Patrick Deffenbaugh's MFA Exhibition show will open from April 30 to May 13, in the Harold B. Lemmerman Gallery in Hepburn Hall, Room 323.  The reception will be on Tuesday, April 30, 5:00 – 8:00 p.m.