Reflections from students' trip to India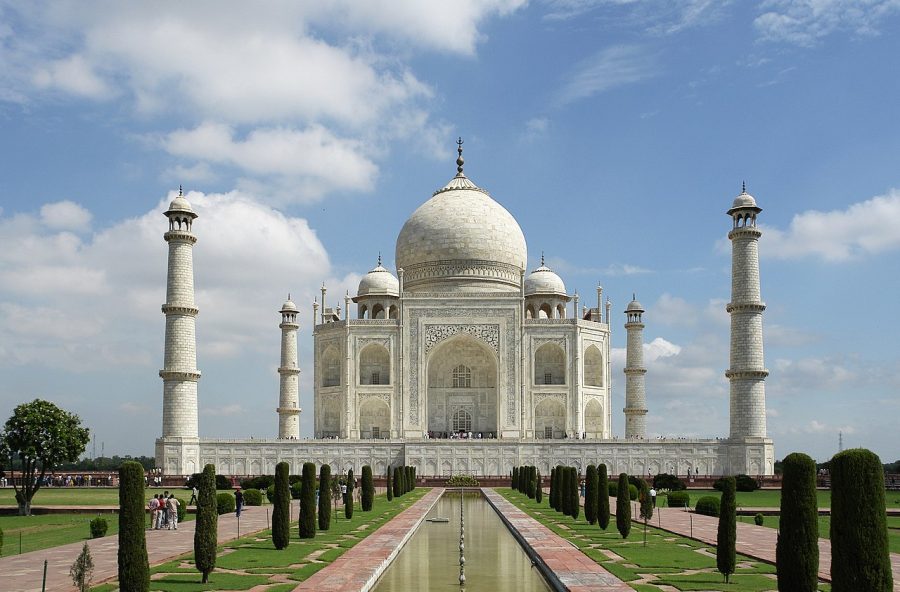 This fall I was honored to be able to teach a course, Sociology 256, Indian Society in Transition, that hadn't been offered at NJCU in many years.  The best part was, thanks to the generosity of the University and the President, I was able to travel with 14 students and Professor Steve Haber to India in January.  After three days of orientation and sightseeing in Delhi and Agra, including the Taj Mahal, we flew to Ahmedabad in Gujarat for a week.  There, through the hospitality of our partner college, H.A. College of Commerce, and the kindness of its Principal, Dr. Sanjay Vakil, and fellow faculty, we stayed in student and faculty homes and shared their lives for that week – a week none of us will ever forget.  Several of the students are Patel Scholars at NJCU who were home to visit their families for the holidays. 
Being part of a class, the students had a research assignment, and several conducted interviews while we were in India on their chosen paper topics.  Below are some excerpts from their research papers and their travel journals.  Even more exciting is that the course will be offered again this fall, and in January we will make a similar trip.  Interested students should contact me for more information. 
–Dr. William Westerman, Assistant Professor, Sociology and Anthropology Department and Coordinator of Ethnic and Immigration Studies 
Juan Rosales, Sociology major: 
In an obvious, superficial way, being in India is profoundly unlike being in the United States; the culture, language, architecture, flora, and fauna are all greatly different from what I'm accustomed to. Beneath the surface, however, the worries and struggles of Indian people in the 20th century echo my own: income inequality, disempowerment of workers, and the rise of violent nationalism loom large. As a sociology major (and especially as one concerned with social conflict and how it can lead to social change), traveling to India (and especially immersing myself in the culture via the hospitality of my host family and the students and faculty of our partner college, H. A. College of Commerce) provided me with endless opportunities to learn, simply by observing and asking questions.  
When asked to recount about India upon my return, my initial description was simply "complicated." At the time, it was difficult to articulate how I felt about everything I experienced – India is full of natural and architectural beauty and some of the warmest and most welcoming people I've ever met, but also plagued by severe inequality and the vestiges of colonialism. Reconciling the grandeur of the Taj Mahal's beautiful marble structure with the seemingly abject poverty of the people who live just outside of it in the slums of Agra, for example, can be a difficult and uncomfortable experience as an American traveller, but some of the best learning experiences often are. My memories of India and its people, however complicated they were, are dear to me and will aid in not only becoming a better sociologist, but also a better version of myself.  
My research was on obstacles to the labor movement in India and when I was there I interviewed Professor Ernesto Noronha from the Indian Institute of Management in Ahmedabad. 
The issues faced by the labor movement in India are not unfamiliar to laborers elsewhere, in both developed and developing nations, including the implementation of international rescue packages, privatization and deregulation of the economy, and political parties supporting free-market policies which are not in workers' best interests. In the past, Indian trade unionism (and the Indian labor movement as a whole) was developed in order to combat the impacts of colonialism and help in the struggle for independence; today, it is primarily divided along party-political lines. 
The trade union movement in India has focused primarily on the organized sector, but incorporating the unorganized sector is necessary in order to create a labor movement powerful enough to promote any sort of political agenda. Domestic and part-time workers also represent a portion of the work force that needs the protections afforded by unions. 
India is a rising superpower. I think India has the potential to serve as a model for the empowerment of workers all across Asia, and further, all across the Global South. India is such a crucial battleground for economic rights. Before I came to India, I'd taken the class on India, and I'd done my research, but being in India, I became suddenly so much more invested in the people of Asia and the people of the Global South.  
Alyssa Smith, Women and Gender Studies major: 
I didn't know then that studying modern India would affect my perspective on minority, immigrant, and generally girls'/women's experiences. I started out as a "student" of the course, but as the weeks passed, I began to see Indian society and its social issues differently. I became a reluctant witness, a senior in Women and Gender Studies, a reflective African American woman, a working woman, and an American woman: all of these perspectives changed the way I studied this subject. It was, however, my perspective as a young African American woman living within the diversified, racialized, classist, and socially deprived history of people of color that, in the end, most powerfully shaped my understanding of this subject. 
Reflecting on my disappointment with the presence and dismissal of the socio-political rhetoric of racism, prejudice, and brutality against people of color—specifically women—in my homeland, I began to connect with the study of Indian society on new and provocative levels. It led me to reflect on the experiences of people of color globally. I began to see them as not simply statistics of a violent society, but triumphant victors of systemic oppression, ostracism, and neglect with a larger historical context. What began as an investigation into the effects of imperialistic colonization on indigenous people of India led me to reevaluate my credibility as a stakeholder on the modern social issues affecting current Indian society. Realizing that my experience and knowledge were rudimentary at best, I conceded and moved on. Then I began to reflect on my experiences as a Black girl from an urban area to a burgeoning Black woman scholar at an urban university. In doing so, the path became clear and my exploration into the racialized and gendered inequities of colorism began.  
To bring forth change and highlight the presence and influence of colorism in Indian society, one must not deviate from conflict. While the history, origins, and underlying constructions of Indian society vary, it is important to note that the greatest threat to progress is silence and complicity. Undermining colorism in India is not going to be easy. Nonetheless, it is with diligence and conscientiousness that dissidence and creativity can thrive. It is going to take unwavering commitment and deliberate consistency to dismantle this issue. Despite the various aspects of oppression, along with the complexities of colonization and the ever-changing concept of colorism and the caste system, this research project has gifted me with a deeper understanding of the intersectional relationship of social entanglements. As for me, a spark of understanding has been lit in my conscience. My position as a witness, stakeholder, Black girl, African American woman, and exchange student scholar has come full circle. Learning about colorism within modern Indian society opened a gateway for self-reflection, analysis of personal experience, and the cost of silence and colonial imperialism. For that, I am eternally grateful.  
Chelsea Valdez, Criminal Justice major: 
Having the opportunity to visit India was by far the best experience I've had.  For my research paper, I had the opportunity to interview two women from India. They both brought some things that shine the light on many of the issues that India goes through. But also they might have hidden some things from me especially because I am a foreigner. Many things weren't too surprising but others things were. Regardless, the women were very much an inspiration to move things along here in the United States. Leaving both interviews made me realize that change starts within ourselves. As I was coming up with interview questions, I was worried that any questions I asked might have triggered someone in the wrong way. One major thing I did realize early on the trip is that people in India are understanding if foreigners are not aware of their cultural standards. Bhavya, my homestay sister, was super helpful and very nice to connect me to two wonderful women.  
The first interview I had was with Professor Padas who is a professor in women and gender studies. She talked about the cases of rape and how society may not be much help, laws that protect women, the gender wage gap and how society views women.  The rape incidence and subsequent death of a female student affiliated with Delhi University set a precedent. Additionally, in 2012, another extreme occurrence involving the gang-rape and hanging of two teenagers in Uttar Pradesh only served to highlight how Indian society perpetuates discrimination and violence against women. Without a doubt, women in India are subjected to numerous challenges. Some of the problems include cultural stigmas, lack of education and bigoted family codes. Equally important is the fact that the focus on such issues by the media created pressure on the Indian government to reform and improve the treatment of women.  
My second interview went pretty well but it left me with so many questions and doubts that I don't want to have. I had the opportunity to meet with General Deputy of Police, who happen to be a woman. While I was conducting the interview I asked questions like, How is the wage gap in India? Do women really get paid the same as men especially in the field of criminal justice? I am not sure if it was the pressure of a young woman asking for advice since she is in that level of power. Maybe it was the fact that we were in a room where it felt like a courtroom and other people were in this interview. But she told me that all women in the forces get paid the same as men from the same job. (With a little quick search on Google I found that happens to be untrue.)  
Both women I had the pleasure to interview were women who are changing the game. One who is using her power within the education system. Teaching her student and follow leaders of the world of the reality that India is facing. The other women who is in policing, breaking barriers within the system. Both women became my inspiration to keep pushing for my goals. 
 
 
 
   
Ivan Bermudez, Criminal Justice major: 
Journal, Day 8: 
This was the day that I was waiting for, the Kite Festival. I love kites and I previously read that India has a Kite Festival and its one of the biggest. I got up on time that because I couldn't wait to make a kite and fly it. We got in an Uber to go to a high school in which we went to the roof to fly the kites and have a good time with the people there. After flying kites for a few hours, we headed to a restaurant that was near the school. This was probably the fifth time that we ate at that particular restaurant. I love this restaurant because it has some American food and is not spicy. Everyone ate and we all headed home and while going home, I saw a lot of monkeys. I had previously seen one but this one was big unlike the others. At this point I was with a classmate and his host and we saw the fireworks at night and that day, was special.  
Journal, Day 10: 
This was our last day in India. Today we had to wake up really early because we were going for a walk with every host and their person. It was a two hour walk around the old city of Ahmedabad. During the walk, we saw many temples and mosques. What we didn't expect to walk into was goats. This is the first time I see a goat and I'm anxious to touch them and just see them and picture them.  It was a long but worthwhile walk. The only thing that I'm thinking about, is for the night because there will be a celebration of our last night. I had bought the best traditional wear for men that there was. It was so good, that I won best dressed of the night. I made so many friends and I'm thankful for the experience.  
Research reflections: 
Just like other countries, India is a beautiful country with amazing people and traditions but there is massive problem that women undergo. Women are not being taken care of and are not protected by their own government. The extreme patriarchy in India has led to young girls being molested sexually, oppressed, abused, raped and even killed. Throughout the years, women have been shut out without an opportunity to express themselves or to speak up about their horrifying obnoxious stories that changed their lives forever.  I want to research and also consider many of the possible ways in which this constant maltreatment of women can stop.  
Because of the way that the cultural system is set up, women are continuously being forced to stay in violent marriages and can't say anything on the matter.  This system holds marriage as holy and regardless to what happens in a marriage, it should never break. By having this structure, it creates a circle of repetition in which does not allow women to move up the social and economic latter and it teaches young children, male and female, that for which ever reason, once they get married and establish a family, they should never divide the family because it is shameful. 
Women are also fighting for their freedom of oppression. They wish to live a life in which they do not have to be home at a certain time without enjoying the night or to live in a constant shame. In India, millions of women got together and made a chain that was 385 miles long to fight gender inequality. But it wasn't just women. This means that not only are women are alone, but those who are important to them, their husbands, children and their friends could show how much they care. Protests like these will make the world change and women grow in the social and economic ladder and not be held back by patriarchy.