Student by day, model by night
Dressed in two-inch Lamoda boots, blue jeans by The Fifth Label, plum ribbed turtleneck sweater, and a gold necklace, Erika Perez is a 20-year old Dominican model and a junior at NJCU. She is an English major with a concentration in creative writing. Perez does not know anyone else on campus who is a signed model and full-time student.
"I first wanted to do modeling in my senior year of high school. My brother was into photography and set up a little studio in my room… He had a tripod and a backdrop and he took my own pictures," said Perez. "I started taking my own pictures. I would get ready with my makeup on and just take pictures all day long. I would then edit the pictures and post them online. I posted three pictures a day." Eventually, people started to follow her on Instagram.
"At the time, I just liked doing it but people kept telling me that I should be a model professionally and I was thinking, 'you know what? Okay,' but I lived in South Jersey and in South Jersey there's nothing. I lived in a forest pretty much," Perez laughed. "I'm from Pleasantville. It's… three minutes away from Atlantic City."
People on social media thought she was already a model and would reach out to her about doing photo shoots, but Perez didn't respond, "At the time, I didn't know anything about modeling [professionally] so I wouldn't really reply."
Perez began doing shows in Jersey City. "So from those local fashion shows, people waited for me after to see if they could work with me. So I would start to do the same thing: I would wait for at least 45 minutes [after fashion shows]; I would talk to the photographers and designers to ask them for their business card and information because I needed to build content." So far, Perez has worked with online fashion brands such as Missguided and EGO. She is an influencer on Instagram and has done shoots with designers.
"After a year of doing this I was like, 'I want more. I feel like I know what I can bring to the table, and I know that I can become the girls that I see on all these magazines, editorials, and even Victoria's Secret fashion shows and all these big models and I want to do that,'" Perez said. "…. It's hard for me because I'm only 5'6". I'm considered a petite model because I'm short." Perez would go to open calls at modeling agencies at least once a week and get rejected all the time. At the time Perez did not have a portfolio.
Perez decided to shoot every week during her sophomore year at NJCU to make her own portfolio while juggling classwork and going back and forth from campus to New York. "It was crazy. I went crazy. I would go to the city in the morning then run back to class. I would do my homework, go to sleep at 4 or 5 or 6 in the morning and do the same thing all over again. And it was a lot but I didn't care because I knew that what I was doing was going to bring me a step closer."
"I talked to an agent and asked what type of pictures the industry was looking for. He liked what I had [from the photoshoots] and he felt like I was ready. I started going to the open calls again to get signed and I still got rejected over and over again. But there was this one day that I got an email from EMG Models. They said they wanted to meet with me and I was like, 'is this–is this real?' and so I was like, 'Yes! Of course, let's meet!'"
Perez went in to meet with EMG Models, an agency based in New York and Los Angeles, and was signed that day. "They were like, 'Here's the contract. We want to sign with you.' and I was just thinking to myself if this was real?" Perez said with misty-eyes. "I told them I'd love to sign with them. When I got out and left, I was pretty much crying [in] the rain…. I called my mom and told her. Ever since then it has been a roller coaster. I've worked with Stuart Weitzman. I never thought that I could be living the life I'm living right now."
It has been one year since Perez got signed with EMG Models and started working with them.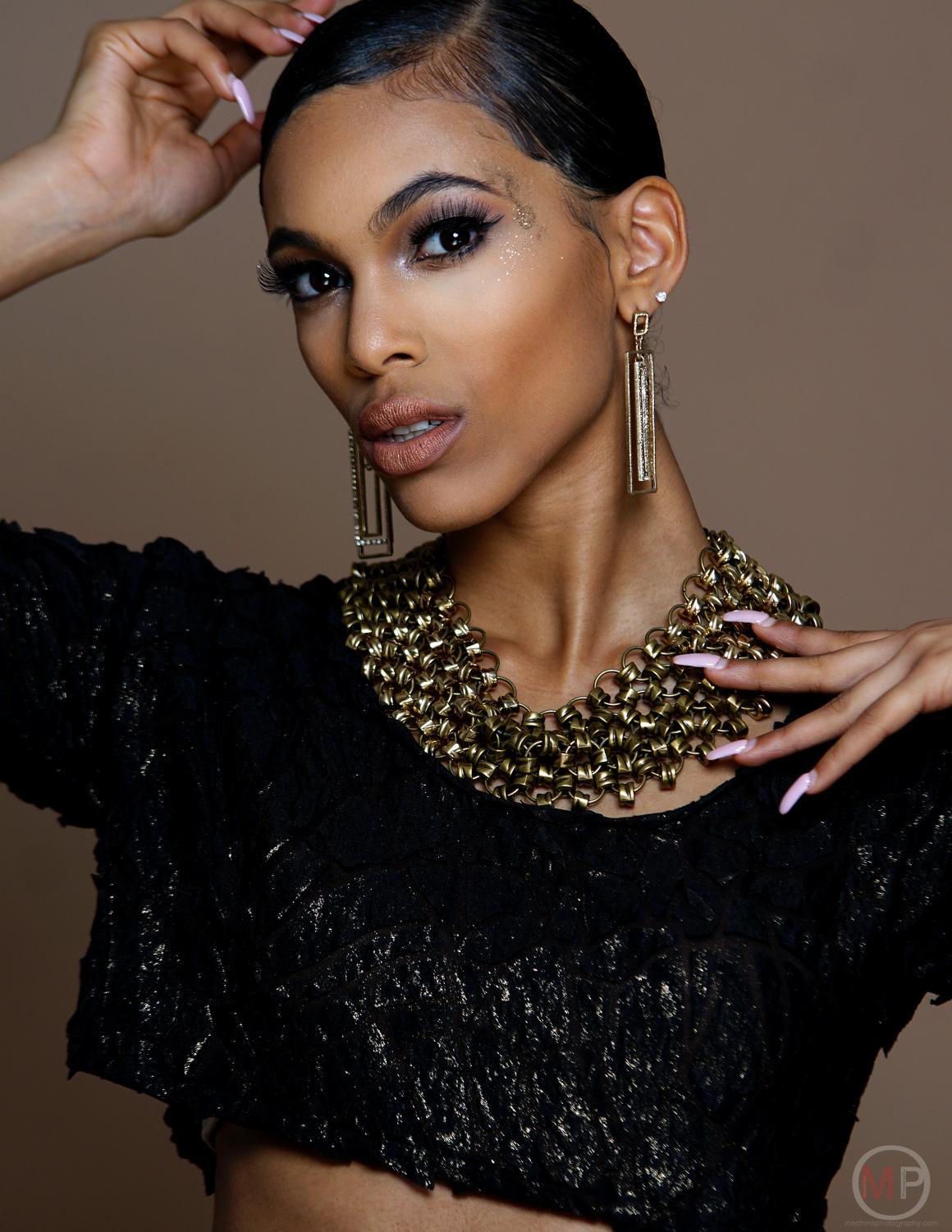 Reading, Writing, Runways
"What I want to do is journalism, so I want to work with a magazine and write about fashion and my experiences–what I see and how I get treated."  Perez is currently writing about the history of the shirtwaist blouse for her Triangle Shirtwaist Factory Fire course (a devastating fire that took place in NY in 1911.) "You can't talk about the fashion industry without talking about the Triangle Fire. What I'm writing about is how the fashion industry has changed throughout the years. I'm combining what I do right now with the Triangle Fire. It's perfect because when talking about the fashion industry, we have people in Bangladesh that work for Walmart and these 'fast-fashion' brands who are being paid $10 out of a $200 worth of work."  Perez has stopped shopping at fast-fashion brand stores such as Sears, Forever 21 and H&M.
"We have people dying. Have you heard of the Rana Plaza? The owners [of a factory in Bangladesh] didn't care about how safe the building was, they didn't care about the workers. It's very important to appreciate the people behind our clothes but the industry only cares about the money and we don't think of the people that are dying. No one should die for fashion."
Perez really started getting into writing because of her Triangle Fire course and her English professor, Edvige Giunta. "Her memoir class was really challenging because I felt like I didn't have a story but she really changed my life when I took the class. She has really, really inspired me to write more." In the future, Perez plans to write poetry books and short stories.
Photos by Tmax Photography. This story was originally printed in The Gothic Times, Issue 6 of Spring 2019.