Mapping Life Exhibit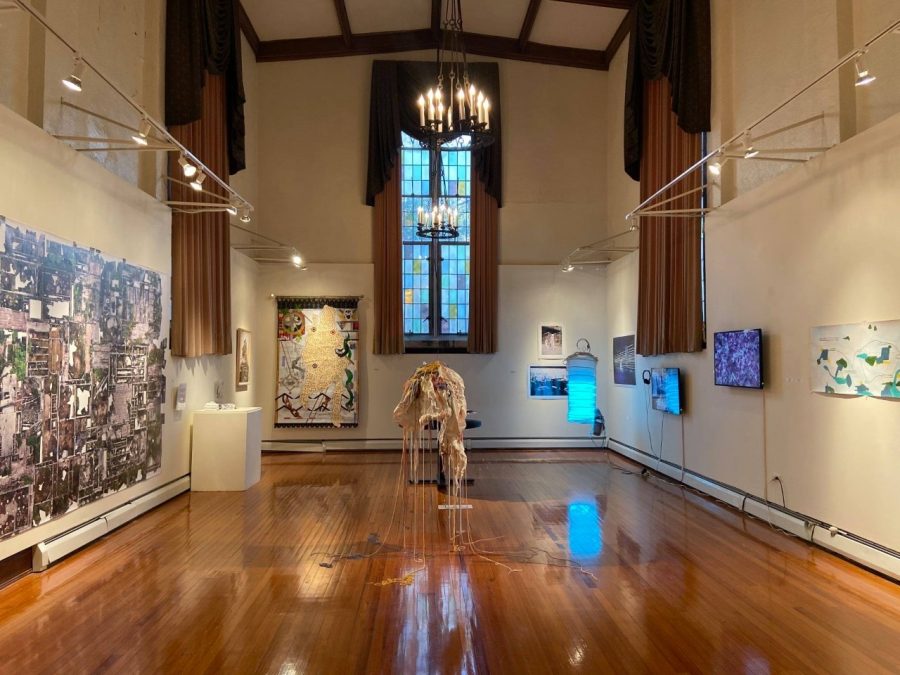 Michi Suazo
November 20, 2019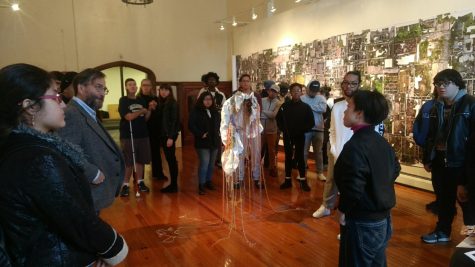 France, Fukushima, the Island of Hispaniola, and Manhattan, among many other places swirl around the gallery with Noriko Ambe's Under the Big Tree (2017-2019) as the epicenter. It is a piece sculpted from 22 history books taken from eight Asian countries including Japan, Taiwan, Vietnam, Indonesia, The Philippines, Korea, China, and Singapore. An amalgamation of mixed media, history and diversity fill the room with color and interactive art (well, some of them but especially not the dress. Don't touch the dress!)
Dominique Paul's "Median Income Dress" stands tall, illuminated by a spiral of LED lights in the corner next to a screen depicting a map of Manhattan. The LED lights of the dress change color and rise from the hem of the dress up to the collar according to the income median of the neighborhoods she walks by. Paul is interested in issues regarding gentrification and onlookers asked about her dynamic dress and the goal of her piece when she wore it.
Dahlia Elsayed's Navigation in the Present Tense (2010), made with acrylic on wallpaper, shows a route sprinkled with what seem to be excerpts from a stream of consciousness or fragments from everyday thoughts. Patches of grass and sea green outlines of ponds trail the route with cookie crumb landmarks for someone yearning for home. A hodgepodge of rounded cerulean and yellow shapes shadow the background like abstract sentiments one cannot encapsulate concretely. Elsayed, who has Armenian and Egyptian heritage, mapped her experiences with the unfamiliar landscape of France in this form.
Bundlehouse Borderline No. 6 (2018) by Nyugen Smith hangs like a tapestry with black lace borders, warm rectangular plaid textiles, sequins, sigils and symbols that allude to the history and culture of Haiti. Smith takes the island of Hispaniola and flips it 90 degrees counterclockwise. Multiple pieces are sewn with thread and tiny depictions of shanty towns line the inside of them. This art echoes the assemblage specialty of Betye Saar with a mix of collage elements weaved into it.
Sachigusa Yasuda's Michi (Unknown Place) (2013), an ongoing reconstruction of a lost community due to the Great East Japan Earthquake and Tsunami through a collection of photos taken in Fukushima, and then translated into a map with an overhead vantage point showing abandoned decrepit houses. The huge piece runs across the entire left wall of the Lemmerman Gallery.
The exhibit features art ranging from video, performance, photography, sculpture, and paintings. Another show called Maps Everywhere in the Visual Arts Gallery is simultaneously available for viewing. It is curated by, Associate Professor of Graphic Design at FIT, Donna David, who proposed the mapping show more than a year ago. There will also be a panel discussion on "Map as a Communicative Art" next Wednesday, 5:30-7 in the VAB auditorium. Both the Mapping Life exhibit and Maps Everywhere will stay in their respective gallery until the 26th of November.