NJCU Is Not As Diverse As It May Seem
Flags from around the world line the interior of NJCU's student union building, but while the university celebrates diversity, more than half of all its professors are white.
NJCU is recognized as a Hispanic Serving Institution where 39 percent of undergraduates and 25 percent of graduate students are Hispanic.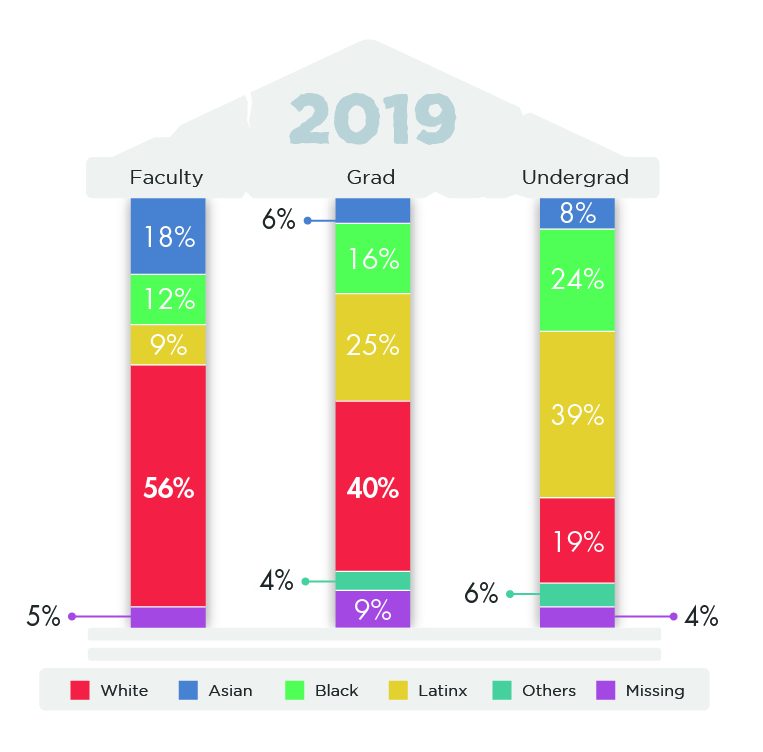 The College of Professional Studies (with majors such as Criminal Justice, Political Science, and National Security) has the least diverse full-time professors at 64 percent white, whereas the students are majority Hispanic at 32 percent.
The school with the most diverse full-time professors is the College of Business (with majors such as Accounting, Management, and Marketing), but it is only due to the higher percentage of Asian faculty. The Hispanic and Black undergraduates make up 58 percent of the business school.
John Melendez, a professor for the Educational Leadership department, has worked within NJCU in different positions for roughly 30 years. He said, "I believe that in order to provide an educational environment that promotes the success of students of color, it is imperative to develop structures that promote the hiring, retention, and success of faculty of color."
President Henderson's Chief of Staff, Guillermo "Will" De Veyga, addressed the difficult question of why NJCU is unable to retain faculty of color in an email interview. He said, "We work diligently to retain and nurture our new faculty to tenure. While we sometimes lose faculty to other institutions or other family commitments, our loss of faculty and staff is in line with our peer institutions."
Examining and Reacting to the Statistics
Information from NJCU's Office of Institutional Effectiveness provides a racial breakdown of the undergraduate, graduate students, and full-time faculty in the most recent data from 2019.
The undergraduate student population has a majority of Hispanic students at 39 percent and Black students at 24 percent. The graduate population consists of a majority of white students at 40 percent and Hispanic students at 25 percent. (There are about 6,100 undergrads and 1,800 graduate students at NJCU.)
The full-time faculty are mainly white at 56 percent followed by Asian at 18 percent (see graphic 2). The part-time professors are also mainly white at 62 percent with the next highest group being Black/African American at 11 percent (see graphic 3).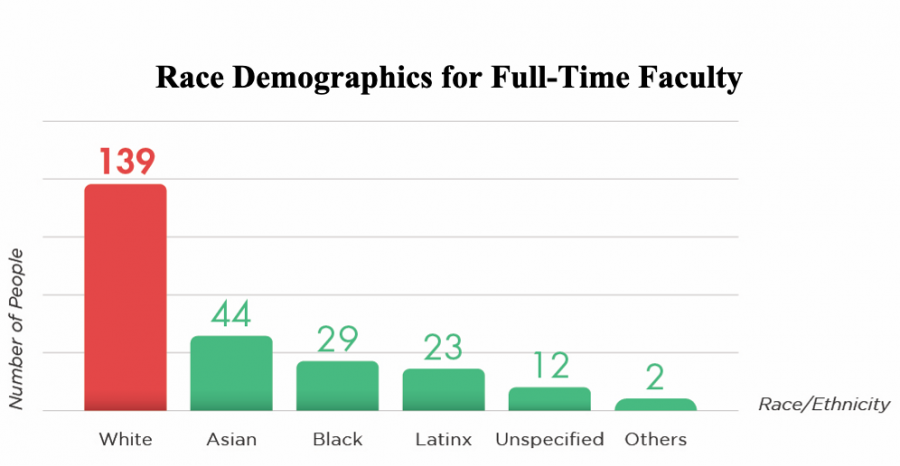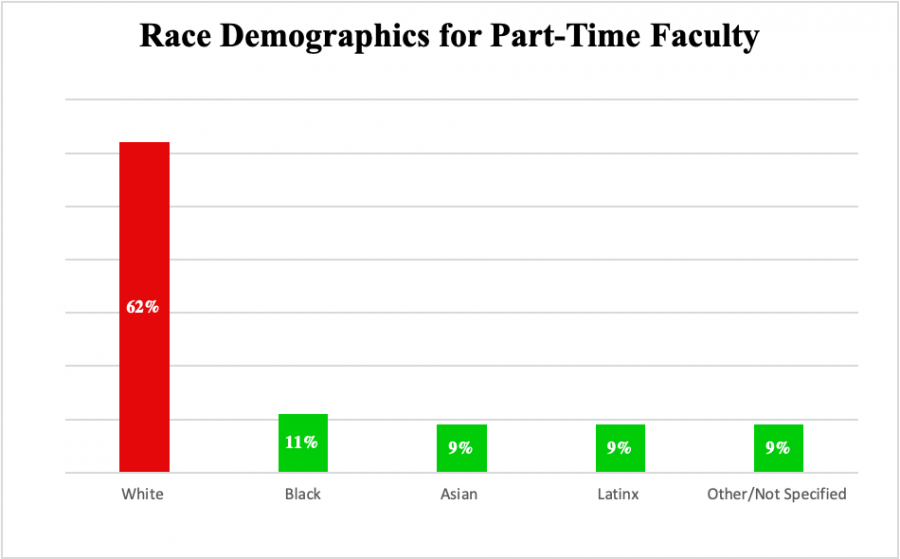 Reacting to the data, Melendez said, "For an institution that has the designation as both a Hispanic Serving Institution (HSI) and Minority Serving Institution (MSI), this is problematic and symptomatic of the systemic racism present within our own institution."
Only 9 percent of both full-time and part-time professors are Hispanic. Meanwhile, 39 percent of undergraduates and 25 percent of graduate students are Hispanic. Gina Alvardo, a junior Political Science major, said, "I think that is insane. NJCU is a Hispanic serving university, that is a part of our title. To not have the faculty have that understanding with their students, to not match up, I think it is crazy because you are serving mostly Hispanic and Black students. How do you expect to have a mutual understanding with students without being able to comprehend their backgrounds?"
"
This is an injustice to students and does not represent what Jersey City is all about.
— Donald Luxama
Donald Luxama, a sophomore Management major and secretary of the Black Freedom Society, said, "This is an injustice to students and does not represent what Jersey City is all about. Students should have the chance to see teachers that look like them and have similar backgrounds."
Luxama added his thoughts on the potential impact of a predominantly white faculty group. He said, "With 56 percent of full-time professors being white, this means that it is more likely for them to be promoted to positions of power and that is when the cycle continues."
Gloria Boseman, a professor in the Nursing Department, has been at NJCU since the late 1970s and noted that she has seen changes in the diversity demographics. She said, "I think the overall diversity has changed but you have to clarify the categories of diversity. There are more women, and more Asian, and perhaps more African heritage. It would be interesting to examine the dates of hire. Some African heritage, like me, have been here since the period of correction. Dates are important when looking at who is added to the diversity count. The lowest representation has been and continues to be the Latinx, Hispanic group."
What is a Hispanic Serving Institution?
Gina Ann Garcia, an associate professor from the University of Pittsburgh, explained what the requirements are for a university to become an HSI during the NJCU's 2020 Convocation. An institution should have a student population that is 25 percent Hispanic and 50 percent of them are from low-income households.
Boseman said, "Since NJCU claims to be an MSI [Minority Serving Institution] and uses that data and that profile to secure grants and other privileges it should be represented in every aspect of the University including its faculty profile."
In the Presidential Update on October 14, President Henderson did reveal that NJCU received a Cares Act relief fund of $570,000 for being an MSI which will go towards campus and budget support.
The True Benefit of a Diverse Faculty
Melendez, Boseman, professor Sonya Donaldson, and other members from NJCU point out the multitude of research that supports diverse faculty groups in universities.
According to the National Center for Education Statistics about 76 percent of faculty in the U.S. are white while 24 percent are nonwhite. About 55 percent of university students are white, while 45 percent are nonwhite.
Sonya Donaldson, interim director of the Lee Hagan Africana Studies Center, associate professor and coordinator for the African and African American Studies Program said, "NJCU is located in Jersey City; we celebrate the wonderful diversity of the student population, yet that diversity is not reflected in the faculty. Black and Latinx faculty represent only about 20 percent of the total faculty."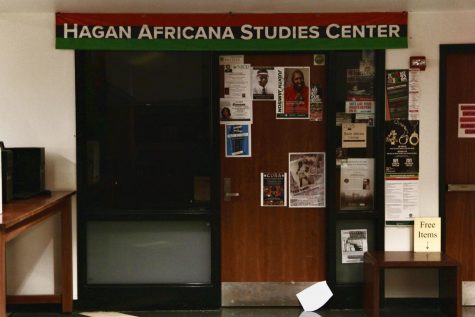 She added, "As an institution that educates primarily students of color, and particularly at this time, in the midst of a pandemic that has disproportionately devastated communities of color, we have to ask ourselves some tough questions about the kind of institution we are now, and the kind of institution we want to be."
Assistant Professor for the Latin American, Caribbean, and Latino Studies Department, Virginia Ochoa-Winemiller, said, "Faculty diversity provides a new set of experiences and worldviews enhancing the critical aspect of learning/thinking for all students. I believe that the student/teacher experience improves when cultural diversity prevails in the classroom."
Alvarado explains how a lack of diversity within professors can present communication faults. She said, "Having a higher population of White professors can cause issues in terms of how they can communicate with students because there are some things that our students will go through that the professors may not be able to understand. At NJCU, those professors who have that point of view of the students, it is easier to talk to them, it is easier for them to understand where students come from, and how their lives at home are."
Possibles Changes in the Future
Ivelisse Cruz, president of the Council on Hispanic Affairs, said, "A diverse faculty remains one of the most central challenges facing American higher education today. However, we have recently engaged in collaborative work with key university stakeholders to address this issue, as well as with the Center for Latin American, Caribbean, and Latinx Studies our goal is to continue to increase the representation of Hispanic faculty members in the near future."
"
A diverse faculty remains one of the most central challenges facing American higher education today.
— Ivelisse Cruz
William Calathes, professor of Criminal Justice, said in an email interview, "An NJCU commitment to diversity should be a holistic and passionate mandate that should be taken seriously by the administration, and supported as such."
He elaborated, "Ultimately, the problem, though, has not been the lack of full accountability on the part of any NJCU administration, past or present, regarding the issue of faculty diversity (although, admittedly, a large part of the problem has been, and is, administrative), but rather, the failure of a committed, consistent, and persistent effort of organizing for faculty diversity on the part of others."
Donaldson emphasizes the strides NJCU will have to take in order to embrace diversity within the school. She said, "Frankly, I think the university has a long way to go in achieving meaningful faculty diversity and meaningful representation at all levels of the institution. Diversity is not just about bodies in a space or boxes to check—it is about understanding how the presence of Black and Latinx faculty can impact their students' lives, can impact the curriculum—what we teach and how we teach, can shift university culture, and can expand our intellectual horizons."
Melendez worries that NJCU might be too preoccupied with their financial concerns from the pandemic in order to give enough attention to the diversity issues within the university.
"
It is unclear to me whether the commitment to increasing the number of African-American and Latinx faculty is a priority.
— Professor John Melendez
He said, "We need to see the outcome of the voluntary severance program based on existing faculty ethnic/racial demographics, and how the institution will respond. It is unclear to me whether the commitment to increasing the number of African-American and Latinx faculty is a priority." (In recent months, NJCU proposed a "Voluntary Severance Program" to many faculty members where they can retire early.)
What Is Being Done?
Provost Tamara Jhashi gave a statement on the recruiting practices of the school. She said, "Of course NJCU recruits in a wide array of venues for a faculty search. And, of course, we seek to hire more diverse faculty. Sometimes it is sheer numbers that prevent applicant pools from having a good number of diverse candidates (for example, in the field of mathematics, only 1 percent of all doctorates awarded are earned by African Americans) and there are many universities who are competing for them. One way we can get more diverse faculty is to promote educational opportunities in the pipeline in graduate schools."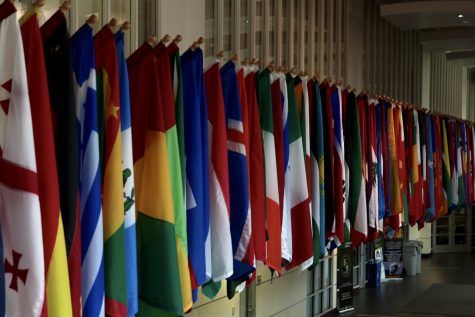 De Veyga goes into more detail on how NJCU plans to diversify its faculty. He said, "As an institution, we are always looking to continue to build sourcing relationships for diverse candidates through not only recruitment websites, but through faculty participation in organizations, conferences, etc. We ask our colleagues to reach out to friends, acquaintances, and colleagues. We actively publish job opportunities in the Black Doctoral Network, the American Association of Hispanics in Higher Education and the Ph.D. Project."
He added, "We are working with two impressive external people; Lissiah Hundley Head of Strategic Partnerships & Client Fulfillment at Diversity Inc, and Aisha Thomas-Petit Chief Diversity, Inclusion & CSR Officer who are working with many on campus to create a job description for the new CDO and to develop specific goals and measures for D&I at NJCU."
Regarding these steps for diversity improvement, Melendez said, "While these are positive signs of beginning to engage in this important dialogue, the fact remains we must move from diversity talks to diversity walk and action."
A Recurring Conversation
The Black Alumni, Administrator, Faculty, Student, and Staff Organization (BAAFSSO) wrote an open letter to President Sue Henderson and the NJCU administration in late June where they readdressed 10 demands that were made in December 2019. They also made two immediate demands: the installation of a Presidential Liaison for the organization to better communicate with the president and to have a response to their letter by July 15.
President Henderson responded to the letter by the late afternoon of July 15. It was announced that Vice President and Chief Operating Officer, Aaron Aska, will serve as the presidential liaison for BAAFSSO. De Veyga, the president's chief of staff, will serve as the chief diversity officer. Donaldson will be the interim director of the Lee Hagan Africana Studies Center and the coordinator of the African and African American Studies Program.
The President of BAAFSSO and Director of the Speicher-Rubin Women's Center for Equity and Diversity, Venida Rodman Jenkins, said in a phone interview that the organization met with Aaron Aska and discussed possibilities on moving forward but no concrete plans were made yet. BAAFSSO also met with De Veyga; he did not reveal any plans on increasing the diversity within NJCU and did not give any specifics in moving forward.
"
We still have not heard from Will regarding the August 27 meeting or any of the immediate initiatives from the university. Will mentioned a vetting process in place for a Chief Diversity Officer; however, there has been no further word on this, so we need action now.
— Venida Rodman
Rodman Jenkins said, "When BAAFSSO met with Will [De Veyga] on August 27, we expressed, in no uncertain terms, that it was critical for the University to move forward with plans focused on anti-racist practices immediately. We told him our people are suffering, and we need immediate action. Since he has been tasked with overseeing the area of diversity on campus, we even gave him all sorts of suggestions – from the Administration going through anti-racist training (one of the demands) to speakers, programming, and ensuring our students are learning in anti-racist classrooms. We still have not heard from Will regarding the August 27 meeting or any of the immediate initiatives from the university. Will mentioned a vetting process in place for a Chief Diversity Officer; however, there has been no further word on this, so we need action now."
She continued, "I firmly believe that NJCU must name its problem, discuss it, and then eradicate it. Our problem is systemic racism. Dr. Henderson named it in her July 15 letter to BAAFSSO. She said, '…addressing and dismantling racism of any kind is of critical importance for our University and for our nation.' She went on to say, 'we must acknowledge systemic racism. We must listen for understanding. And we must continue to take action…'"
Rodman Jenkins said, "There needs to be some form of accountability from the university for these roles. I am looking for more from the university than just having people with titles who serve as place holders. BAAFSSO continues to wait for immediate action."
The teacher's union, American Federation of Teachers, and the University Senate have reached out to BAAFSSO to show their support for the organization's demands.
BAAFSSO hopes to meet Aska and De Veyga again before the fall semester is over.
View Comments (2)