Administration Shuts Down Student Government Instagram Post
NJCU officials requested the removal of a recent Instagram post from the Student Government Association (SGA) Thursday, saying it was "factually incorrect."
About 24 hours after the roughly three-minute video went up, the administration sent SGA a "directive" to take it down, said the student group.
The video in question was of SGA President Thyquel Halley informing students of a situation at Monday's Board of Trustees meeting.
Halley explained in the video that during a presentation from the interim vice president of Enrollment Management, it was stated that enrollment for males of color was down this semester. Afterward, Board members were allowed to ask questions.
Then, a Black male student in the audience raised his hand to ask a question or make a comment related to the topic, but was refused by Board Secretary Andres Acebo who cited the board's policy, according to Halley.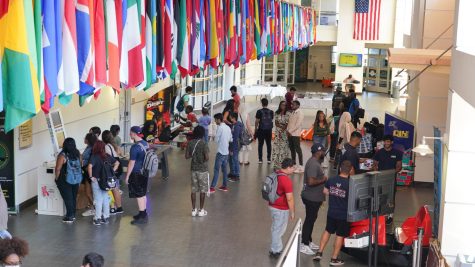 "No one who requests to speak is ever denied the opportunity," said NJCU spokesperson Ira Thor on Thursday. "However, Board policy is you MUST submit a request to speak. If you review the notice about the Board meeting, it's printed directly on the Board notice."
According to the Board policy, you must submit a request to make a comment two business days in advance of the scheduled meeting.
The policy also states that if people make their request in less than two business days, they can describe their comment to the Board Secretary who would then consult with the President and Chair to allocate time for the request. Comments in either scenario are not allowed to exceed three minutes.
"Any claim that a member of the public was or would be improperly and discriminately silenced, let alone one of our students, is wrong if not outright offensive," said Andres Acebo, executive vice president, university counsel, and Board secretary. "Regrettably, a simple conversation between people with an established rapport could have avoided this misunderstanding."
Acebo said that he was able to explain the Board's policy to the student during the meeting who wanted to ask about high school recruitment efforts. The question was eventually answered, said Acebo, and the student was given the opportunity to speak during the public comment portion of the meeting, but he declined.
"At that time, the Board Chair could have exercised his discretion to allow the student as a member of the public to address the Board," said Acebo.
"As a personal point of privilege, speaking on my own behalf, the plight and systemic marginalization of people in our community, especially those of color, needs to be voiced," Acebo added. "I am profoundly proud to witness the young men and women on our campus who use their voice to effectively and responsibly call out injustices and inequities. It is a personal and professional privilege to have the platform to champion them because I see myself in them, and that's why representation matters."
Read Acebo's full remarks here.
As for why the Instagram post was removed, Thor said, "The Instagram post was removed because not all members of the SGA executive committee were informed about the contents of the video."
Halley said that SGA was not given a reason for why their post had to be removed and that he feels his first amendment right was "stripped."
It is unclear if SGA broke any of NJCU's social media policies.
Ben Rohdin, the interim vice president for Enrollment Management and Student Success, said there was a 16 percent decline in Black students from fall 2020 to fall 2021. This is the statistic that was shared during Monday's Board meeting.
"During the same period the total undergraduate enrollment at the university declined by approximately 6%," said Rohdin. "The decline in Black male enrollment during the pandemic has been greater than any other category of race, ethnicity, or gender during the same timeframe."
"
The decline in Black male enrollment during the pandemic has been greater than any other category of race, ethnicity, or gender during the same timeframe.
— Ben Rohdin, Interim Vice President for Enrollment Management and Student Success
A sophomore Media Arts major, Fritz Arvy Manalili, shared their concern over the SGA post removal. "If they would censor Thyquel, the president of SGA, then how am I, a normal student of color, gonna be able to make my voice heard?"
Halley, in an email to students Thursday, said, "In my remarks at the Board Meeting, I expressed my disappointment and told the board and administration, and stated 'you wonder why you have an issue with male students of color.'
"I followed up with these same sentiments through a video posted on SGA's Instagram yesterday [September 14] with a call for ALL STUDENTS to advocate for themselves and make sure they have their voices heard."
Read the full email from Halley here.
This school year marks Halley's second term as SGA president. At February's Board of Trustees meeting last semester, Halley advocated for the Board to be more mindful of the time and location of their meetings as the meeting was mid-afternoon at the School of Business with no virtual option for people on the Main Campus.
Time for Change?
Some members of the campus community have expressed that the Board's policy for public comment should be more flexible.
Venida Rodman Jenkins, director of the Speicher-Rubin Women's Center for Equity and Diversity and president of the Black Alumni Administrators, Faculty, Students, and Staff Organization (BAAFSSO), said that the Board should consider revisiting its policy.
"I was not at the Board of Trustees meeting; however, I did see the impassioned post," said Rodman Jenkins. "While there is certainly a particular format for Board meetings, perhaps, in the spirit of full transparency, the Board could consider revisiting the two-day policy in case questions arise related to what is being shared real-time during the meeting."
In the email Halley sent to students Thursday, he also said, "I was elected to be a voice for all students, represent students, and serve students. The administration is more concerned with their convenience than what's right for students. This must end!"
"
I was elected to be a voice for all students, represent students, and serve students. The administration is more concerned with their convenience than what's right for students. This must end!
— Thyquel Halley, SGA President
Before the SGA Instagram post was deleted, it garnered "3,527 views, 100+ reposts, and a plethora of likes, comments, and DM's from students, the community, and other schools with support," said Halley.
A freshman Marketing and Graphic Design major, Elizabeth Maher, said, "I think that the school should only censor things that are hateful, racist, or bad in general. But when it comes to topics like the diversity of our school, I think they shouldn't censor things like that; and every club should be able to post whatever they want on their social media as long as it's within community guidelines."
A senior Biology student said that they do not see a problem with the Board's policy for public comments. They said, "That rule is fine because they [the Board] can get quite busy with other requests."
Halley told The Gothic Times that students do not often attend Board of Trustees meetings, and it is important for the policy to be flexible to allow students to say what they need to say.
"The policy is in place for a reason, and I believe it's an effective policy," said Halley. "However, the policy should be flexible when there is a student who would like to speak on an emergent issue."
Chidinma Ralph, a sophomore Biology student, said the Board's policy to speak at public meetings is limiting student voices.
"It's a crazy rule," she said. "We should be able to speak our minds, and that rule is going to stifle the voice of students. This isn't right because the students make up the university so our voices should be respected."