Diversity Still a Top Issue at NJCU
Plans, Progress, and Trends
It has been almost a year since the Black Alumni, Administrator, Faculty, Student, and Staff Organization (BAAFSSO) released a letter with 10 demands for the university. The school has been working towards addressing them.
The university is in the process of hiring a Chief Diversity and Inclusion Officer, and the University Senate continues to show its support towards BAAFSSO.
Aaron Aska, Vice President and Chief Operating Officer and presidential liaison for BAAFSSO, said, "The administration provided responses to BAAFSSO's 10 demands, and I believe the executive team at BAAFSSO are currently reviewing those responses."
In an update from Venida Rodman Jenkins, the President of BAAFSSO and Director of the Speicher-Rubin Women's Center for Equity and Diversity, she said, "BAAFSSO received an informal draft statement that did not address all of the outstanding concerns. We are attempting to work with Dr. Aaron Aska, the Presidential Liaison, to better understand what is open, what is closed, and what is in progress."
In a statement provided by the Student Government Association (SGA) in November 2020, they said that their president, Ricky Cruz, has spoken with the university president, Sue Henderson, about the lack of diversity within faculty, dating back to June 2019.
SGA said, "Since then, we have challenged the president to investigate the staff and administration in the sense of diversity. At the time, President Henderson responded with the diversity of staff takes time because faculty have tenure which we must wait for them to leave to replace them and most of those faculty members are white."
The student group added "[President] Sue Henderson has stated that this issue is top of her agenda. We see that this as a major issue and the administration should treat this very urgently as the students are suffering from this untrue marketing scheme that we are very diverse."
Diversity Plans and Progress
Andres Acebo, chief of staff to the president, explained in a March zoom interview that the university is in the process of hiring a Chief Diversity and Inclusion Officer (CDIO). He said that the hiring process should be completed by the end of April or early May.
Aska will be serving as the chair of the committee for the hiring of the CDIO. An email from the Office of the President sent out in mid-April announced a series of "Meet the Candidate" sessions for the CDIO position.
Acebo also said that there is an ongoing search for an associate vice president for Human Resources who will work closely with the CDIO.
Joining NJCU in early February, Acebo briefly explained what drew him to the university. He said, "My personal background is something that attracted me to joining the university as a career labor and employment attorney who's spoken a lot about diversity and inclusion. Spending a lot of those types of initiatives and programming is something that's very personal to me and something that I hope to be intimately involved with and help direct."
Acebo added: "I know the president is really passionate about it as well. From my earliest conversations with her, she reiterated how diversity is in the DNA of this institution and we've got things to improve, about making sure that the leadership reflects the community it serves. It's one that I think we're up for the challenge."
During the April 5th University Senate meeting, there were four resolutions passed related to the BAAFSSO demands.
President of the University Senate, Chris Shamburg, gave some insight into the resolutions in an email interview. He said, "On the first resolution, the administration clarified that the University has remained opened throughout the pandemic, thus reopening is not an issue."
He continued, "One suggestion by the Senate Executive Committee was to have a BAAFSSO representative on the University's Safety, Security, and Sustainability Committee. The Administration is going to review the charge of that committee and see if that would be appropriate."
Schaumburg added that the CDIO will play an important role in the training and recruitment of faculty and administration of color as well as resolutions 2 through 4. In addition, the CDIO will be brought up to date with the BAAFSSO demands and the Senate's support for the organization.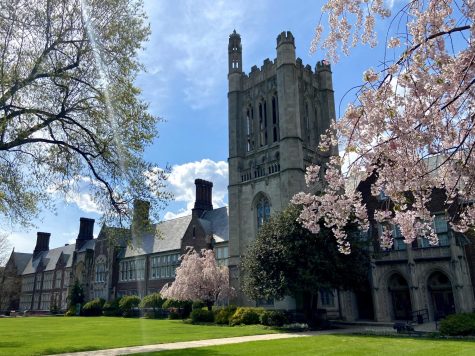 It was first announced by the NJCU Foundation that Lissiah Taylor Hundley and Aisha Thomas-Petit would be a part of their Board of Directors in April 2020.
Speaking on the role of Hundley and Thomas-Petit, former chief of staff to the president Guillermo "Will" De Veyga said in a November email interview, "Lissiah and Aisha are examining the work done by the President's Diversity Council in improving recruitment and development of faculty and staff, and the coordination of D&I [Diversity & Inclusivity] activities on campus to maximize impact for our campus community as well as the larger community. A particular objective with their work right now is the hire of the new Chief D&I officer who will report to the President and be charged with moving the initiatives forward. In addition, they will ensure that the new strategic plan has D&I well incorporated into the implementation."
He added, "They are helping us lead the effort and working with the institution on the hire of the Chief D&I officer, incorporating D&I measures into the new strategic plan, and furthering the goals of the current diversity goals."
Describing the work that they have done so far, De Veyga said, "Lissiah and Aisha have met with different focus groups as well as other individuals at the University. At this point, part of the conversation has been an assessment (discovery process) of EDI at NJCU so that NJCU hires a Chief D&I officer to effectively accomplish the needed goals."
Why Is There a Lack of Diversity in Higher Education?
Candice Staples, a professional who has worked in and studied higher education, supplied information on the relationship between minority success in faculty and administrative positions in colleges and universities. Staples received her Ph.D. at the University of Maryland where her research focused primarily on the career path and trajectory of Black women who transitioned from faculty to administration positions such as Provosts, Deans, or other associate positions.
In a March zoom interview with Staples, she explained that many colleges and universities tend to hire a group of faculty of color during a small period of time in hopes that they will be able to support one another, but they tend to end up across different programs/departments and inevitably still feel isolated. Without adequate support for faculty members, there is not as diverse of a group to choose from when new administrative positions become open. In addition, professors who do not achieve tenure become limited in their career trajectory into higher positions.
Explaining why many professors might struggle to attain tenure, Staples said that it may be in part to them not being able to do enough research. She said, "When you have a faculty member of color, a lot of times students want them to be their advisor and advisor of their organizations. They are pulled in a lot of directions; the college may want them to be on a diversity committee, etc. That takes away time from doing research and research is what helps you get tenure. Not that service and teaching are not important, but you also have to do research. If universities either do not make the decision to weigh service as heavily as research or if they do not protect the time of their early professors to support them and make sure they complete their research to get tenure, then when it comes time to pick administrators, who are you picking?"
Staples continued, "In my studies, I have found that sometimes they would take professors at an associate level and ask them to take on a temporary administrative assignment that becomes permanent before you know it. If you become a chair or a program head, you might want to become a dean or may want to go back to faculty. If you want to be a dean or provost, you might need to be a full professor. Again, there are all these different ways for you to hit a ceiling, and for faculty of color, it is more pronounced because you are most likely conducting more service along the way."
"
Again, there are all these different ways for you to hit a ceiling, and for faculty of color, it is more pronounced because you are most likely conducting more service along the way."
— Candice Staples
Molly Morin, a professional who has worked in higher education for over 12 years, provided insight into the pathway of Hispanic women in colleges/universities, and specifically Latina senior student affairs officers (SSAOs) whom her research focused on. She received her Ph.D. from the University of Maryland in Higher Education.
In a March email interview, Morin said, "There are many reasons why Latino/Hispanic populations are not well represented in positions of power at colleges/universities, some of which include: (a) systemic barriers (e.g., racism, sexism, xenophobia), (b) the glass ceiling that limits women's advancement, (c) a limited or lack of mentors and role models, (d) limited or lack of access to the hidden knowledge/hidden curriculum to promote career advancement), (e) a lack of institutional commitment to the retention of Latino/Hispanic administrators once they are recruited, and more."
Morin explained that while there has been an increased representation of women in SSAO positions over the past 60 years, a majority of them are white. Citing NASPA, the National Association of Student Personnel Administrators, Morin revealed that only six percent of vice presidents of student affairs are Hispanic in the entire country while 77 percent are White, and 13 percent are Black.
10 Year Faculty Trends at NJCU
Data provided by the Office of Human Resources shows the changes in the race demographics represented in both full-time and part-time faculty from 2010 to 2019. The differences are determined by the overall representation each race has on the total number of faculty.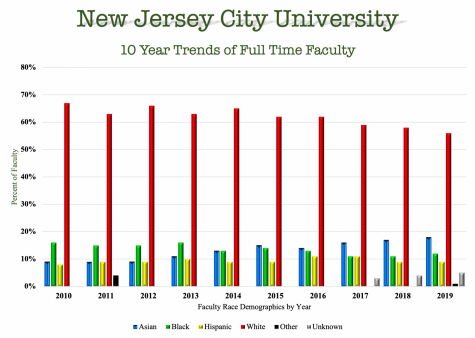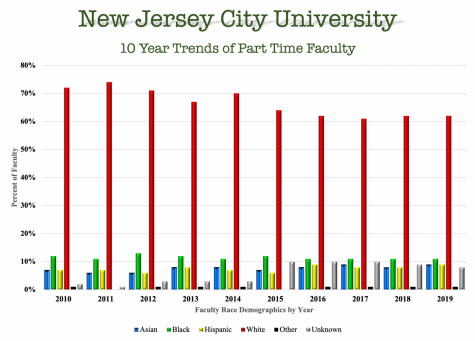 The group that has seen the most positive increase is Asian. Asian faculty increased by 100 percent for full-time professors while part-time increased by 26.6 percent.
White faculty saw decreases in both groups over the 10-year span with full-time decreasing by 16.4 percent, and part-time decreasing by 13.9 percent.
Most interesting, Black and Hispanic faculty continue to represent the smallest amount of all professors.
Representation of Black full-time faculty decreased by 25 percent over 10 years and decreased by 8.3 percent for part-time.
Full-time Hispanic faculty increased by only 12.5 percent, and part-time increased by 28.6 percent.
Notably, Black and Hispanic students represented 66 percent of the undergraduate population in 2020.
New Data from 2020 for Faculty and Students
In data based on the fall 2020 semester from the Office of Institutional Effectiveness, the faculty demographics have not shifted much. The data is presented as the percentage each race makes up of the entire faculty body, and changes are determined by those percentages. Representation of Asian faculty increased by 11 percent. White faculty decreased by 1.7 percent. Black faculty decreased by eight percent. Hispanic faculty representation remains the same.

Similarly, within the undergraduate student population, the race demographics are fairly the same. Most notably, the representation of Hispanic students has increased by 10 percent. Asian students remain the same. Black students decreased by four percent. White students decreased by five percent.
César Sanchez, a senior Philosophy major, is known for being a student activist and for his solidarity work as a member of the International US-Cuba Normalization Committee in the New York-New Jersey area.
Speaking generally on hiring practices in the United States and relating it to NJCU, Sanchez said, "When it comes to the labor force in this country, Blacks and Latinos are dropping slowly or have been slightly stable for a few years now. However, new hires and prospects for new jobs for Blacks and Latinos are scarce in many communities throughout this nation. So, when it comes to hiring Black Afro-Americans and Latinos at NJCU, it is clear there is bias or a systemic racist hiring process not only on campus but nationwide."
"
I believe that we are currently living in a Caste system and what NJCU needs to do first is recognize that when it comes to employment by race and ethnicity, we have a major problem."
— César Sanchez
Citing the Economic Policy Institute, Sanchez continued, "Unemployment between Blacks and White hiring gap widens where Latinos are not far behind getting left out with no jobs as well. In other words, whites still have more opportunities and a better of getting hired than Blacks and Latinos. So, Blacks and Latinos Faculties are not going to reflect that of students because of the ongoing racist and bias hiring process. I believe that we are currently living in a Caste system and what NJCU needs to do first is recognize that when it comes to employment by race and ethnicity, we have a major problem."
Acebo, the chief of staff to the president, explained the university's hiring goals. He said, "The University recognizes that an ultimate objective of an authentic and sustainable commitment to diversity and inclusion is to work towards ensuring that historically marginalized and underrepresented communities see themselves reflected in positions of authority and influence."
He continued, "There are historical and systemic inequities and challenges that impact pipelines of diverse talent that are not unique to NJCU, and actually, broadly affect higher education along with other industries. Allegations that NJCU's current faculty hiring processes are racist and biased are completely unfounded. Such a specious charge ignores our collective commitments and values – the very ideals that drive thousands to our campus."
Acebo further explained, "The University is proud of the rich diversity of its student body and we seek to not just celebrate it but empower it. There are clear systemic barriers to be a fully inclusive and equitable society that our country must resolve. NJCU is committed to being an institution that leads with conviction and intention efforts to ensure that our ever more diverse communities are met with inclusivity and equity. In the coming months, that commitment will be enshrined in our inaugural Chief Diversity and Inclusion Officer and strategic plans. I welcome the opportunity to meet and work with anyone that wants to engage in the hard work of breathing life into the promise of a diverse, inclusive, and equitable society."
"
There are clear systemic barriers to be a fully inclusive and equitable society that our country must resolve. NJCU is committed to being an institution that leads with conviction and intention efforts to ensure that our ever more diverse communities are met with inclusivity and equity."
— Andres Acebo
National Statistics
According to the National Center for Education Statistics (NCES), 75 percent of degree-granting postsecondary institutions faculty are white based on data from fall 2018.
Black faculty are represented at six percent. Hispanic faculty represents six percent as well. Asian faculty represents 12 percent. The remaining one percent are two or more races, unknown, and non-resident aliens.
The "Status and Trends in the Education of Racial and Ethnic Groups 2018" report from the NCES states that enrollment of Hispanic students has more than doubled in the United States from 2000 to 2016.
Comparing NJCU to Local HSIs
The 2019 annual report from the Hispanic Association of Colleges and Universities published that there are a total of 14 Hispanic Serving Institutions in New Jersey. Some of the most comparable to NJCU are Hudson County Community College (HCCC), Montclair State University (MSU), Bergen Community College (BCC), and William Paterson University (WPU).
Data from fall 2019 will be used to compare each of the schools.
Of the aforementioned colleges and universities, NJCU has the least amount of white faculty at 56 percent whereas BCC has the most at 82 percent of their total faculty.
At NJCU, MSU, WPU, and BCC, the second most represented faculty group are Asian. HCCC has the same amount of Asian and Black faculty.
All five schools have 30 percent or more of their undergraduates who are Hispanic. At NJCU and HCCC, Hispanic students make up the majority of the undergraduate population. The majority of students at MSU, BCC, and WPU are white but they are closely followed by Hispanics.