People's Climate March in Washington, D.C.
More stories from Priscilla Arevalo
After marching with the International Indian Treaty Council at the Washington, D.C.'s People's Climate March in April, I realized I had experienced a transnational convergence of activists. I walked with leaders from the Amazon, Cuban filmmakers and travelers from Hawaii. It was a global forum of protest preceded by the United Nations Ocean Conference.
Some 200,000 people showed up at this demonstration on April 29th, proving their solidarity to fight climate change, stand up for immigrant and LGBTQIA rights and the rights of indigenous communities. After a brief, yet exhausting four-hour bus ride from the U.N. headquarters in New York, the Indigenous Peoples' Bloc, led by Roberto Borrero (Taino), made its way to the Sunrise Ceremony facing the White House.  Surrounded by professionals ranging from the director of Amazon Watch to journalists from "Democracy Now," the ceremony spearheaded the march and set the energy level for a communal walk throughout D.C. The presence of Gloria Ushigua, Manari Ushigua and Ronald Suarez M. (del Pueblo Shipibo Konibo Xetebo) – all three representatives of the Andes mountain ranges (located in South America) – was humbling and rewarding as a participant of the march and reinforced the importance in having solidarity for indigenous struggles.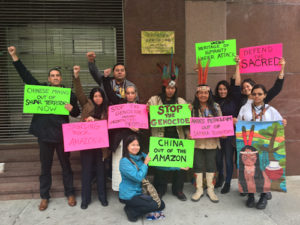 Amidst brief interviews, a rushed bagel and cream cheese breakfast and drowsy conversations, I looked around and realized that many different indigenous tribes/peoples had converged in D.C. I realized how momentous this occasion was, especially as a first-generation Latina feminist. The march from 6th Street and Pennsylvania Ave. was symbolic, radical and politically dissident. Notwithstanding the heat, the collaborative effort of immigrants, LGBTQIA, women, Latinos and other minority groups showed me how much agency U.S. citizens have in public protests/demonstrations. Peaceful walk-outs and sit-ins are exhausting and take time, but create visibility for the rights of disenfranchised groups, and I witnessed it being televised and made relevant by these different public media organizations.
The Sapara Nation: Amazonians Protesting Chinese Oil CompanyAndes Petroleum  
College students across the U.S. can experience these peaceful demonstrations and find a political voice through them. In fact, it has historically proven to be successful for activists like Martin Luther King, Jr. and Gandhi. In this instance, Manari and Gloria, both from La Amazonia, educated me on the struggles their communities have had against oil companies in Ecuador, the communist government and President Rafael Correa. Hailing from El Puyo, Gloria Ushigua is the President of Sapara Woman's Association Ashiñwaka with a representative seat in the U.N. Conference;; her brother Manari Ushigua is President of the Sapara Nation, while Ronald Suarez is a representative of Pueblo Shipibo Konibo Xetebo. All three have travelled globally representing their tribes and retained an honest sense of identity. During our bagel breakfast, in a striking conversation with Cuban filmographer Mar De La Paz Infinita and Manari, I realized the solidarity existing here was post-racial, post-ethnic and post-socioeconomic status. Mar De La Paz Infinita had been flying to and from the country for the last two decades and Manari has been to Morocco and different parts of the U.S. Yet all of us stood and marched in solidarity together.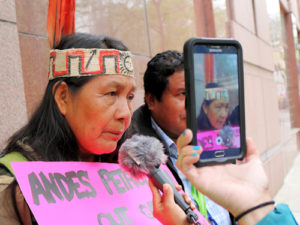 Interestingly, much of the mystery and struggle in the Andes has been chronicled in films. In fact, the film "Icaros" (by Leonor Carabello and Matteo Norzio) features Ronaldo Suarez M, representing el Pueblo Shipibo Konibo Xetebo. The film explores a journey through the Amazonian jungle and the role medicinal ayahuasca has with this. Mostly knowing in the Andes amongst indigenous communities in Peru and Ecuador, ayahuasca is a hallucinogen made of Banisteripsis caapi vines shamans use in sacred rituals known to indigenous communities. Amazonean representative Manari verified as much to me before the march-he had an anthropologist friend from La Universidad Central in Quito recently working on art pieces based on being under the influence of ayahuasca (a natural herb). However, lately, there has been open criticism about white tourists taking advantage of the herb's existence during visits to South America. With that said, the film "Icaros," featured in the Tribeca Film Festival, provides an interesting perspective on the Andes and is currently premiering in New York.
I'd urge K-12, college students and adults to become involved in peaceful demonstrations like the climate march, and in social activism/film-making as well. There are various ways to get plugged in to social justice movements: by attending marches, protests, or reading relevant publications. Currently, there are demonstrations taking place in New York related to climate change. The following are specific panels/protests going on in the city I'd encourage you to join.
NYC Accountability Forum: Climate, Jobs and Justice Accountability Forum
Tuesday, May 16th at 6:30pm: Ethical Cultural Society, 2 West 64th St. Manhattan
Global Divestment Mobilization May 8th-May 16th  
May 16th: Climate, Jobs and Justice Accountability Session, NYSEC W. 64th Street – 5:30 PM
Resources:
You can watch a clip from the march and follow us on our Facebook, here.