Can I get some help over here?
How NJCU lets students down with poor advisement
More stories from Monica Sarmiento
"I graduate next semester… hopefully," is something that I started saying last fall when people asked how much I had left of school. It's a phrase I've heard a lot of my editors and classmates say over the years, some with better luck than others. Why do so many NJCU students approach graduation with the same fear and worry they'd have regarding health test results?
The four-year overall graduation rate for first-time, full-time freshmen students at NJCU was 11 percent in 2018. For five-year graduates, it was 32 percent; for six-years, it was 39 percent. This means that less than half of the freshmen that enroll at NJCU actually graduate within six years, and only about one-ninth of the first-time, full-time freshman population actually graduate on time.
According to the National Center of Education Statistics, the national six-year graduation rate for first-time, full-time undergraduate students getting a bachelor's degree was 60 percent. The National Student Clearinghouse 2019 report found that the national completion rate for students that started in four-year public institutions in fall 2012 was 65.7 percent.
NJCU has also been struggling to attract transfer students in recent years, chalking it up to other universities like Rutgers-Newark, Kean, Montclair, and St. Peter's being able to recruit transfers "aggressively through admissions presence on the two-year campus, tour buses for prospective students, and memorandum of understanding (MOU) agreements," according to a November 2018 University Update from President Sue Henderson. Our new enrollment of transfer students dropped from 816 students in 2017 to 753 in 2018.
The 39 percent graduation rate–the highest it's been at NJCU–is just one factor to worry about, as both undergraduate and graduate retention and enrollment rates have fallen. In 2018, we had 6,237 undergraduates enrolled, a drop from 6,508 in 2017. As a result, the university has lost $4 million in revenue. The university budgeted for any possible issues with enrollment, but still had to make up for around $2 million as of November.
Many NJCU students are first-generation college students, coming from underrepresented, lower-income immigrant families. The university touts itself as an institution that recognizes the struggles and hardships their students have faced to get where they are today, yet makes it difficult for these same students to finish college with a degree in four to six years.
How advisement (or lack thereof) has affected me
My experience with advisement at NJCU has been exhausting, to put it politely. Without the incredibly helpful professors and faculty that I've become close to during my time here, I would've been navigating through college following dead-end advice over and over again.
Advisement issues stem from when I first transferred to NJCU in July 2016. I was told repeatedly by an advisor making my schedule for the upcoming fall that because all of the foundation courses I needed were at capacity, I would only be able to get a B.A. in Graphic Design if I wanted to stay on course to graduate on time. They convinced me to do a Media Arts minor since I expressed interest in the department, and I don't regret that at all. But my naivety and not thinking to seek more advice or solutions during my sophomore year is something I've just had to deal with and, sometimes, regret.
That wasn't the last time I was given bad or even outright wrong information regarding my degree. During my second semester here, I was told by a department chair that all of my transfer credits were put to use after we sat and went through each one to make sure they transferred over to my degree. It wasn't until last fall, my fifth semester at NJCU, that I found out that they didn't actually put all of those credits on my digital file and that my degree progress was still showing that I had classes unfulfilled. I had to meet with a department advisor to go through the whole process again, and if the physical paper copy from that meeting with the department chair wasn't in my folder in their office, I wouldn't have had any proof that those credits were supposedly transferred two years before. That department chair is no longer here.
I began preparing to go over my credits one more time last fall to make sure I was set to apply for graduation in January and enroll in classes for my final semester. I was told by one faculty member not to rely on the degree navigator in GothicNet because it wasn't entirely accurate. They also told me that I was missing general education courses and credits for my minor, but I was actually on track with gen eds and I was finishing up my minor that semester. Then, the department advisor canceled my scheduled meeting with them because they saw that I discussed my degree progress with that faculty member and assumed all of my questions were answered. Another department chair and advisor didn't even answer my emails when I reached out to them for assistance.
It wasn't until I reached out to Sarah Vandermark, the assistant provost for Student Success that oversees advisement, with a detailed account of my run-around with advisors, department chairs and faculty that I finally started getting replies, meetings rescheduled and even personal requests for appointments to make sure that I was on track. Vandermark reached out to me to tell me that she'd look into my problems but never followed up to see if I was helped. I finally managed to get my situation sorted out after so many semesters of confusion, despite the fact that I did my best to stay on top of my own degree progress over the years. I finally received my graduation clearance earlier this month, meaning I'll be able to finish college in four years as I'd originally planned. But then I remember how this is not and has not been the case for so many NJCU students.
One professor, who asked to remain anonymous, sympathized with my and other students' experiences. They pointed out the lack of a comprehensive database that lists a student's transfer courses and credits that correlate with NJCU required courses. "I think there is a lot of room for bad advice at NJCU. And sometimes faculty do not think very ambitiously for their students… they will give students career advice and advisement for quick goals that do not amount to much as a college experience."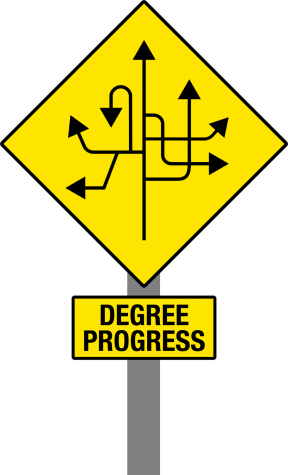 More twists for transfer students
Crystal Simon, a Business major and events editor for The Gothic Times, received her Associates Degree from Raritan Valley Community College before transferring to NJCU. During the process of transferring, Simon had to show that she got her degree in order to receive a scholarship at NJCU.
Earlier this month Simon met with advisement to create her schedule for this upcoming fall. They were going to sign her up for gen ed courses but because she transferred in, the gen ed requirements are supposed to be waived. She found out that her credits were transferred on paper, but no one implemented them onto her degree progress on GothicNet. "Then, they told me they needed to send my degree even though they should've seen it in order to give me my scholarship," Simon said.
If she hadn't gone to advisement to begin planning for what is supposed to be her final year, she wouldn't have caught this discrepancy. Now, she has to bring in proof that she has her Associates already to get her gen eds properly waived this time.  
Michi Suazo, The Gothic Times features editor, is an English major with a concentration in Creative Writing hoping to graduate next Fall. "It's disgraceful to so many students who spend so much time giving back to NJCU," said Suazo.
"I've been a student here since 2015 and not a single professor or adviser has told me on the first day not to trust GothicNet for checking your degree progress. I relied on GothicNet to register for required classes that I needed, but what I didn't know was that most of the classes I needed as a creative writing concentration were only available in the fall semesters." Suazo has also had to take more literature courses because of a lack of creative writing courses offered at NJCU.
When looking for advice to make his schedule for the fall he was given conflicting information about gen eds and his English degree. "Students can only do so much. We can't do the job of advisers and ours simultaneously. I work on campus, staying in the office as late as 9 p.m. to edit articles and work on papers and I'm juggling classes. It's just unnecessary stress. I feel like a customer who has to go to the storage room to check if the thing I need is in stock because there's no sales associate to talk to or the sales associates don't know. It is exhausting for me as a first-generation college student*," Suazo said.
"It's like they just want to keep us here longer to keep paying as they raise prices for tuition and who knows what else. This simply cannot continue. A reformation needs to happen." Suazo added that, to his knowledge, he was never formally assigned an adviser in his department and just this week was told a gen ed class he assumed would count towards his major won't; in addition he was told two different things about how many classes he needs to finish his degree. "I don't even know what to tell my parents anymore when they ask me about when I graduate," Suazo said.
*Editor's note: Suazo clarified after publication that he is actually the first in his immediate family to attend college in the U.S.
Credit where credit is due
Last fall, our Podcast Producer Darren Greene spent 133 hours at a co-op internship with WBAI 99.5 FM Radio. Twice a week, every week, from September to December he went into the city for his internship, coming into the newsroom on the days in between to tell us about his experience. It was his first time working at a co-op internship through NJCU's Academic Career Planning and Placement Center.
This semester, Greene found out that he was given an F for his internship which brought his GPA down. He also didn't receive any of the credits he was supposed to get for the semester. When he reached out to the co-op office, they told him that he had failed to report to a faculty supervisor and turn in a final assignment at the end of the semester. The only issue is that Greene was never told that he was to get a faculty supervisor and no one from NJCU reached out to him to check on his progress at the internship. "I was only given an envelope from the Academic Career Planning and Placement Center to give to the manager at WBAI. I did that, however, I was not given further instructions on my part," Green said in an email addressed to his department chair in which he explained his situation.
Greene didn't find out until March that he was supposed to have kept a timesheet and an academic assignment to hand into an NJCU supervisor. Apparently a faculty member was assigned, but the email sent to Greene about that wasn't addressed to his preferred setting in Gothic Net (his NJCU email) and he never received it. Greene said he hasn't found the email in his spam folder. The faculty member assigned to him retired in December.
Finally, after weeks of emails, phone calls and meetings Greene will actually get the credits for his co-op.
What the administrators have to say
I reached out to Professor Joshua Fausty, the director of General Education, about the issues students have had with the gen ed program and finding courses that fulfill their requirements. "I often hear from students who are not sure about what courses they need to take, or who have been told they have not satisfied all of their graduation requirements. It doesn't usually take long to clarify the situation and find a solution. If itis close to graduation, though, it can be quite stressful for students," Fausty said over email. He also recommends that students see an academic advisor regularly, "Nobody should wait until it's time to apply for graduation to check in with an advisor, get clear on all remaining degree requirements, and make a detailed plan to finish."
Some students, myself included, have gone to advisors over time. The recurring problem seems to be students getting information from advisors, faculty, and the online degree navigator that conflict with each other.
Ben Rhodin, associate vice president for Enrollment Management, said that the Degree Audit and Degree Progress Report found on GothicNet, "was developed to provide a tool to guide students to select courses that meet their degree requirements as well as to help prepare them for discussions with their academic advisors."
"We are aware that students in a handful of majors and minors will see incomplete information in the Degree Audit, but all information that is displayed should be accurate. There are also some cases we have become aware of where students have been granted exceptions to their degree requirements, typically when they get approval to substitute one required course for another. There is sometimes a lag in the system from the time those substitutions are approved and when they are displayed in the Degree Audit. We are working to tighten up that time frame so the Degree Audit is a real-time reflection of all exceptions."
View Comments(1)