Quick and Dirty BDSM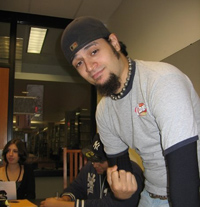 By Francis A. Wilson—
Let's talk about sex. At what point does sex become monotonous, or mundane? Probably around the same time both parties instantly come to the conclusion that their relationship needs a dash of spice. Who doesn't like a little kink here and there? Who doesn't like a little wax play, or hand cuff scenarios, or even a little spanking? Everyone loves spanking, right? There is a hidden threshold where pleasure and pain exist, but when does curiosity and a sense of adventure become too much? When does kink cross the line into a dark world? It's at times like these that, "safe words" are necessary, and you have crossed over into the world of BDSM.
So, what is BDSM? BDSM is a collaboration of terms used to define acts performed by consenting adults that revolve around but is not limited to a certain set of rules designed and enforced by a community of people, and areas of play. These areas are sadism and masochism, bondage and discipline, and dominance and submission. BDSM is a catch all umbrella term used to a sub culture where these areas often cross over and may link together.
These areas often involve terms like, dominant, submissive, sadist, masochist, top, and bottom. These terms are used to define the role in which a person may be, or want to explore. Most of these terms are known to popular culture and are as common as breakfast in the mornings. However, what are not known too much of a degree, are the kinds of play involved with these terms.
We are talking about various forms of torture, physical and mental. We are talking about latex fetishes. We are talking about dripping candle wax. We are most certainly talking about whipping, spanking, beating, and choking with a side order of chains and various other restraints. Now, by themselves these things can be a God send to a relationship with a fizzling, boring sex life. But, without proper application and knowledge of the area they are embarking upon, things can get dangerous and get dangerous quickly.
Indulging in such activities is healthy, as is a healthy sexual appetite. However, it is all too easy to get carried away. It's easy to overdo the situation, games, or scenario involved, but that can lead to injury or worse, death. Just ask David Carridean. Always bring a spotter.
There are rules. Like in anything in the world, there are rules. These rules have been set forth for safety purposes, because let's face it, choking someone or being choked can be dangerous when done improperly or performed by a novice. Be careful when upgrading your relationship from vanilla to BDSM.