It's Time We Get Over Free Shuttle Bus Issue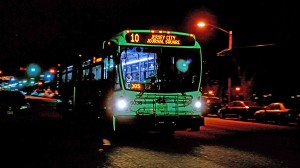 By Diana DeJesus
The free shuttle that takes you to Journal Square, from NJCU, holds 16 people. There are over 4,000 students that are enrolled at NJCU and it's time we look at the numbers and stop complaining about not catching a free ride.
If we were in the middle of nowhere, or off the side of a highway without options for transportation, I'd totally be all about a protest for more shuttle services. Even if they added another shuttle, that wouldn't be enough, and we would still complain.
GET OVER IT.
There are five other ways to get to Journal Square from NJCU during school hours, and they all cost under $3.00.
Try the number 80 bus that runs along West Side Avenue. You can catch it at the bottom of Audubon Avenue, between Miss America Dinner and the light rail station.
(For those of you making transfers at Journal Square to get to North Bergen, Union City, Downtown, Jersey City, Bayonne or New York, you can even use the light rail to get to all of those places. But let's get back to the Journal Square issue.)
The number 10 bus is an NJCU favorite because it leaves you, and picks you up on JFK Boulevard. This bus isn't always on time, but it gets you to Journal Square.
If that doesn't work for you, you can always jump on the mini buses that travel along JFK Blvd., for $1.50, you can get out anywhere you want along the way to the Square.
If you are standing with other students who don't fit on the free shuttle, consider calling a local taxi and splitting the total. It cost about $7-$9 and some cabs will take up to five people.
We aren't getting another shuttle so figure out what the next best thing to do is, and keep on moving. Consider the free shuttle a nice surprise. If you make it down to the stop on time, and there are still seats available, smile and get on. If you aren't one of the lucky 16 riders, well tough luck.
Now we can talk about real issues; how many weeks until summer?