Hollywood Comes to Jersey City
When one thinks of movie sets, film production, and big-name celebrities, Hollywood comes to mind. Jersey City, however, is quickly becoming the new Hollywood of the East Coast.
Jersey City has been home to dozens of famous movie and television shows throughout the years, but recently there has been an explosion of interest in local neighborhoods—and our very own NJCU campus—for productions.
Stepanie Chaiken, director for the NJCU Center for the Arts, said, "One of the very appealing aspects of the NJCU campus is that we have buildings from many different periods all in one location. Hepburn Hall was built in the 1920s, the library building in the 1960s, GSUB is newer, and the Science Building is the most recent. We have nice grounds, so it's a great place to film."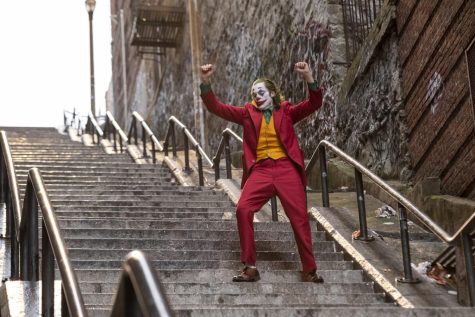 Most recently, the 2019 release Joker was filmed near Journal Square featuring the Loew's Theatre and William H. Brennan Hall. Annie, released in 2014, had a variety of scenes filmed in Liberty State Park, parts of downtown Jersey City, and near the waterfront. Even films from the 1970s through the 1990s were no stranger to Jersey City, including blockbuster hits like The Godfather and A Bronx Tale.
Jersey City has a long list of credits when it comes to being used as filming locations. Look carefully and you will be able to spot what Hudson County natives immediately and proudly pick up on when watching the big screen. 1997's Men in Black used Liberty State Park as the location for the birth of an alien squid. Paulus Hook is where you can find the home in A Beautiful Mind. A short walk down Montgomery Street takes you to The Beacon, which once was the the Jersey City Medical Center; its beautiful art deco lobby has been used in many different movies. Located a couple of blocks away from the NJCU's main campus, you can find the Miss America Diner which has also appeared in commercials and on the big screen.
NJCU has been a part of this entertainment explosion as well. This variety makes it much easier and less expensive for film companies to have everything in one location.
Chaiken explained that there are certain square footage requirements that must be met for large sets and NJCU fits those requirements. GSUB has many multi-purpose rooms, and the School of Business has been used for lunch and as a holding area for film crews.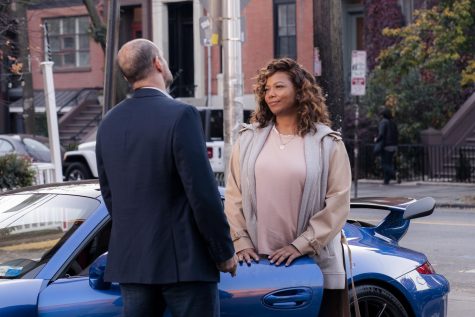 Queen Latifah has also filmed at NJCU and around Jersey City for her show The Equalizer. Her home can be seen a short walk from NJCU's campus on Gifford Avenue near Lincoln Park. Both the main campus and the School of Business have served as holding locations for the series.
Recently, a production by Searchlight Pictures, Eileen, which stars Anne Hathaway used Jersey City as a key location. Based on a novel by Ottessa Moshfegh, the movie will take place in a local youth prison where Hathaway will come in as a new counselor. Many scenes were filmed across the street at the A. Harry Moore school and NJCU's campus was once again used for holding and parking. (Unfortunately, due to COVID-19 surging with variants such as Delta and Omicron, this film is yet to have a release date but is expected to come out in early 2023.)
As the director of the Center for the Arts, Chaiken is responsible for bringing in shows and professional artists and works with the mayor's office to bring these opportunities to our campus. She also helps promote student productions and works with NJCU's art gallery along with different art organizations and the local community.
Stepanie Daniels, the Creative Director of FilmJC, a part of the City of Jersey City Office of Innovation, works very closely with film and production companies shooting throughout the city. She explained that while Jersey City does not offer financial incentives: "New Jersey offers tax credits for shooting films in the state under specific conditions. What we do offer is support for productions to help them get their movie, series, or commercial shot. Not all cities do that."
Last summer, Governor Phil Murphy cut the ribbon to the brand new Cinalease Studios at Caven Point. This 70,000 square foot studio is the largest in Jersey City and hopes to be used for two to four major film and tv productions each year. What has now caught the eye of the people in Jersey City are not these movies from the past, but rather a resurgence of Hollywood right in their backyard.