Go Out and Explore the World, NJCU's Global Initiatives
If you're looking for a memorable adventure while staying in school, NJCU has partnerships with universities around the globe where you can diversify your studies.
"The secret of Study Abroad is not about the classes or credits," said Craig Katz, director of International Programs. "It's about not being in New Jersey for 15 weeks (or longer), immersed in a new environment along food and new sights to experience.
"Even learning how to be a student in a different educational system helps expand perspective, that's the real education."
Studying Abroad
Students have the option to travel to roughly 50 countries including Spain, Scotland, Thailand, and South Korea; or students can stay within the United States to study at one of the 180 colleges and universities NJCU is partnered with. This is thanks to programs at the Office of Global Initiatives.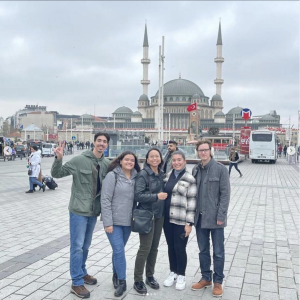 "We focus on direct exchanges with partner schools around the world to try to make a semester abroad as affordable as possible," said Katz.
The benefits of taking classes in other locations give students important skills for their resume. Taking classes abroad can also allow students to expand their network with people from different backgrounds, enhance awareness of cultures globally, and possibly even learn new languages.
Katz explained that NJCU focuses on direct exchanges with partner schools in order to keep costs affordable for students. The tuition cost is the same as what you are already paying at NJCU with the addition or housing, food, and travel costs.
"[The costs range] from free in South Korea to under $2000 for many of our partners, to about $3000 in some western European countries," said Katz, noting that students are able to use financial aid oversees.
"Study Abroad is truly a life changing experience," said Katz. "Believe it or not, this is the best opportunity to go overseas. After you graduate, 'Life Happens' — job, family, etc. Taking the challenge now will open possibilities/opportunities you might never have considered or knew existed."
National Student Exchange
The National Student Exchange (NSE) program offers studies to colleges universities within the United States without needing a passport. The locations include all 50 states as well as U.S. territories Puerto Rico, Guam, the Virgin Islands, and more. The benefits are the same as the international program but U.S centered for those who want to explore America more thoroughly.
Similar to studying abroad, it will cost the same tuition as NJCU with the addition of housing, food, and travel expenses.
How to Apply
Eligibility for NSE. and study abroad opportunities include having a cumulative GPA of 2.5 and at least 30 completed credits. Transfer students must have one finished semester and be registered as a full-time student.
If you meet these requirements, you can fill out the application for study abroad of NSE. It is highly recommended to talk to staff from the Global Initiatives office if you are unsure what your options are.
Next is a finance worksheet to establish a balance and a medical exam report. Most important is a passport if you're planning to study abroad.
Honor's program Istanbul weekend trip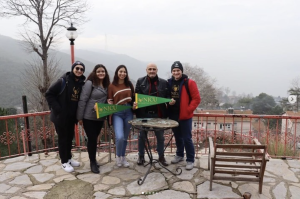 The Honors Program took a 10-day trip to Istanbul, Turkey in early January this year. Istanbul is a city with rich history, located along the intersection of two continents, Europe and Asia.
"The highlight of learning abroad were the numerous experiences gained that would be impossible to replicate in a classroom," said Charice Marcellino, a junior Political Science major. "I was able to witness various parts of a different lifestyle compared to my own. My time in Istanbul gave me the chance to hear a different language (Turkish), taste different foods, interact amongst the Turkish community, and witness their traditions.
"There is value in traveling abroad for every major who chooses to."
Every day of the trip followed a certain structure, said Marcellino, from learning in the first half to exploring in the latter half.
Some highlights of the Istanbul trip were a visit to the Galata Tower and a day cruise along the Bosporus Strait.
"I spent a lot of time revisiting the Galata Tower area to eat, shop, and interact with the community," said Marcellino. "The view from the top gives a bird's eye view of the landscape."
On the day cruise, Marcellino said, "I was able to see Istanbul from the water, witnessing the transition from the city to rural areas. Once we reached the village, we observed the culture and lifestyle of Turkish citizens separate from the city and hiked to an old castle. I was able to purchase handmade fabrics and a jewelry box that the villagers made."
This is just one example of what the dozens of possible study abroad trips can be like.
For more information on studying abroad or the NSE program, you can visit the Global Initiatives office in the Professional Studies Building room 414 or take a look at the information available on their site njcu.edu/directories/offices-centers/global-initiatives.