Students Protest as NJCU Increases Tuition
NJCU students gathered at the front gates of the university on the evening of July 15th, to protest the approved tuition increase. Students walked around the perimeter of the main campus, furtively observed by public safety officers. Onlooking the Hepburn lawn, they became engrossed in a conversation about where their tuition is going, and where they want to see it go. 
This comes after the Board of Trustees voted to increase tuition by 3.5 percent in late June.
The protest was led by two leaders of the community organization, Black Men United: Nevin Perkins, a junior majoring in English, minoring in African American studies and Keion Jackson, a Philosophy and Religion Major. Both have ties to The Gothic Times; Perkins is the Op/Ed editor while Jackson is a Staff Reporter.
At the beginning of the protest, Perkins addressed the attendees and said, "Not only is there an issue of tuition increase at NJCU, there's the issue of raising the tuition and not allocating funds towards programs that are severely underfunded and under-resourced. We are here today to advocate the removal of tuition increase but as well as the priority of programs like the African American Studies department, which should be a major and the Lee Hagan Africana Studies Center which are underfunded, under-resourced, and understaffed…And for NJCU students who are minorities to be prioritized on this campus because the administration likes to pride itself of caring about their students from a standpoint of visibility." 
Jackson voiced his thoughts on NJCU's decision "We have to understand that NJCU has never cared about us to not having chairs in the Africana Center, having Dr. Guzman pushed out and basically fired and to increasing the tuition…NJCU has chosen to invest in buildings and not the students…We are here to march and have our voices be heard." 
Due to the lack of resources for the Lee Hagan Africana Studies Center, Dr. Sonya Donaldson, an English professor at NJCU, will serve as the Interim Director of the Lee Hagan Africana Studies Center. For the fall semester, Donaldson will also serve as the program coordinator for the African and African-American Studies.
An email statement by President Henderson sent on July 15th, said that the pandemic has affected the search for a permanent director for the Lee Hagan Africana Studies Center and the search will resume when it is convenient. 
Throughout the protest, students addressed the additional ongoing struggles on campus they have endured while attending the university.
Asheenia Johnson, a community leader of Jersey City and NJCU Alumni, attended the protest to show her support for the students. During the protest, she said, "I graduated from this school in 2013 and 7 years later, students are still fighting for the same thing… I want to encourage black and non-black students to keep fighting, your voices are being heard… Do not give up. Do not stop the fight."
"
I graduated from this school in 2013 and 7 years later, students are still fighting for the same thing."
— Asheenia Johnson
Johnson further explained her issue with alumni donations. She said, "Plenty enough, I received a phone call from alumni donations, literally in the middle of March, after the governor declared a state of emergency, which I thought was disrespectful. For my fellow alumni, when you get those phone calls to donate to schools, I need you to not be so quick to donate, even if it is $25."
Senior Maera Ochieng-Onyango spoke on the organizations that are currently inactive. She said, "Right now, the Black Freedom Society is an inactive group and I'm working with a global initiative to recruit African American and non-African American students for both Black Freedom Society and the African American Association. Those clubs are currently inactive, they do not have students nor an e-board…It's about bringing global communities together who are interested in that."
A student who transferred from Middlesex County College, said, "I expected to dorm here and I filled out everything but when I got here, they told me they never got my application…They told me I have to pay out of pocket, a thousand something dollars…It's not easy. I'm coming all the way from New Brunswick."
Students elaborated on pressing issues within the university. Some of those consisted of not having enough sections for science classes, deterioration in the newly built West Campus residence hall, heating issues in dorms and classrooms, safety issues at West Campus, and having scholarships or financial aid not covering ebook or lab fees. Students also discussed the seemingly lackluster graduation celebration for the class of 2020 that was put together in placement of a formal commencement ceremony due to the pandemic, which they described as "a PowerPoint slideshow." 
Other concerns that were brought forward included the plans the university made to remove valuable parking lots that commuter students use, disregarding student financial strains such as transportation costs, and even the university's plan to discontinue funding A. Harry Moore. 
In an interview at the protest with Deborah Derozin, a senior Biology major, she shared some thoughts on the tuition increase. Derozin said, "As a student, I would say, it is definitely not fair in the middle of the epidemic, a global pandemic, to raise the tuition. A lot of people are out of work, a lot of people can't even afford the tuition as of right now and if you're going to increase the tuition, are you going to give us all the benefits for it? It has to be a balance." 
During an interview with Jaeo Gaooimore, a senior pursuing a major in Biology, she said, "I feel like it's really unfair especially now that there is a pandemic… People, like me, I already can't afford this. I live far away so I have to take out an extra loan just to have housing, here, that I still got denied for. I travel, literally, from South Brunswick every day so it's not right and for them to increase tuition. If you're doing that, where is it going?"
Gaooimore continued and spoke on her views about the recently added amenities to the NJCU campus. She said that the university should be more attentive towards other pressing issues rather than opening a video game room and an e-sports center in G-SUB. She added, "Fix the problems that we already have on campus. What are they increasing tuition for?" 
In an email from President Henderson to the NJCU community, she wrote, "The University's 3.5% tuition increase on average amounts to a $440 increase per student per year… The maximum Federal Pell Grant award will increase this upcoming year from $6195 to $6345, an additional $150. As in past years, students who are eligible for full Pell and full TAG will have all of their full-time in-state tuition covered by these two sources."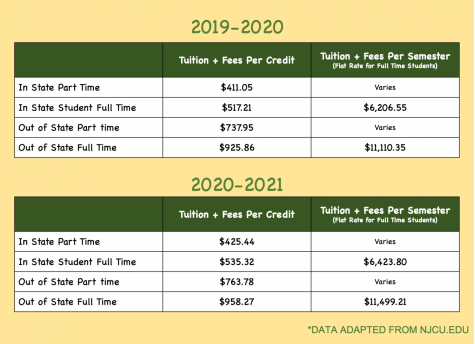 Recent articles published by the Gothic Times revealed how students' have been impacted by the hardships that came along with the pandemic. 
In an interview with Benjamin Rodriguez, a sophomore and criminal justice major, he said, "I feel the tuition increase is honestly a sick move for money because you have many schools with tuition still froze and even some with tuition lowering so such a public and known school such as NJCU raising their tuition is drastic to me."
Rodriguez elaborated on how the pandemic has affected him personally. He said, "My mother had to file for unemployment for a bit and my father worked from home but money was tight, my job is affected as well and I can say I'm definitely not making enough to help my parents pay for college as wanted and may have to resort to loans or taking a break for a year or semester."
Derozin further expressed that her life had been greatly impacted by the pandemic. 
As tuition increased, many departments at NJCU have issued furloughs to their employees. It is clear that the university might be facing financial hardships, despite pursuing the major expansion project of West Campus Village. 
SGA's Open Letter 
A few hours after the protest the Student Government Association (SGA) notified the student body online with an open letter. In the letter, SGA revealed a plan of demands to better the campus that was proposed to President Henderson. The message stated, "The President of the Student Government Association attended the Board of Trustees meeting and demanded a plan to address three main student concerns that consisted of the following: heat and hot water in all buildings, food options for all students and parking for students not only on the main campus but at the School of Business as well. These concerns are in correlation to the increase in tuition and the well-being of our students." 
SGA further explained the context of their demands and spoke of their disappointment in the administration. The letter continued, "When we made these demands we provided them to President Henderson with a deadline of July 13th. We are highly disappointed but not surprised that the administration could not provide a plan for these demands that affect all students at New Jersey City University. Without receiving this plan it shows us that administration is quick to take more money from students but can not provide a plan that would display how that money will be used to address our concerns." 
Towards the end of the letter, SGA declares, "As the governing body of all the students at New Jersey City University we stand with our students in saying that we do not accept this tuition increase." 
Universities in New Jersey Freeze tuition 
While NJCU chose to raise tuition, many universities across New Jersey have chosen not to increase tuition for the 2020-21 school year or have reformed their plans in order for their students to have an easier transition. 
On June 16, Rutgers University approved of the plan to freeze their school's tuition and fees. Mark Angelson, chair of the Board of Governors of Rutgers University, made a statement on the announcement. Angelson says, "While tuition and fee increases have been consistently low over the last five years, the Board of Governors committed to a zero percent increase this year so students and families can access an affordable Rutgers education during this unprecedented crisis."
According to "N.J. community college freezes tuition, moves most fall classes online," an article written by Rodrigo Torrejon for NJ.COM, Bergen Community College has decided to freeze their tuition rates due to COVID-19. Torrejon provides a statement by Tony Ross, the Interim President for the college. Ross explains, "In working with a task force of two dozen faculty, staff and students, we reviewed the latest guidelines from public health agencies, the state and county before finalizing our plans for safety, instruction and support." 
Numerous universities around the country have opted to "rollback" or freeze tuition due to the ongoing pandemic. Some of these include Montclair State University, Kean University, the University of California, Bucknell University, William & Mary College, and many more. 
Community organization Black Men United will hold bi-weekly meetings at NJCU to continue the actions of having NJCU freeze tuition. The next meeting will be on Wednesday, July 29th at 6pm.
Sources:
https://www.educationdive.com/news/colleges-pull-back-tuition-increases-as-pressure-to-manage-costs-mounts/578336/
https://www.rutgers.edu/news/rutgers-board-governors-approves-tuition-and-fee-freeze-2020-2021-academic-year
https://www.thesetonian.com/2020/06/21/seton-hall-students-circulate-petition-against-tuition-hike/#:~:text=Seton%20Hall%20students%20began%20circulating,room%20and%20board%20by%203%25. 
https://www.kean.edu/news/kean-trustees-vote-keep-tuition-and-fees-flat-2020-21 
https://www.nj.com/bergen/2020/07/nj-community-college-freezes-tuition-moves-most-fall-classes-online.html#:~:text=As%20New%20Jersey%20schools%20forge,safe%20amid%20the%20coronavirus%20pandemic.
Leave a Comment
About the Writer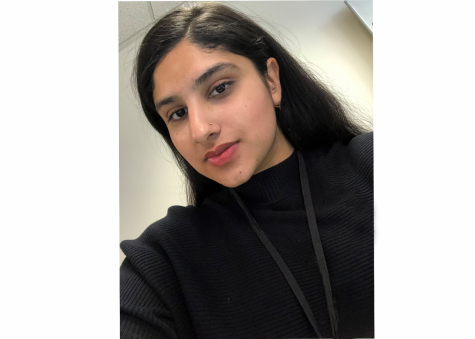 Maryam Pervaiz, News Editor
Maryam Pervaiz (she/her/hers) is a sophomore pursuing a B.S. in Biology. She is actively involved in multiple clubs on campus as well as holding many leadership...